St. Philip the Apostle Parish in Rudolph
Sisters remember their childhood with Father Wagner as he built the Grotto in Rudolph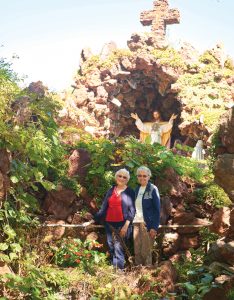 Bernardine Jagodzinski and Helen Zubella are two of seven sisters who were raised in a house in Rudolph in the early 1930s and 1940s, when Father Philip Wagner was building his dream, a beautiful grotto dedicated to our Blessed Mother. The two sisters, Bert and Helen, grew up in the house next to the Rudolph Grotto and recall their experience growing up and playing an important part in helping Father Wagner build and maintain the grounds that are still visited by thousands of pilgrims today. After seeing the Grotto and gardens, which span an impressive five acres, one quickly realizes how complex this is. As the sisters explain, a man with a passion, vision and compassion for the people around him like Father Philip Wagner was up for the challenge.
Born in 1925, Bert came of age when the Grotto had already stirred some notoriety. Bert recalls more than 39,000 pilgrims visiting the Grotto in 1939. With national renown, the Grotto experienced visitors from far and near. Bert recalls, "At least two times a year, we would get a set of license plates from every state." As Helen remembers, the majority of visitors to the Grotto were close to home, "There were really a lot of people there during the war. More people seemed to come to pray who lived within a 50-mile radius or so."
The seven sisters worked hard to accommodate all visitors who came to visit. Helen remembers, "During the week, we lived so close that if a car came up there, we had to run over to man the souvenir stand. But (the Grotto) was always left open. And we only had to stay until the car left, but then we had to watch to see if any cars came."
The sisters worked hard maintaining the grounds with Father Wagner and remembered that the Grotto was a community effort. Bert recalls the full breadth of their duties, "We planted flowers, we mowed the lawn, we weeded flowers … We counted cars every Sunday and tended the souvenir stand." Today, you won't see the girls running around counting cars or maintaining the guest book, but you will see them a few times a year manning the souvenir stand.
Bert and Helen, with much excitement, discuss the brains behind the Grotto, Father Philip Wagner. Perhaps even more than Father Wagner's vision for the Grotto, his ability to rally the community around him to help build it was essential to its formation. Bert remembers Father Wagner as "very holy, very even-tempered, very tenderhearted, and he had a great sense of humor, all of those things. And I have never seen him angry."
The way Bert's two sons remember Father Wagner embodies how most people felt about their beloved parish priest. Both of Bert's sons served at the 7 a.m. Mass during the summers. Bert asked them if it ever bothered them that they had to serve that early, and Bert retells, "They said, 'Well no, it's just what you did, and you just did it for Father Wagner.' I asked, 'Well what did you think he was.' 'Well, he just was a holy man and you'd do anything you could for him.' And both of them [separately] said the same thing."
"You'd do anything for Father Wagner." This seems to be the collective mind-set of the community at the time he was building the Grotto.
"Everybody was always behind him 100 percent," Bert explains. "Father had a way of getting anybody to do anything for him. He always wore white overalls when he was working in the Grotto, but then when he was going to ask somebody to do something, he would put on his collar and his best black suit and go see who he needed to see." It is hard to say no to a man in a collar.
" Well you know if you come [to the Grotto] with the right frame of mind, it can be like a pilgrimage. That is so lost today, I think. " – Bert Jagodzinski
Beyond having a collar, Father Wagner also had a heart that never hid behind the collar, but remained constantly on display, which is what drew people to want to help. Bert and Helen recall instances of his good nature and passion to help the community around him.
"When he first started the school, the people that lived way out in the country, he would have them board in the school Monday-Friday and the nuns would feed them. He would take his car and go around and pick everybody up," Bert says.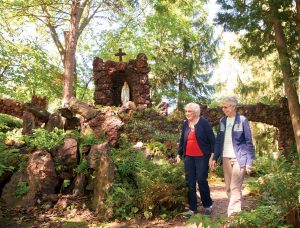 His playful nature was always keeping the girls on their toes, as well. "He waited for us to bring his mail from the post office for him. You see, we had a playhouse in the back of our house. It's at the Grotto now and it's called Miniature Wisconsin. Our dad built that," Bert fondly remembers, "Father Wagner had a fur coat and he would put that fur coat over his head and stand in our playhouse and when we came with the mail, he'd growl at us and scare us!"
Most importantly, he was always present, whether a family was in need or if he needed to greet people at the Grotto. Helen recalls, "Father was always there, he would greet people, walk around and pray his rosary. If he wasn't working on the Grotto, he was just there, unless he was out finding some rocks or something."
Always being around the Grotto profoundly influenced the sisters the rest of their lives, even after they moved as adults away from the family home. Being so close to the Grotto, "It really helped keep our religious upbringing intact," explains Helen. Bert adds, "It made me like the Blessed Virgin, I know that. I have a great devotion to the Blessed Virgin because of that … I wanted to go to Lourdes because of it, so, a few years ago, my family and I went to Lourdes and it was wonderful."
Father Wagner's vision was to create a beautiful area similar to Lourdes, a place that can offer a pilgrimage to its visitors. Bert offers a contrast between how people experience the Grotto then and now that many of us busybodies today can reflect on.
"Well you know if you come [to the Grotto] with the right frame of mind, it can be like a pilgrimage. That is so lost today, I think," she continues. "Years ago, people would come pray the rosary and walk slowly, and Father had padded stone kneelers and he would have places where they could sit and meditate, and that's what you would see a lot in Lourdes. If you would go back to the '30s and '40s, you would see a lot of praying, and in Lourdes you see a lot of praying. But now, the Grotto, it is different. People come to see, but they come and everyone is fast." In coming to terms with the change, Bert answers why she thinks that change may have occurred: "Well, I think the whole world has changed, everything is fast-paced now."
The Rudolph Grotto is located at: 6957 Grotto Ave., Rudolph, WI 54475
For more information, visit rudolphgrotto.org
By Ben Williams
Photography by Michael Lieurance