Looking For Events And Information About What's Going On Around The Diocese?

Go to www.diolc.org/calendar so you can stay up to date on what's happening in the Diocese of La Crosse. If you would like to add a parish event to the diocesan calendar, please
send a message to [email protected] to share what's happening at your parish.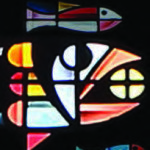 Looking For A Fish Fry Or A Local Parish Lenten Meal?
During Lent, one thing that brings people together is the parish fish fry or soup supper. If your parish doesn't offer one or you just want to try something different, now there is an easy way to find a fish fry near you. A "Fish Frynder" page is now on the diocesan website — http://diolc.org/fishfrynder/ — where parishes can submit their Lenten meals and a map will show exactly where and when a fish fry, or other parish meals, are taking place in our diocese. To get your parish listed, please contact Pam Willer at [email protected] As we get requests, they will be added to the FishFrynder page.

Daily Mercy On MyParish App
The myParish app is an excellent tool for daily prayer, parish updates and Mass times, but now it's also a tool for the Year of Mercy with the NEW Daily Mercy button. To be used as a companion to the Embracing the Year of Mercy booklet, the Mercy button within the app will take you directly to the daily readings and reflections. This opens another possibility for your parishioners to do their daily reflections wherever they are! Daily Mercy links directly to the www.diolc.org/mercy website, making your daily reflections easier to access and helping to keep the Year of Mercy top of mind throughout this year.