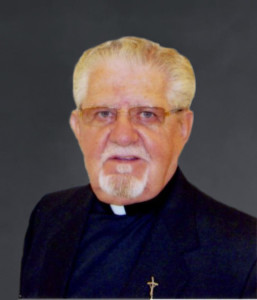 Father Richard L. Fliss, at the age of 78 and a priest for 50 years, died on Wednesday, July 20, 2016 in Green Valley, Arizona.
Richard LeRoy Fliss was born on June 13, 1938 in Stevens Point, Wisconsin, to Michael and Anna (Przybylski) Flisakowski.  He attended St. Peter Grade School and P. J. Jacobs High School, both in Stevens Point, St. Francis Minor Prep Seminary and St. Francis Major Seminary in Milwaukee, and Holy Cross Seminary in La Crosse. Father Fliss was ordained on May 28, 1966 at Saint Joseph the Workman Cathedral in La Crosse by Bishop Frederick W. Freking.
Father Fliss's first assignment was as Assistant Pastor at Our Lady of Perpetual Help Parish in Arcadia on June 15, 1966.  On June 15,1967, he was appointed Assistant Pastor at Saint Mark Parish in Rothschild; and at St. Vincent de Paul Parish in Wisconsin Rapids on December 15, 1969  He was appointed as Associate Pastor at St. Mary Parish in Wausau in 1971 and then as Temporary Administrator of the parish in 1975.  On January 1, 1976, Father Fliss was appointed as Pastor of Holy Rosary Parish in Owen.  He was then appointed Pastor of Saint Thomas More Parish in La Crosse in 1989, where he served until 1997.  In 1998 he began service as a Chaplain to the Federal Detention Center in Miami, Florida.  On March 5, 2006, he was promoted to Department Head of the Religious Services Department at the Federal Prison Complex in Tucson, Arizona.  He served in this position until he was granted the status of senior priest on July 1, 2008.
Father Fliss is survived by two brothers Stanley (Clara) Flink and Clarence Flisikowski; and one sister, Grace (Barny) Kaminski.
He was preceded in death by his parents, Michael and Anna, two brothers Emil (Dorothy) Flisakowski and Chester Flisakowski, and one sister Evelyn Pascavic.
Funeral services will be held at Our Lady of the Valley Parish in Green Valley, Arizona on Tuesday, July 26, 2016.
The Mass of Christian Burial will be celebrated at Mary, Mother of the Church Parish in La Crosse on Thursday, July 28, 2016 at 11:00 a.m.  The Very Reverend William A. Dhein will be the main celebrant.  Monsignor Matthew Malnar will be the homilist.
Visitation will be held at the church on Thursday, July 28, at 10:00 a.m. until the time of the Mass.
A visitation will also be held at St. Peter Parish in Stevens Point on Friday, July 29 from 11:00 a.m. until 12:00 noon, with burial in Guardian Angels Cemetery following.
The Diocese of La Crosse and the family are being assisted by Blaschke-Schneider Funeral Home in La Crosse.