Pattie and Don Pflugradt of Sacred Heart Parish in Marshfield are no strangers to the concept of transformation. When Don retired, the couple transformed an old school bus into a camper and traveled to Texas to visit Don's brother and sister-in-law. That trip transformed their lives in an unexpected and joyful way, inspiring them to start the Gifts of Love ministry in the Diocese of La Crosse.
"Something was guiding us down there," Pattie says.
During their visit, they discovered a special ministry where custom caskets and burial garments are created for infants who die in utero or shortly after birth. The usual hospital practice after a miscarriage or stillborn death is to dispose of the baby. Families in shock after an unexpected death are often not aware a funeral and burial are an option for their baby.
"All the hospitals do is put them in plastic boxes," says Pattie. "There's no closure for the parents, nothing. It just got to me. We need to get these babies buried with dignity."
Pattie knows very well the pain of losing an infant. She had a miscarriage at four and a half months and her daughter experienced a miscarriage in the fifth month of a pregnancy. She also remembers as a child when her mother lost triplets.
"I can picture that still today," Pattie says. "I was there when my sisters were buried."
After helping to line and decorate the infant caskets in Texas, Pattie felt called to bring this special ministry to Wisconsin. When she and Don returned home, Pattie immediately reached out to area hospitals to see how to help families dealing with infant loss.
"I told [the incarcerated men] the caskets were just beautiful. They were so proud of what they were doing. What a pro-life moment for them."
"We started building caskets," she says. "We got them blessed by Father Peter Manickam in 2009. We gave those caskets to St. Joseph Hospital in Marshfield and they were so grateful."
Don started making the caskets with the help of Charlie Winters and Dusty Mullen.
Pattie traveled to local Diocesan Council of Catholic Women (DCCW) chapters to ask for donations and help with this new ministry. "The more presentations we did, the more ladies got involved. Then the men got involved," says Pattie. "I would have women coming up to me with tears in their eyes."
Many people have offered their skills and talent for this special ministry. Lyle Pospyhalla received a shipment of cabinet doors he couldn't use, and the shipment became a blessing of caskets for Gifts of Love.
Pattie also approached a local correctional facility to see if the inmates would be willing to craft caskets for the ministry. The incarcerated men took on the project without hesitation.
"I told them the caskets were just beautiful," Pattie says. "They were so proud of what they were doing. What a pro-life moment for them."
The caskets were used during the March for Life in Washington, D.C. Local high school students brought the caskets to the march as a pro-life visual.
"The students were so proud of these baby caskets," says Pattie. "They explained that all babies needed to be buried with love and dignity."
Pattie and Don believe every family suffering from the loss of a baby should be offered the comfort of a Christian burial. These families need to feel the love of God for them and for their babies.
"I always say I don't care if they are religious or not, it still hits their hearts," Pattie says. "To know their baby is being given something from the heart, what is that telling them? We had a couple from Marshfield that lost a baby. We told them they could get a casket from us. It didn't cost them anything for the baby's funeral. Not a penny. We do this absolutely free for everyone. Everything we do is donated. There is no charge for anything. Why should you have that big burden of money when you have the loss of an infant? It just gets our hearts knowing that we are giving something for babies."
The response from families to Gifts of Love has been enthusiastic and appreciative. Pattie remembers a little girl in Texas who wrote a letter thanking them for giving her sister a beautiful dress to wear to heaven. Another mother told Pattie, "It's like angels lifting our hearts."
"I had tears rolling," says Pattie. "I couldn't stop. Our ministry affects everybody."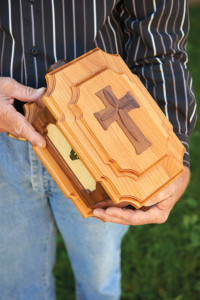 Pattie and Don hope to spread the Gifts of Love ministry all over the United States. Already, they have created a strong presence in Wisconsin, even outside the Diocese of La Crosse. The son of a family friend who's in nursing school has begun reaching out to the community in Madison with fliers. Gifts of Love has helped families in Minnesota, Iowa and Pennsylvania
"We have been all over Wisconsin," Pattie says. "We have them started in California. Our ministry hits home for people. It just gets them. Our big thing is to get it started everywhere. These babies need to be buried with love and dignity."
Gifts of Love provides five different casket sizes, from miscarriages all the way up to 14-pound babies. The ministry is anchored by a dedicated group of volunteers.
Barry Yost helps Don create the caskets. Kathy Brost provides decorative crocheted crosses and prayer cloths. Kathy Couglin makes tiny angels and butterflies for the caskets. In addition to the casket and burial items, each family receives a custom-made memorial box that holds a special card and a tiny crocheted angel.
Donated wedding gowns are torn apart to make burial gowns. "I have a lady, Mary Kotten, who used to make wedding dresses," Pattie says. "She fell in love with our ministry. She does the most wonderful job on burial gowns. She makes 25 or 30 at a time. They look like little miniature wedding dresses."
Prayer is an important part of Pattie and Don's ministry. Pattie prays over every casket she decorates, and she feels the power of God working through Gifts of Love.
"When I think about how far this has gone, I always say, 'God, thank you for taking us to Texas,'" says Pattie. "We know it's God guiding us in the strongest way. Everything we do just falls into place because God is guiding it. We know Mary is behind it, too, because we get messages from her."
At the center of their ministry is Pattie and Don's Catholic faith. "We have a very busy life," Pattie says. "Our passion for Christ and our Church is so strong. Everything we do is what God tells us to do. Listen to God's voice, because He's there. Without Him, we would not be where we are with the Gifts of Love."
DO YOU HAVE CARPENTRY SKILLS? If you want to put your woodworking skills to good use, contact Pattie Pflugradt at 715-207-8348