Blessed Sacrament School learns the true meaning of mercy as they grieve the loss of a classmate, student and friend
The loss of a friend or family member as an adult can be hard enough to cope with, but when it is a child, it can be an extremely sad and confusing time. But in these moments, we turn to God for solace, and the students at Blessed Sacrament School in La Crosse are shining examples of God's boundless mercy as they grieve the loss of their beloved friend and classmate, Cayden Bauer.
Kay Berra, principal of Blessed Sacrament School, and her staff have made a concerted effort over the past Jubilee Year to work with students on the corporal and spiritual works of mercy. They collected food and clothing for local pantries and shelters; they made cards for those who were sick or in nursing homes; and they collected magazines for those incarcerated in the county detention system. They also talked to Mass servers about how honorable it was to serve at the funeral Mass, and to all students about how important it was to pray for the dead and to send cards to those who had lost a loved one. But the events of Feb. 26-March 2 would make the works they learned even more personal.
"On Feb. 26, 2016, our school community was made aware of the sudden passing of one of our third-grade students, Cayden Bauer.  As a school community, we were devastated; but together, we prayed and worked, laughed and cried," Kay remembers.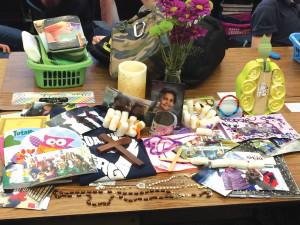 Some of the kids were able to go with their parents to the funeral, but for those who couldn't attend, Bishop Callahan came to the school and listened to their stories about Cayden and offered a Mass for her.
"How else do you teach children how the Church heals but through its traditions and teachings about the resurrection?" she asks. "When the children went to the funeral home, they understood, and they wanted to look at the photos and they weren't afraid. They are so trusting in God's word, and that's the lesson for all of us to emulate."
Kay and her staff made it a point to be very open and welcoming to all the students and knew it was important to give them the time they needed to grieve and ask questions and especially to pray.
"With our school guidance counselor, Mari Erickson, students made 'comfort bags' and they distributed them to families who had recently lost a loved one. Later in the school year, the third-graders walked to the Catholic cemetery to visit Cayden's grave and offer a decade of the rosary," she explains. "We continued to take our time and when they were able to place her headstone, the children brought a flower for her and they knew they could go talk with her whenever they needed to."
"How else do you teach children how the Church heals but through its traditions and teachings about the resurrection?"
On the first day of school this year, everyone gathered at the school garden for a prayer service to plant a tree and lay a plaque remembering Cayden.
"We told the students that even though they will grow and leave, they can always stop back and the tree will grow with them. It's important for them to have a place to feel comfortable with their feelings," she says.
Cayden was able to leave a lasting mark, and Kay wants people to know that she had a mission in her short life and that she will always be with them.
"We have her last piece of school work and it was something she did in French class. She had to write in French 'my day of preference is' and she picked Wednesday because that's the day she was able to receive Communion," she says. "She is still very much a part of our school and the students are just sure she is in heaven."
Kay is constantly amazed by the children's ability to come together and express their feelings about Cayden in a way that has invited more than just the students who knew her.
"Our whole school community has lived and learned the corporal and spiritual works of mercy," she says. "I am not sure I have ever been more proud of the students and staff of Blessed Sacrament School in the way that they walked this journey."
By Monica Organ