Deacon Dan Rider, along with the Sojourner House, offers mercy to the homeless in Eau Claire
Deacon Dan Rider of St. Peter in Tilden and St. Charles Borromeo in Chippewa Falls clearly remembers when his connection to the homeless in Eau Claire first began. It was a cold night in December 2010 that was featured in the local news.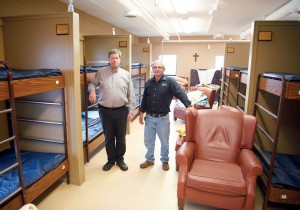 "We had a huge snowfall in this area. I think we got two feet of snow," says Deacon Dan.
"There was a story in the paper about two men who slept in tents during the storm. What got my attention was one of those men was one of my high
school classmates."
Inspired by news that Catholic Charities and a local evangelical church planned to open a homeless shelter in Eau Claire, Deacon Dan got involved. He was part of a group of concerned Christians who renovated a local building to create Sojourner House.
The homeless shelter opened its doors on Nov. 1, 2011, and offers beds for 32 men and 16 women every night of the year. From 7 p.m. to 8 a.m., single adults with no home can come to Sojourner House for a meal, take a shower, wash clothes and have a bed to sleep in for the night. Space is available on a first come, first served basis. Those who have stayed at the shelter for more than 90 nights are required to go to the end of the line to allow others the opportunity for shelter.
"I was there the first night they opened and a lot of nights since then," Deacon Dan says. "In October 2011, Bishop Callahan came and blessed the building. I was his deacon for the ceremony. After that dedication ceremony was done, he gave me an assignment. The bishop asked me to make people aware in Chippewa County. Over the next several months, I spoke at different parishes, and got parishes to commit to volunteering and serving a meal once a month at Sojourner House."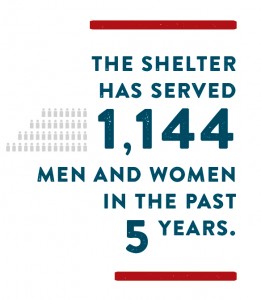 The shelter has served 1,144 men and women in the past five years. With only one paid staff member at the shelter, volunteers are a valuable commodity in the success of Sojourner House. Most days have parish groups that provide the volunteers.
One of the first residents was Deacon Dan's former classmate.
"He was there that first night and for quite a while after that," says Deacon Dan. "He's living on his own now. That's part of the Catholic Charities program at Sojourner. They have financial counselors and social workers. They try to find out what people need to live successfully on their own. What do they need to help them move on? That's been really nice to see."
After being ordained to the diaconate in 2007, Deacon Dan worked primarily in marriage preparation and with hospital ministry. Even after ordination, his formation studies on the works of charity continued to be an important focus of his faith and service to the church.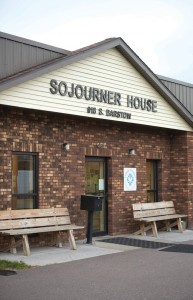 "We're supposed to see Jesus in the people around us, and working with Sojourner House puts this direction in very concrete terms."
"Starting to work with the homeless was a new venture for me," Deacon Dan says. "I didn't find it to be challenging or scary at all. That's one of the things the deacons are asked to do, to provide for the poor and homeless. Having some kind of concrete way to live out my vocation makes me feel I am living my diaconal responsibility. We're supposed to see Jesus in the people around us, and working with Sojourner House puts this direction in very concrete terms."
While Deacon Dan and his wife, Julie, were not intimidated by working with the homeless in an urban environment, others did not always feel the same way. During his recruitment visits to parishes, Deacon Dan did have people concerned about safety when volunteering at Sojourner House.
"From a faith standpoint, it can only strengthen my faith, because you recognize how fortunate you are and how good you have it. When you see their situation you're of course very happy to help, but you can see how much they need it and you're happy to help in any way you can. They're also just so good and so grateful and you know they're good people."–Gary and Patricia Gray, from Notre Dame Parish, have volunteered every quarter at Sojourner House for 5 years.
"If I can get them there for just one night, they will come back," Deacon Dan says. "They find out homeless people are just like everyone else. I think a lot of people feel like they want to do something but they are not sure how to do it. They think the only way is to put money in the basket."
Volunteering with the poor has become a tradition for the Rider family. Their three grown sons have all volunteered at Sojourner house, and their daughter is looking forward to her volunteer hours as soon as she meets the age requirement.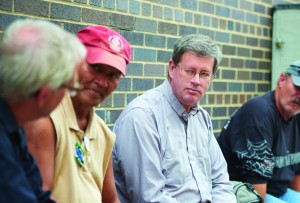 The Rider boys all took their experience at Sojourner House and put it to good use. "My oldest son lived in NYC for a few years and he helped out with homeless there," says Deacon Dan.
Their second son volunteered in a homeless shelter as part of his nursing training, and the third son volunteered at a homeless shelter while studying abroad in Oslo, Norway. "He got quite an experience," Deacon Dan says.
Service to the poor is an integral part of our Catholic faith, Deacon Dan believes. Whether help is offered through volunteer work at a homeless shelter or food pantry, or through donations of personal hygiene products, clothes, or food, Christ calls each of us to find him among those in need.
"They have stenciled above the window in the kitchen the verse from Matthew," says Deacon Dan. "Jesus is pretty specific in Matthew 25 what he wants us to do. 'Whatever you do for the least of these you do for me.'"
TO LEARN MORE about Sojourner House or how to get involved, visit cclse.org
By Mary Kay McPartlin
Photography by Michael Lieurance