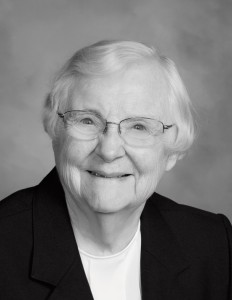 Saint Benedict's Monastery
St. Joseph, Minn.
July 13, 1920 – December 21, 2016
The Eucharist of Christian Burial will be celebrated at 10:30 a.m. on Tuesday, December 27, 2016, at the Sacred Heart Chapel, Saint Benedict's Monastery, St. Joseph, Minn., for Sister Petronelle (Alvina) Marthaler, who died on December 21, 2016, at Saint Scholastica Convent, St. Cloud, Minn. Burial will be in the monastery cemetery. Friends may call at Saint Scholastica Convent on Monday, December 26, from 1-6 p.m. or for a Vigil Prayer Service at 7 p.m. at Saint Benedict's Monastery. Visitation continues at 9 a.m. on Tuesday, December 27, until the time of the funeral.
Alvina Marthaler was born July 13, 1920, to Nicholas and Louise (Deters) Marthaler in Melrose, Minn. She attended Public Grade School in Sauk Centre, Minn. On September 6, 1941, Alvina entered Saint Benedict's Monastery and was received into the novitiate on July 2, 1942, taking the name Petronelle. She made her first monastic profession on July 11, 1943, and perpetual profession on July 11, 1946. In 1948, S. Petronelle was one of the 83 sisters who transferred their monastic obedience to the newly independent Saint Bede Priory (later Monastery) in Eau Claire, Wis.
Petronelle spent some time serving in the domestic arts at St. Mary's in Richland Center, Wis., and at St. Thomas More in La Crosse. However, her principal ministry was in caring for people who were sick or elderly. She earned a certificate from Gunderson Hospital in La Crosse for completion of a nurse aide program. Later she completed an LPN program at Sacred Heart School of Practical Nursing, Milwaukee, Wis., and was licensed as an LPN.
Her ministry of care took her to St. Joseph Nursing Home in La Crosse, Wis, where she worked as part time nurse aide, as well as cooking and in domestic work. From 1972 – 1985, after becoming an LPN, she served at Luther Hospital in Eau Claire. She worked both in communications and in hospice, including providing home care for hospice patients. S. Petronelle, later worked at the Clairemont Home in Eau Claire, as well as providing day care in homes.
In 2010 the sisters from Saint Bede Monastery merged with the sisters of Saint Benedict's Monastery and S. Petronelle moved to Saint Scholastica Convent in St. Cloud.
In addition to the sisters in her Benedictine community, S. Petronelle is survived by her brother, Norbert (St. Cloud, Minn.), nieces and nephews. She was preceded in death by her parents, a brother, Bernard, and sisters: Alice Unger, Evelyn Dunsmore, Rita Toenies and Florence Marthaler.
Please direct memorial gifts to the Sisters of the Order of Saint Benedict Retirement Fund.