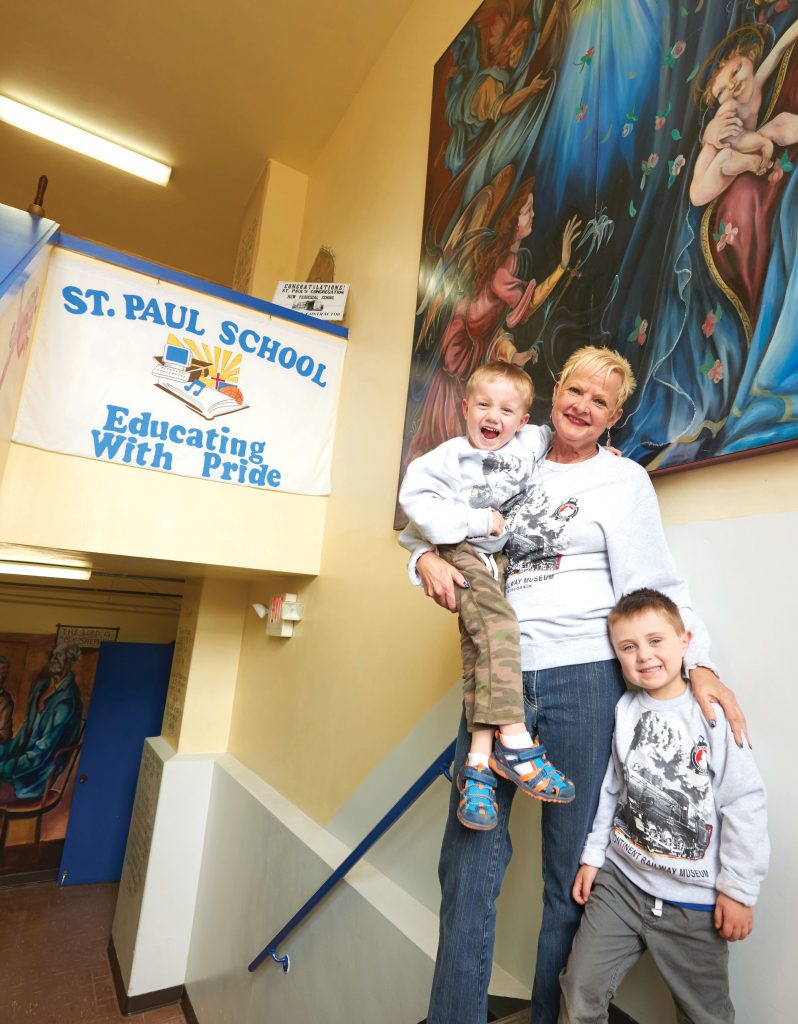 St. Paul School, Mosinee, builds a foundation of tradition and education
When Anna was married, she and her husband Lewellyn had a daughter, Amber. Anna knew from the beginning that she wanted a Catholic education for Amber. Having grown up in Mosinee, Anna made the decision to enroll Amber at St. Paul School: "I wanted her to have the [faith] base because things are changing so, and more and more as decades go." With a child herself, Anna began to understand the importance her father placed on Catholic education, but she knew that, especially now, girls too needed the moral guidance and mentoring the Catholic schools provided.
This decision to send her daughter to St. Paul started a decades-long relationship Anna has had as a supporter of the small school in central Wisconsin. She calls it ironic that she didn't start her own faith journey with a Catholic education, since she now counts it a big part of her life.
St. Paul School has a long, strong history. According to St. Paul Parish's pastor, Father Don Przybylski, and principal, Tim Havican, "The school was built in 1938 and accommodated more than 200 students. The Franciscan Sisters of Perpetual Adoration from La Crosse staffed the school for many years, until the mid-1990s. In 1958, with an increase of 200 more students, an additional three classrooms, two offices, a full kitchen and three more classrooms to be used at a future date were constructed. About 25 years ago, lay principals and teachers replaced the Sisters." The parish and school community at St. Paul holds it as one of its greatest priorities to hand on the Catholic faith to their young people. And although tuition numbers are not what they once were, Havican and Father Przybylski proudly share that "the spirit and enthusiasm remain to provide quality Catholic education for our youth."
This spirit and enthusiasm are what keeps Anna involved in the St. Paul School community. After enrolling Amber and seeing the positive impact it had, she unhesitatingly enrolled her adopted son Paul.
"Whatever hidden talent the child has as he or she is growing up and maturing in the education system, St. Paul will enhance that in them … art, music, mathematical, science."
When Anna and her husband brought 8-year-old Paul back from Poland to his new home in central Wisconsin, she enrolled Paul in summer Bible school at St. Paul Parish to "get him acclimated to the school, and to the children, and to English." The following school year, he began attending St. Paul School. She knew the family atmosphere and small class sizes would be ideal for Paul transitioning to a whole new language and culture. "He did, and still does, remarkably well," she says.
What perhaps has impressed Anna most about the St. Paul School's teachers and staff is, "Whatever hidden talent the child has as he or she is growing up and maturing in the education system, St. Paul will enhance that in them … art, music, mathematical, science. As we see now, young people today are so undecided in life because there are so many choices out there. St. Paul can help the child develop their talent to their highest functional level."
"And for parochial schools in general," Anna adds, "if the child matures and goes down a less desirable path, the teachings of the faith will come forward and help them get back on the right path."
As her children have grown, Anna continues to see the fruits of their St. Paul education, demonstrating those fostered gifts and talents, as well as finding footing in the solid foundation instilled all those years ago.
Anna is a registered nurse who owns and operates St. Rita's, a small residential facility for adults with disabilities. She has the joy of working side by side on a daily basis with Amber, who became a respiratory therapist. And now Amber's two sons, Jerry and Edward, attend the St. Paul preschool program.
For Anna and many other families who choose St. Paul School for their children, they do so because they are immersed in a family-first atmosphere, "which extends from the principal meeting the busses each morning to parents and grandparents coming to the office throughout the day," Havican shares. "Because we are small in number," Father Przybylski explains, "the older students … watch out for the younger students and set a positive role model for them." It very much reflects a family .Not only is the family atmosphere palpable in the school, it radiates out to the community. Anna's residential home has afforded her the opportunity to connect St. Paul students with her residents on a regular basis, celebrating holidays together with activities such as caroling at Christmas time. The collaboration is mutually beneficial — bringing joy to Anna's residents and teaching the students compassion and empathy.
Anna keeps close to the school, fostering the family atmosphere and helping her grandsons connect the faith they are learning at school and that they practice at home. She offers her assistance and prayers whenever she is needed. Aside from supporting fundraisers and purchasing scrip, she collects caps, labels and box tops for the school. "These little things all add up," she insists. "Nothing is too small to help."
What news at St. Paul School?
The school community is excited to share the STEM (science, technology, engineering and mathematics) initiative at St. Paul School. "We will be expanding the STEM program to a school-wide project as we launch our STEM Academy this fall," Principal Havican explains. "Students have benefited from a blended learning emphasis as we integrate technology across the curriculum, including the use of iPads and Chromebooks for lessons in foreign language and keyboarding." The initiative will "individualize learning to help students reach their potential, no matter what their skills."
By Amy Eichsteadt
Photography by Michael Lieurance