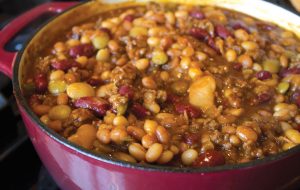 With the heartbreaking news of the hurricanes in Florida and Texas, life does somehow continue for those not lost, and life must go on. We cannot begin to fathom the devastation. I had the opportunity to visit Mississippi after Katrina and I witnessed the endurance and the best of human nature. We visited a school that we helped during the catastrophe. We were invited to their annual school and church festival a couple of years later. We feasted on crawfish, rode the ferris wheel and played ring toss. We prayed that we did not win either of the choice of two prizes: an iguana or hamster! The town of Pass Christian was a work in progress, to say the least. But the people were full of cheer, generosity and hospitality.
I awoke the Thursday morning, Sept. 7, the week the world was awaiting and bracing for Hurricane Harvey, with Irma on his footsteps, with three text messages from work: "PLEASE CALL ME RIGHT AWAY!" We had a major pipe leak that swamped our institutional kitchen and multiple offices at the Diocesan Center. The timing was less than favorable, because one of our beloved employees of 52 years was retiring and the next day we were celebrating with Mass and a breakfast for 150 guests. The water destroyed most of the things we had prepped and ready for the celebration. The idea of canceling the brunch was discussed, but we could not do this to our friend. He has given 52 years unconditionally and we all wanted to do this for him. We had to start from scratch, but with "all hands on deck," we accomplished our mission. We had administrative staff, executive staff, deacons, seminarians, priests, monsignors — everyone was involved.
I can't begin to count the number of times someone would comment how grateful they were that we are not in Texas. Our work community bonded in the midst of our relatively small mess (but definitely large to us). What makes a community; is it the neighborhood we live in, the church we belong to, our origin, our team, our state, our country? To me, it is quite simple: everyone is a community. With every heartbeat, we all belong. It is hard to be grateful in the midst of total anguish. Maybe it is just to be grateful for one small symbol, like a rainbow after the storm or a relaxing outdoor barbecue with lots of comfort food. Together, we need to be grateful for something much larger, like the love of God and the resilience of mankind.
By Cathy Cooper, Coordinator of Dietary and Services for the Holy Cross Diocesan Center
Photography by Monica Organ
Ribs
3 pounds ribs, salt and pepper
One large, sliced onion
Roast ribs with onions at 350° for two hours
Sauce
Mix together
1 cup catsup
1 cup water
2 Tbsp lemon juice
2 Tbsp Worcestershire
2 Tbsp apple cider vinegar
2 Tbsp dark brown sugar
1/2 tsp dry mustard
1/2 tsp cumin
Drain ribs
Reduce heat to 325°
Drench ribs in sauce and bake an additional hour
Beans
Brown and drain
10 slices bacon cut
1 lb hamburger
1 onion diced
1 green pepper diced
1/2 cup chopped celery
Combine sauce
1/2 cup catsup
1 tsp mustard
1 tsp salt
1/2 tsp garlic salt
1 Tbsp Worcestershire
3 Tbsp cider vinegar
1/3 cup dark brown sugar
1/2 cup prepared BBQ sauce
Rinse and drain
1 can kidney beans
1 can Lima beans
1 can butter beans
Mix all together and add 1 large jar of B&M beans
Bake at least 1 hour at 350°