NOTRE DAME PARISH – 117 ALLEN ST., CHIPPEWA FALLS
ST. JOSEPH CHURCH – 719 E PATTEN ST., BOYD
ST. PATRICK CHURCH – 322 FULTON ST., EAU CLAIRE
Only 12 years have passed since I was first introduced to the Chippewa and Eau Claire deaneries. However, it was here that the seeds of my vocation were planted, a gift for which I will be forever grateful. Thus, this area holds a special fondness for me.
When one thinks of a pilgrimage, one often considers a trip overseas or a visit to a famous shrine. But every deanery, and indeed every church, in our diocese holds wonderful historical and spiritual treasures. I fondly remember, when I was first discerning seminary life, making frequent visits to various churches in our diocese. A bit of joy filled my soul every time I was able to enter a new church and glimpse the history of the community whose faith erected such a wonderful structure.
In the Chippewa and Eau Claire deaneries, three of the most historic churches have been recently remodeled. They are must visits for anyone passing through the area. The first is Notre Dame in Chippewa Falls, which rests prominently on top of the city's East Hill. Adjoining this beautiful church is the Goldsmith Chapel with perpetual adoration of the Blessed Sacrament. The second is St Joseph in Boyd, just 20 miles to the east of Chippewa Falls. The final must-see church is St. Patrick's in downtown Eau Claire. A visit to each of these churches is a real treat, as the historic beauty of the churches have been wonderfully preserved throughout their restorations.
During the Pauline year of 2008, I was blessed to make a walking pilgrimage with some good friends from Chippewa Falls to Bloomer. Our destination was St. Paul's Parish in Bloomer. The 16-mile walk brought us through the rolling farmland of Chippewa County. It was a special day filled with great conversation and deep prayer. Indeed, a similar experience could be done for any one of the churches.
One of my pastimes is bicycling and I always love to make a church the destination for my bike routes. Three that I often try to visit from my home base at the rectory of St. Mary in Altoona are St. Bridget in Springfield, Cor Jesu Oratory (formerly Sacred Heart) in Edson and St. Raymond in rural Fall Creek. These rides often take me over 50 miles of country roads. Nevertheless, when one can make a pilgrimage out of visiting the Blessed Sacrament, every ride is made even more special.
There is much to see in each of the deaneries in our diocese and unfortunately space didn't allow me to highlight more. Please make one of the deaneries a pilgrimage destination this summer and encounter the faith in a new way!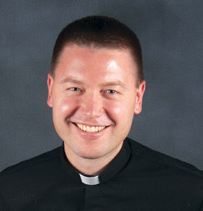 Father Dan Thelen Associate Pastor of St. Mary Parish in Altoona, St. Raymond of Peñafort Parish in Southern Eau Claire County, and Chaplain at Regis Middle School and High School in Eau Claire.