By now, your vacation plans are likely in place. Planning is important when we want to hold off stress and just relax. Among the things you don't pack and purposefully leave behind—work and school, worries and anxieties, in-laws and out-laws—but please do not leave behind your faith. Carefully pack it and have it as close to you as possible. Vacation time is family time, and family time is faithful time. Whether there are just two of you with room to stretch or all eight of you are crunched into the minivan, activities of faith can be meaningful and fun.
Make sure someone has downloaded the Bible onto a phone or tablet. Then "Google" and read about Balaam's talking donkey. Vote on and bookmark your favorite sayings in Proverbs. Discuss why God is always getting angry at the Israelites and why the Israelites are always getting angry with God. If you are on a long journey, consider reading an entire book a little at a time. The Book of Tobit, the Gospel of Mark or any of the pastoral letters will take no time to complete. Pack your rosary, your Chaplet of Divine Mercy or one of the newest talks from Lighthouse Media or Augustine Institute. Plan to sneak them in, maybe between your favorite '80s rock songs on Sirius Radio. Best of all, go to myParishApp or MassTimes.com and scout out where you will spend part of Sunday morning. Sometimes the best experiences of worshiping God happen when and where you least expect it. Then bring a bulletin from there to your home pastor. I love reading about other parishes. I see what we have in common and maybe get a new inspiration.
This summer, awaken something in yourself that maybe you have not felt for a long time. Include a Catholic adventure on your planned vacation or experience something entirely new. The summer is a marvelous time to be with God.
Finally, if you haven't prepared anything for summer and you really want a Catholic adventure, grab the Diocese of La Crosse's Sesquicentennial Anniversary book, Feed My Lambs, and start planning. There are many places described which you might visit in an afternoon. Create an excursion or make a pilgrimage. If you have more time, go on a scavenger hunt. Say a decade of the Rosary where the children of Fatima are conversing with Our Lady (pgs. 129, 206). Take a selfie with the Holy Family (pg. 445). Visit places of incredible art (pgs. 90-91 and 237). Make a collage with your own pictures of our different bell towers. There are tall ones (pg. 203), bright ones (pg. 222), twin ones (pg. 214) and new ones (pg. 148). There are even stand alone ones (pg. 291). If you have had a rough year, spend time with people and places where God's grace has brought goodness out of the greatest tragedies (pgs. 299, 363 and 415).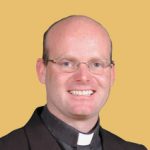 By Father Woodrow Pace, Director of the Missions Office