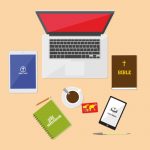 There are an impressive number of great websites and smartphone apps that anyone can access to learn more about their faith and stay well-informed about the Catholic Church in the world today. Here are our top choices.
Websites:
Vatican.va: This is the official website for the Vatican. It presents news services, information on the history of the Catholic Church and the latest on all the publications of the Church. If you want to know what is really going at the Vatican, this is the site for you.
USCCB.org: This is the official website for the Catholic hierarchy in the U.S. At the site you can sign up to get the daily scripture readings, read the bible, access all news releases and learn more about what Catholic believe and how the Church serves the U.S.
Wordonfire.org: This is a global media ministry guided by Father Robert Barron who is a renowned author, speaker, and theologian. This site can be on one-stop resource for those wanting to learn more about Christ and his relationship with the Church. The site includes videos, blogs, study programs and homilies.
Free Apps:
Laudate: This is one of the most comprehensive Catholic Apps available today. Available both at iTunes and Google, this app provides you with daily prayers, scripture readings, devotionals, information about saints and spiritual reflections. Truly a must have app for your smart phone.
CNS (Catholic News Service): If you want to know the latest news about anything Catholic, you should download this app. You will have access to the top news, videos, and pictures of the breaking news in the Universal Catholic Church. Worthy of a spot on your device.