At the beginning of this year, we were all very eager to start our exciting and highly anticipated Sesquicentennial Anniversary celebration! It seems like only yesterday we gathered at Holy Family Parish in Prairie du Chien. Now we are looking at the anniversary year through our "rearview mirror." What a year it has been and how much life we have lived! My, o my, how time does fly! We have learned so much from our recollection of and reflection about the past. How blessed we have been these past 150 years! The memory of the Church is bright and filled with the fulfillment of God's promise.
We now gather to form new memories with a renewed will to live stronger and more purposeful lives for the next 150 years, or whatever time God gives us. Actually, it's very exciting.
November is always a good month for remembering people. I recently sent a note to a dear friend of mine, explaining that I am starting to discover that many of my dearest friends are now dead! I think as we grow older, many of us start to come to that same conclusion. How fortunate for us that we are Catholics and have a special connection to our deceased brothers and sisters through the communion of saints.
Last month, the provincial of the Christian Brothers came to give me some fresh information on the status of the process for the canonization of Servant of God Brother James Miller, a Christian Brother from our diocese, who was murdered in South America. It gave me such reassurance to know that there are so many saintly souls being readied for canonization from our diocese and its environs. Of course, we are geared up for the work of the beatification and canonization of our own beloved Servant of God, Father Joe Walijewski, and the canonization of Blessed Solanus Casey. Nearby, of course, we pray for Bishop Baraga of the Diocese of Marquette and Dominican Father Mazzuchelli from the Diocese of Madison.
We can, and probably should, remember All Saints' Day in our awareness of our dear ones who lived good and holy lives before they died and how they impressed us with their splendid love of God and His Holy Church.
There is so much to be mindful of in our love for the Church. We must be mindful of the fact that the Church is made up of souls like us who are loved by God, and who love God in return.
Thanksgiving occurs during this month, so be thankful for the saints you know. Strive diligently to be one yourself and join your fellow saints at Sunday Mass!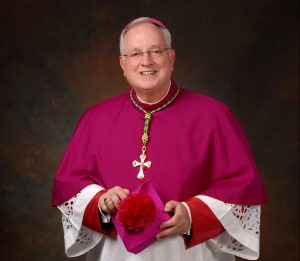 By Bishop William Patrick Callahan
Bishop of the Catholic Diocese of La Crosse