Lucas and Breanna rediscover their Catholic Faith
Lucas and Breanna Munns of Eau Claire both grew up Catholic but, like many millennials, became disconnected from the Church — Lucas before Confirmation and Breanna after college. Their engagement prompted the young couple to take another look at their Catholic Faith and led them to a new relationship with Jesus.
"I just got lazy, basically," Lucas says. "I didn't really want to be there anymore. I was living a pretty self-directed life. When Breanna and I got engaged, I started thinking about my Faith again."
A desire to have their wedding in the Church led them to St. Raymond of Peñafort Parish and Father Derek Sakowski. Father Sakowski explained that to be married in the Church, Lucas would need to be confirmed and would have to go through the Rite of Christian Initiation of Adults (RCIA) program.
Breanna decided to go through RCIA with Lucas, even though she had been confirmed. "It would strengthen our marital bond," she says of RCIA, which she expected to be just like CCD. "The program turned out to be completely different. It actually brought back the excitement. Everyone there was excited and enthused, which made it enjoyable."
RCIA was an awakening for Lucas. "It was really cool," he says. "I had a lot of questions. I went through CCD when I was younger, but I felt like I forgot a lot of what I learned. I really enjoyed the whole process. I think I could go back again this year and learn something new."
Learning about moral law and the teachings of the Catholic Church inspired Breanna and Lucas to look at their relationship differently. "Prior to coming back to the Church, we weren't following the moral teachings," says Lucas. "Before our marriage, we decided to try and live out the Church's teachings."
"There's a peace like no other that comes from going to church and practicing your Faith on a regular basis."
Although they were already living together, Breanna and Lucas slept in separate rooms until their wedding day. Their commitment to following God's plan for human sexuality as spouses allowed them to more fully enter into the Sacrament of Matrimony.
"It felt true," says Lucas.
After being confirmed and getting married last year, Lucas and Breanna have become active members of St. Raymond Parish. "We've been able to grow a lot. We teach the Family Faith Formation program to seventh- and eighth-graders every month," Lucas says. "I had a lot of fear going into it. It's a hard crowd to teach, especially when you just learned the material yourself. It takes a lot of Faith. Our experience coming back to the Church says a lot to the students. They see we are really living our Faith."
As newlyweds, Breanna and Lucas are working to find the balance between work, marriage and Faith. Working in a hospital, Breanna's schedule makes it harder for her to do as much volunteer work as she would like.
"It's hard for me to make a commitment," says Breanna. "Work is where I spend the majority of my time."
Prior to coming back to the Church, we weren't following the moral teachings. Before our marriage, we decided to try and live out the Church's teachings."
Lucas has had an easier time exploring what's available in the parish and has joined the Knights of Columbus. "I got my first degree late last year. I go to the monthly meetings and I say the rosary before the meetings," he says. "I'll be helping out with the fish fries. That's how I got involved with the Knights last year, helping out at the fish fries."
The couple is working to create practices at home that will strengthen their Faith and their marriage. The first step was saying grace at meals. "It all comes down to routine," says Breanna.
Lucas was inspired to go through the Exodus 90 program. "It's 90 days of prayer, asceticism and fraternity," Lucas says. "I'm finding freedom from my addictions and a closer bond with Breanna."
Breanna is also finding ways to create a more spiritual focus. "I started this year not listening to music on the way into work; instead, I pray," she says. "I do the prayer of St. Michael, the Angel of God prayer, the Act of Contrition and pray to Mary. It's more of a conversation."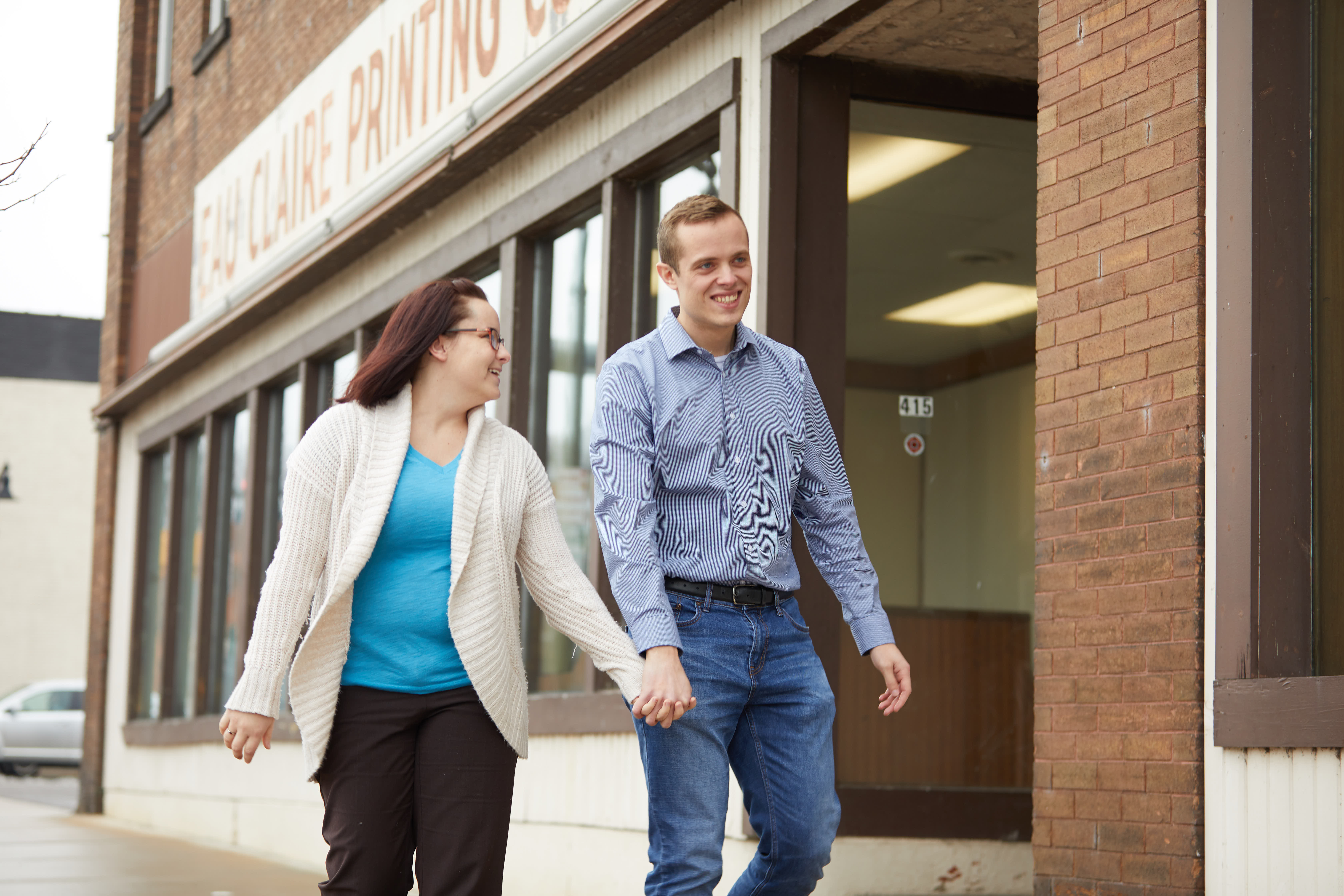 Our experience coming back to the Church says a lot. We are really living our Faith.
Mass is an important part of their life together. In addition to St. Raymond, they also attend other parishes when they visit family. Wherever they are, Lucas and Breanna feel they are always at home with God.
"When we say, 'We lift up our hearts to the Lord,' that really requires my full attention and involvement," says Lucas. "I'm still trying to understand a lot of the Mass. Trying to be present in the Mass and responding to the priest. I'm thinking how I need to listen and pay attention."
Breanna is always asking for the Holy Spirit's help to focus during prayer and the Mass. She has noticed a change in how she is able to connect with the homilies. "The homilies are all really good," Breanna says. "I can actually listen and relate it to my own life. It's a really big blessing."
Although Breanna and Lucas have found joy in their Faith, many of their peers are still disconnected from the Catholic Church and searching for peace. The couple knows those feelings well.
"I am generally a worried and anxious person," says Breanna. "I found that when I wasn't going to church regularly those feelings got worse. There's a peace like no other that comes from going to church and practicing your Faith on a regular basis. It sounds corny to people who don't go. I feel a lot of people may have had a bad experience and that is why they stopped going to church. Keep trying. There's a lot of different parishes out there. One experience doesn't mean it is all bad."
"The parable of the prodigal son comes to mind," Lucas says. "I love sharing that story. God loves them no matter what they've done. He will always love us. People feel judged a lot and that they don't matter, but to God they do."
Story by Mary Kay McPartlin
Photography by Micheal Lieurance