By STEVE CAHALAN
Navy Seaman 1st Class George E. Naegle of La Crosse was remembered as a hero at his funeral May 18 at the Cathedral of St. Joseph the Workman, more than 77 years after he died in the Japanese attack on Pearl Harbor.
About 170 people including a Navy honors team attended the funeral, which was followed by committal rites and military honors in the Catholic Cemetery, where Naegle was entombed in the St. Joseph Mausoleum.
"This was a remarkable experience," his niece, Cathedral parishioner Mary Ann Lyden, said after ceremonies at the cemetery. "I'm so grateful for all of the people who came and for all the honors that were given to my uncle, and for the beautiful Mass."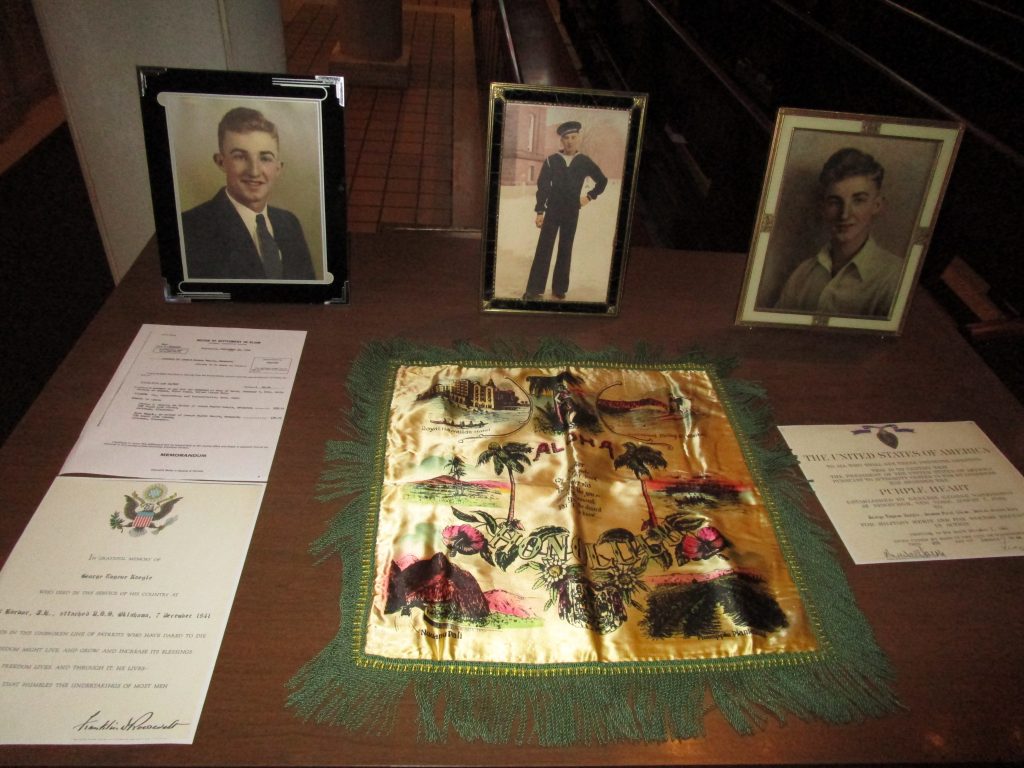 "He finally has come home," Monsignor Charles Stoetzel said in his sermon at the funeral Mass. Although Naegle died more than 77 years ago while stationed on the battleship USS Oklahoma, it's important to remember and pray for him, Monsignor Stoetzel said.
Naegle wanted to do his part to protect the nation, said Navy Rear Admiral Linnea Sommer-Weddington, who is stationed at Offutt Air Force Base near Omaha, Neb., and who gave one of the two speeches between visitation and the Mass. The laboratory where Naegle's remains were identified last year, and where the remains of others stationed on the battleship Oklahoma are being identified, is at that base.
In an interview, Sommer-Weddington said the service was the eighth that she has spoken at, for sailors who were on the Oklahoma. "It's an unbelievable honor for me to represent the Navy at these funerals," she said. She added that she is happy the Navy and the federal government are working to identify the remains and to send them home.
"Today is a special day for the family of George Naegle," said the other speaker, James Laud Sr. of Osceola, Ind., a district director with the Sons and Daughters of Pearl Harbor Survivors organization. Inside the church, he put in place his Flag of Honor traveling memorial, which honors members of the armed forces and veterans.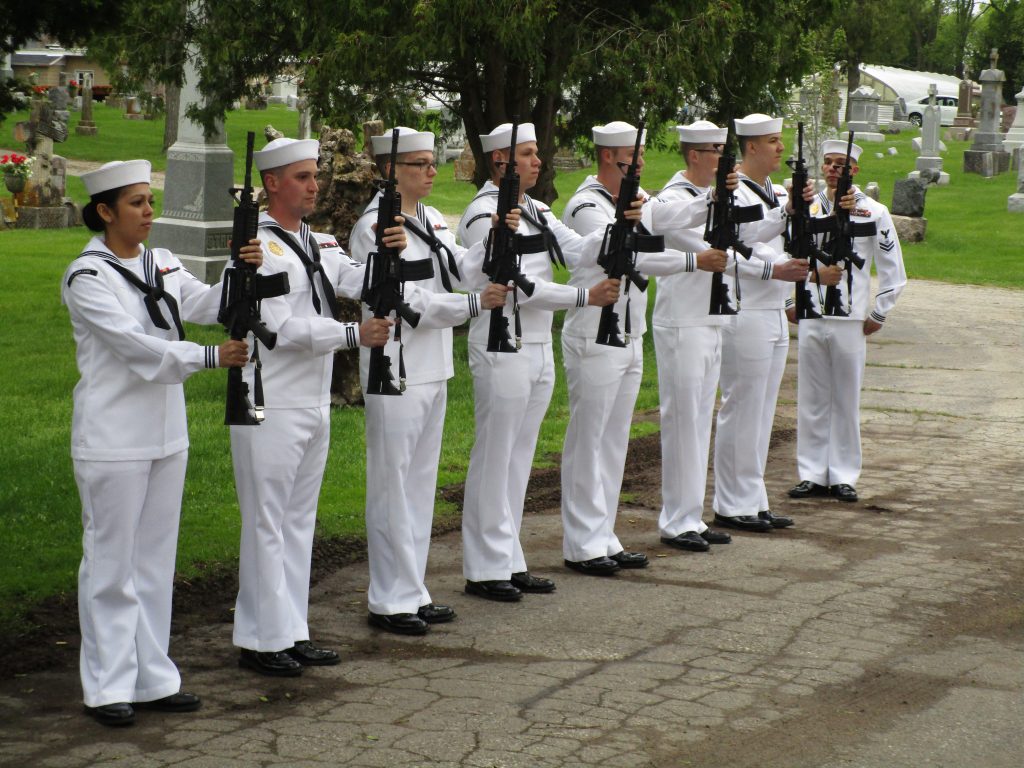 On display on a small table nearby were some of Lyden's mementoes of Naegle, such as framed photos of him, the Purple Heart medal his family received, and a satin gold-color pillowcase depicting scenes in Hawaii, that Naegle had sent to his sister Louise Naegle Weimar (who was Lyden's mother) as a birthday present a few days before Pearl Harbor was attacked.
The first Scripture reading at the Mass was given by Steve Pavela, who still remembers watching Naegle play baseball.
"He was my first baseball hero," Pavela said in an interview at the cemetery after the ceremonies concluded. "He was five years older than me and I remember seeing him pitch," said Pavela, who went on to play college baseball. "I respected him as someone that I'd like to be.
"He was martyred," Pavela said of Naegle. "He gave his life for his country and for his God."
Most of those at the funeral had never met or seen Naegle. But as Ed Wolf of De Soto said after he and his wife Alberta signed the guest book, "I just wanted to show my respects for him."
Wolf served in the Navy from 1958 to 1962 and remembers participating in a Memorial Day 1959 ceremony in the Punchbowl in Hawaii, where Naegle's remains were buried for years before being identified.
"For me, it was really important to come out here and be a part of this, to honor this man's legacy," said Nathan Meyers of Onalaska, a Navy veteran who brought his daughter Olive to the funeral. "He chose to serve, he chose to put his life in the way of danger. He gave his life serving our country."
Naegle was a 1938 graduate of La Crosse Central High School, where he was a star football player. He enlisted in the Navy in 1939.
Mary Ann Lyden was only 5 when her uncle died. She said her mother, Louise Naegle Weimar, who died in 1979, would have been happy to know that Weimar's brother was finally getting a funeral and burial in his hometown.
Weimar was George E. Naegle's only sibling. Their father, George W. Naegle, died in 1974 at the age of 90, and their mother, Anna, died in 1957 at the age of 73.
Naegle's remains were identified last year through DNA and other methods of analysis, the U.S. Defense Department's POW/MIA Accounting Agency announced last September. Lyden and two of her sons, Randy and Robert, had provided the agency with swabs from the inside of their cheeks, as they were asked to do.
Naegle was on the battleship Oklahoma, which was moored at Pearl Harbor in Hawaii, when it and other U.S. ships and aircraft were attacked by Japanese airplanes on Dec. 7, 1941. The battleship was hit by multiple torpedoes, which caused it to quickly capsize. The attack on the ship resulted in the deaths of 429 crewmen, including Naegle, who was 22 at the time.
From December 1941 to June 1944, Navy personnel recovered the remains of the deceased crew, which were subsequently interred in cemeteries in Hawaii. Unidentified remains eventually were buried in 46 plots at the National Memorial Cemetery of the Pacific, also known as the Punchbowl, in Hawaii.
In 2015, the DPAA began exhuming the remains from the Punchbowl for analysis. As of March, it has identified 200 sailors and Marines from the Oklahoma who were previously unidentified.
Select moments from the funeral service for Seaman 1st Class George Naegle who died onboard the battleship USS Oklahoma (BB-37) during the Pearl Harbor attack on Sunday, December 7th, 1941. After 77 years, Naegle's body has been identified via DNA testing and returned for burial in La Crosse, Wisc. The La Crosse area funeral was accompanied by military funeral honors on Saturday, May 18th, 2019. — All US Navy Photos by Mass Communication Specialist Petty Officer 1st Class ("MC1") Ty Bjornson, US Navy Reserve.