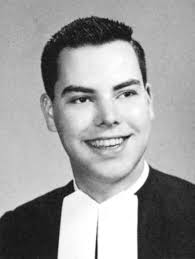 Brother James "Santiago" Miller, FSC, will be beatified on December 7, 2019, in Huehuetenango, Guatemala. Pope Francis approved the beatification of Brother Miller on November 8, 2018, and declared he was killed "in hatred of the faith" in 1982 in Guatemala.
Brother Miller, who was born in Ellis, Wis. east of Stevens Point in 1944, attended Pacelli Catholic High School and took the habit of the Christian Brothers in August 1962. He coached football and taught Spanish, English and religion in a high school in St. Paul, Minn. There his construction and maintenance abilities gained him the nickname "Brother Fix-It."
He was later sent to teach in Nicaragua, where under his leadership a school grew from 300 to 800 students and he supervised the construction of 10 new rural schools. In July 1978 his superiors asked him to leave the country because of the danger amid the Sandinista Revolution. He returned to the U.S. and again taught high school.

He was sent to mission territory in Guatemala in 1981, teaching at a secondary school and at a center for studies for young indigenous Mayans from rural areas. He was assassinated in February 1982, while standing on a ladder, repairing a wall of a school building. Local authorities did not identify the gunmen.
Aware of the danger present to him in Guatemala, in one of his last letters before he died, Brother Miller wrote: "Aware of numerous dangers and difficulties, we continue working with faith and hope and trusting in God's Providence. … I pray to God for the grace and strength to serve Him faithfully among the poor and oppressed in Guatemala. I place my life in His Providence. I place my trust in Him."
There is a pilgrimage to Guatemala to celebrate the beatification Mass of Blessed James Miller, FSC, departing from St. Bronislava Church in Plover, Wis. on December 4. This 6-day fully-guided pilgrimage will include visits to other sites of faith and historic significance, such as Santiago Atitlan, where Blessed Stanley Rother was martyred. Brochures will be available at all parishes. For more information, contact Fr. Tom Lindner, pastor of St. Anne Parish in Wausau at 715.849.3930, email [email protected] or visit diolc.org/brmiller.
CNA / Hannah Brockhaus
Published July/August 2019 Issue