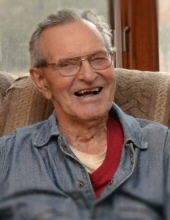 There are some missionaries who serve in the name of Jesus Christ in extraordinary ways. They learn new languages, travel to distant places and evangelize in the name of Jesus Christ. God calls them, fortifies them with His Spirit and sends them to work in His fields. There are also some missionaries who do the same work without ever leaving home. They too are inspired by the Holy Spirit to serve in his kingdom through prayer and support. One such missionary we have come to know in the Mission Office is Bernard T. Louis, parishioner, and member of St. Mary Parish in Keyesville for his teenage and adult years.
Bernard passed away December 1, 2017 at the age of ninety-nine. His obituary recalls his childhood on the family farm and his education in a one-room school house through his eighth grade year. After a brief time of farm work he was drafted to serve in hospital wards of Alabama and eventually on a base in Guam as Private First Class. After returning home "Bernard lived a simple, content life. He valued a good day's hard work, saving money, charity, his Catholic faith and many dear friends."
Bernard was, in many ways, a missionary whose witness of life formed the hearts of others. Kaleb Frawley, a Financial Advisor and friend to Bernard wrote in his newsletter, Kaleb's Corner, "Bernard is a character and one of kind. God threw out the mold after casting Bernard. He's the only 99 year old that we know who lives in the back of his truck! We truly appreciate this friendship, his zingers and one liners and most importantly his example practicing the values and virtues that he preaches." When describing his faith, Caleb writes, "Bernard was on the road for work throughout his life but he was always able to find a Catholic Church for Sunday Mass. Furthermore, he finds the time to say a Rosary or two every day."
By his thoughtful intention and work with Msgr. Roger Scheckel, Mission Office Director at the time, Bernard's witness survives well beyond his life on earth. Charitable funds he had accumulated have positively affected the lives of an extraordinary number of people. His scholarship fund has supported children in Catholic Schools who would not otherwise benefit from a faith-filled education. His contributions supported the life of his home parish. Today, his concern for those less fortunate than he continues reaching places he did not travel and people he did not know.
Funds from the Bernard Louis Foundation received at the Mission Office have helped support projects around the world. The following examples are part of the legacy Bernard left behind by his prayer and generosity. Casa Hogar Juan Pablo II, the orphanage in Peru founded by Servant of God, Fr. Joe Walijewski, gives hope to children raised under extremely difficult circumstances. After the Easter bombings of 2019 in Sri Lanka, a small house of Capuchins Friars there moved toward the purchase of a used vehicle to improve their service to those in need. A village school in Uganda was able to advance a small coffee plantation with the intention of generating income needed for teacher salaries. Poverty stricken students receiving a tutor's help in preparation for competitive college entrance exams in Vietnam received a little Christmas cheer. Bernard's charitable heart supplied the only means they had to visit home for the Holy Days. A medical project pioneered by missionaries who recently moved from Wisconsin to East Africa is bringing healing and hope to those suffering from severe burns and debilitating wounds in Tanzania. This is all happening because Bernard left a legacy of faith and joy behind.
The obituary of Bernard T. Louis proclaimed, "To many, he's a legend that will live on in their hearts!" By the work that is continuing from his generosity, he is most assuredly a legend in the hearts of more people than we can know. Remembering his life and love is a great way to close out our celebration of Extraordinary Missionary Month, October 2019.