The McNally Family's story of Faith
Matthew and Therese McNally and their family live a quiet yet busy life in their hometown of Necedah. While Necedah is their home base, on any given weekday most of the family is dispersed around west-central Wisconsin and beyond, carrying on the responsibilities of their vocations. From Dr. Matthew to the youngest girls, each works hard to use their day in service to God. A glimpse into the McNally's family life reveals a clear and beautiful balance of their priorities of Faith, family and the work they do outside the home.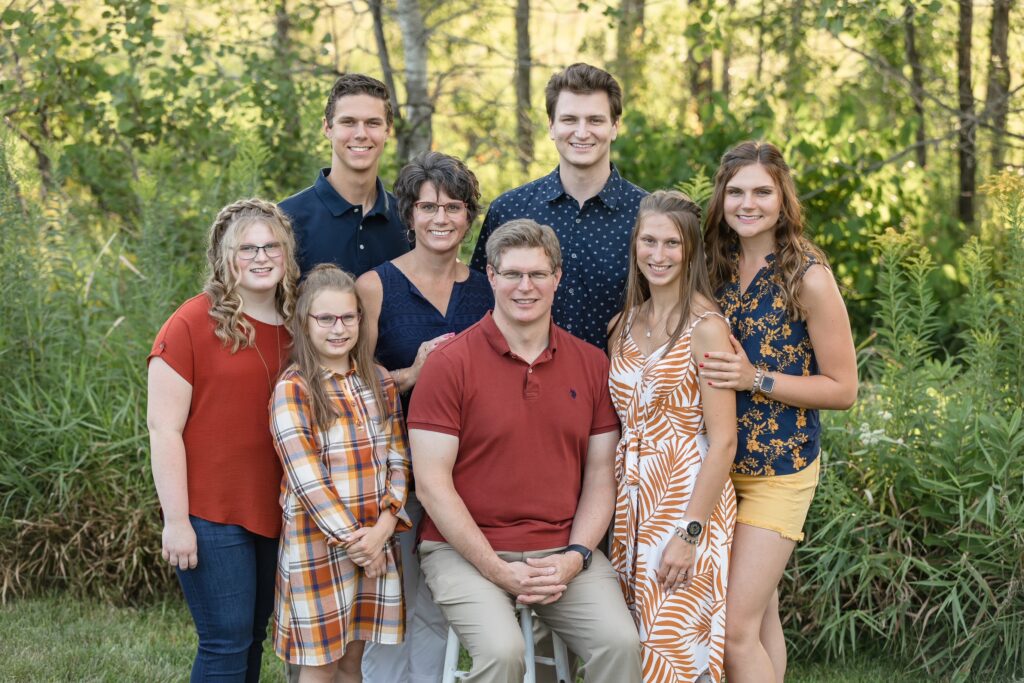 Matthew McNally is a doctor of chiropractic. He owns and manages McNally Spinal Care in Tomah, where his oldest daughter Mikayla (22) works as an administrative assistant. Therese is the organist at their parish, St. Francis of Assisi in Necedah, as well as their coordinator of religious education. Daughter Angelina (16) also stays close to home, attending Necedah High School, while the couple's youngest daughters, Myah (12) and Olivia (9) attend St. Patrick School in Mauston.
Both of the McNally's sons are currently studying away from home. Their oldest, Sean (24), is finishing a master of science degree at Georgia Tech and will soon be starting his finance career in Chicago. Andrew (20), a seminarian for the Diocese of La Crosse, is in his first year of college at the Immaculate Heart of Mary Seminary in Winona.
Backing up a bit, the McNally family was established in 1996 when Matthew and Therese married and moved to Davenport so Matthew could attend Palmer Chiropractic College. While Matthew earned his degree, the two began to grow their family, with Sean and Mikayla born during those years. But the McNallys knew that they didn't want to raise their children away from their hometown of Necedah and away from their families. As soon as Matthew graduated, they moved back home, and he joined an established chiropractic practice in Tomah.
After two years, Matthew purchased the practice and made it his own, employing a specialized technique that he is very passionate about called NUCCA. This method uses a set of x-rays to focus on each patient's unique biomechanics of the head and neck and its corresponding influence on the central nervous system and brain-stem function and then remedy any misalignment. People come from far and near for this unique method of care, and Matthew's practice has continued to grow, necessitating the hiring of two other doctors and the building of a new, expanded office space, which was completed in 2014. He earned a postgraduate degree in cranial cervical techniques and shares his knowledge of the NUCCA method with other chiropractors and students through trainings, as it is not commonly seen or practiced.
Family Balance
Matthew's career keeps him away from home for long hours—seeing patients and his daily commute—but he will quickly admit: "My practice and my family have been my life." Since starting his chiropractic career in 2000, he shares, "I have had a Mass said for my patients and a Mass said for my family once a month at St. Francis Parish." He and Therese recommend to others the practice of having regular Masses said for their children. "It's a gift for your children that will last for eternity."
Additionally, Matthew and Therese have had their home and Matthew's practice enthroned to the Sacred Heart of Jesus and to Mary as well, as they share a lifelong devotion to our Blessed Mother. To make tangible this devotion, both Matthew and Therese attended the basic and advanced classes for the Marian Catechist Apostolate. They also did a 30-day Ignatian retreat as part of the requirements and were consecrated in 2002 by then-Bishop Burke. "Each year we renew our consecration either at our home parish or in La Crosse at the Shrine of Our Lady of Guadalupe," they share. Matthew teaches the Marian Catechist courses when needed. This Marian dedication has been carried on in some of their children, as Mikayla and Angelina are both involved with Marian groups and devotions.
Therese is currently enrolled in lay formation through the Diocese of La Crosse. The two-year program, which she began last year, helps lay faithful to deepen their knowledge of Christ and the Church through courses in sacred Scripture, the catechism, Church history, Christian prayer, marriage and family ministry, etc. "Attending these classes has made me have an even deeper love for my Faith," she shares. "I love meeting people from all over our diocese and developing new friendships and support systems … I'm falling more in love with Jesus through His Catholic Church and have a deeper understanding [of] how much there is to learn about our Catholic Faith."
In 2013, Matthew and Therese were invited to become members of the Knights and Dames of the Equestrian Order of the Holy Sepulcher of Jerusalem. "This is a Catholic order of knighthood under the protection of the Holy See," they explain. "Our primary mission is to support the Christians in the Holy Land through prayer and financial support."
Early Years
While the McNally's involvement at their hometown parish of St. Francis and their involvement at the diocesan level is an essential part of their family life and culture, this was not always so. Growing up in Necedah, both Matthew and Therese's families were involved with the Necedah shrine and the false visionary, Mary Ann Van Hoof. Matthew's family even moved to town from Ohio to be a part of the shrine community. There was a time when, as a child, Matthew was told and understood the Catholic parish in town to be evil because it did not approve of the visionary.
"My life growing up was immersed in all activities surrounding the shrine, families dedicated to the shrine and a school started by the families called QHR—Queen of the Holy Rosary School," Matthew shares. But to Matthew and Therese, this was just life. They both recall a very happy childhood full of fun and time with all their siblings. Matthew and his family spent summer weekends at Petenwell Park with family and friends and Therese fondly recalls family vacations and camping each summer of her childhood from Memorial Day to Labor Day.
Therese was homeschooled until eighth grade when she was sent to QHR. It was there that she met Matthew. After performing in the school's play, "The Song of Bernadette," together—Therese as Bernadette and Matthew as Antoine—a spark started between them. Matthew shares, "I knew from the beginning she was my one and only love. I just now had to convince her." And that he did. But it was during these dating years that Matthew began his own personal investigation of the shrine and came back to the Catholic Church at age 18, much to the dismay of his parents. Therese's family had already left the shrine community years before and joined St. Francis of Assisi Parish in town, a community they now can't imagine not being a part of.
Parish Life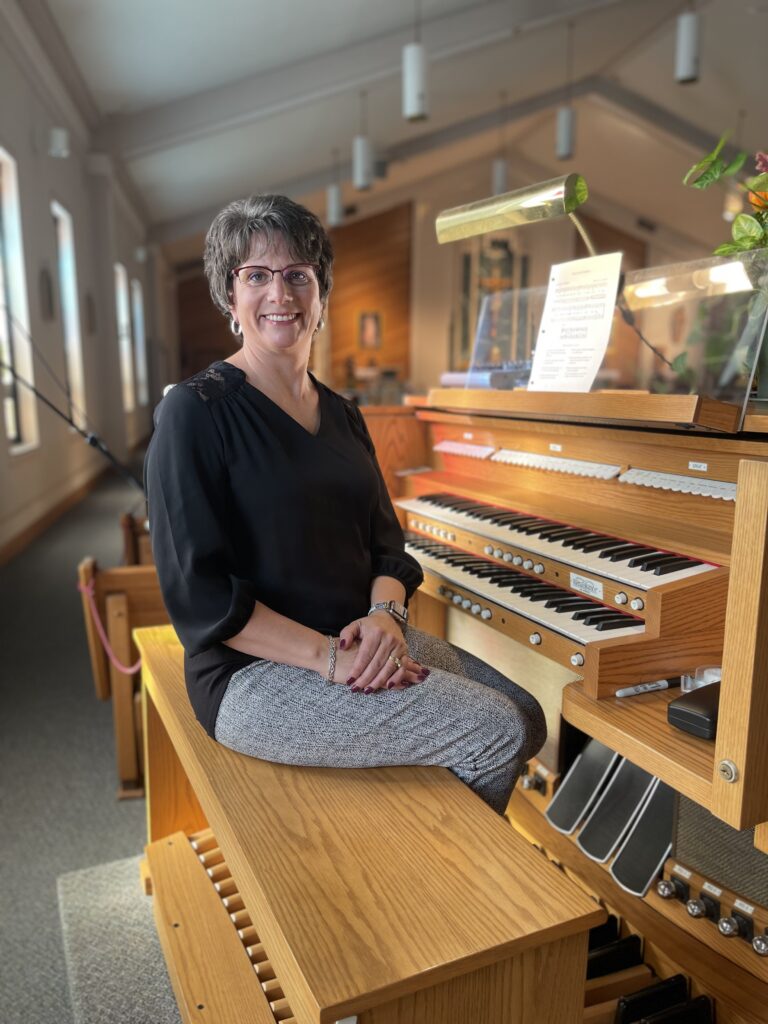 The McNally's share, "Our parish is our second home. Where help is needed, we want to be there." The couple taught marriage preparation classes for nine years. Matthew is a member of the Knights of Columbus, an usher and one of the RCIA teachers. Andrew has been a committed altar server since second grade, and for the past several years he has come full circle, actively training the next generation of servers and assisting with coordinating servers for Bishop Callahan's Masses around the diocese during his journey program year in the seminary.
Therese can be found behind the organ, at her CRE desk or in the classroom as a catechist. Mikayla and Angelina are catechists at the parish, as well, and join their mother and sister Myah in the choir.
Therese began her music ministry when she was just a baby. Her mom was always in the church choir, and she was toted along. As she got older, she began piano and organ lessons herself. When Therese was just 11, St. Francis' organist/choir director passed away, and encouraged by her priest, Father Michael Mertens, she stepped into the role. "I couldn't see over the organ nor could my feet reach the foot pedals," she laughs. But her place behind the organ has become like home, having played for thousands of Masses and hundreds of funerals, weddings and even the installation of their new church during her 35 years of music ministry. "I always say I am just a little town church organist; I don't do anything fancy. I don't have a music degree. I play for the honor and glory of God and to draw people closer to Him through sacred music."
Following the Lord's promptings through their journey as a couple and together embracing the True Church, the McNallys have found a life of balance and a life of abundance for their family.
Story by Amy Eichsteadt
Published in the Jan./Feb. 2023 issue of Catholic Life Magazine