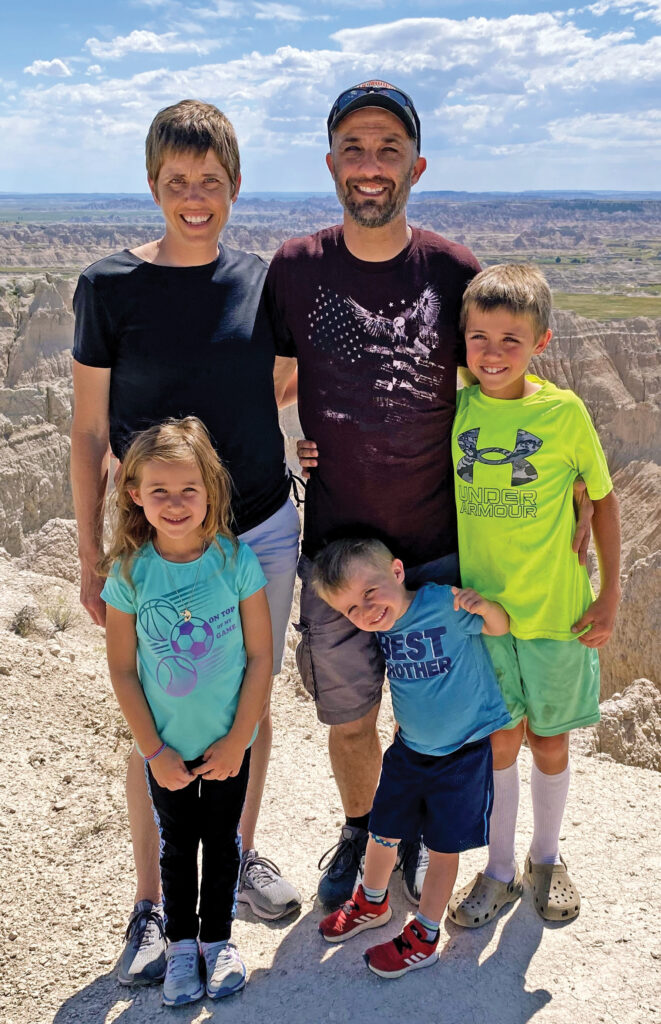 Many people can reflect upon their lives and pinpoint times when they have felt the unmistakable presence of God's guiding hand. Sometimes it comes during a big, catastrophic event. Sometimes, during small, seemingly ordinary occurrences. While Corey and Laura Knutsen have experienced this in different ways, both express deep gratitude in knowing with great certainty that God has a plan for their lives.
Corey and Laura had happy childhoods that provided solid Faith foundations. Laura grew up in Tony, Wis., with two younger siblings. "My whole family was very consistent about going to church on Sunday. Knowing we had that time together became my rock," she remembers. "We'd also do smaller things like pray before supper. But I think we really grew in our Faith at Sunday Mass. That structure was very important to me."
Corey grew up in Elk Mound, the middle of three children. "My dad is Lutheran, so my mom was the leader in getting us to Mass on Sunday," he says. "Mom would also count the collection after Mass, and I and my siblings would straighten the missalettes while we waited for her. She was subtly influencing us from a young age about the importance of volunteering."
Corey was diagnosed with diabetes when he was a high school senior and, a year later, had a car accident that became what he calls a 'step back moment.'
Given a Second Chance
"My diabetes caused me to lose consciousness for a moment while I was driving," he explains. "I was driving on the wrong side of the road, sideswiping cars, not knowing what was going on. It could have been a lot worse. My car was totaled but, thankfully, no one was seriously injured." Corey says it was an eye-opening occurrence. "I can still remember it so vividly. I had what seemed like an out of body experience. I could see myself in the car, but I was outside of the car." He pauses, overcome with emotion. "The outcome could have been so different. It definitely brought me closer to God. I became more prayerful. I am grateful that I was given a second chance."
Corey and Laura both attended UW-Stout and met through a mutual love of track and field. "Corey is four years older than me but we were on the same team, so I knew of him," Laura says. "He helped coach in my last year of competing, and that's when I got to know him better."
Everything comes down to wanting to be good role models for our children, just as our parents were for us." —Corey
Letting God Guide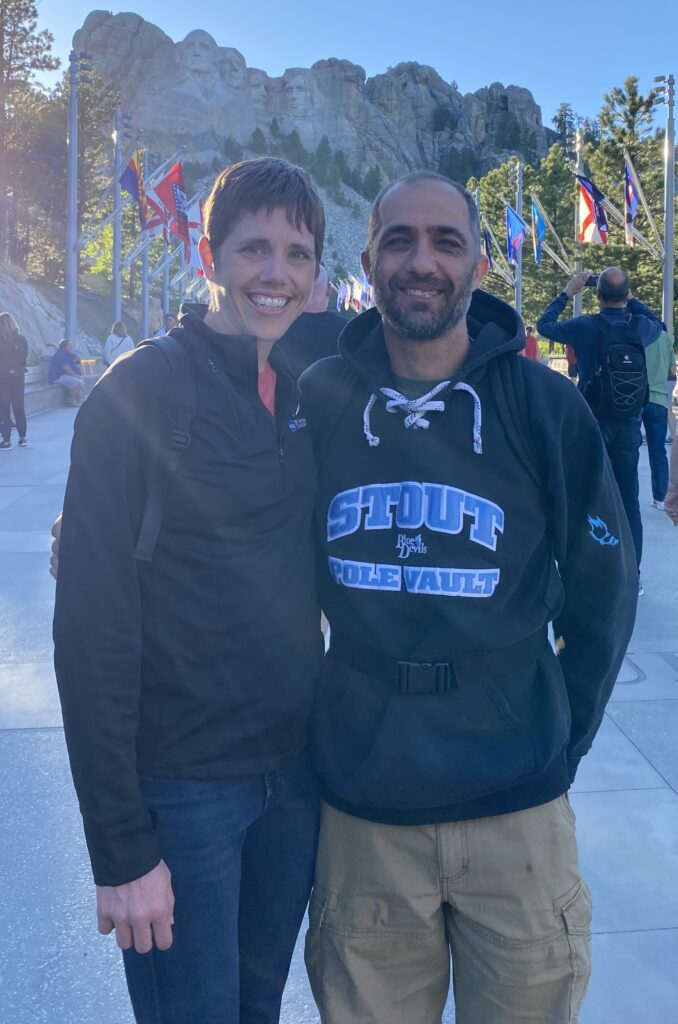 The couple both remember feeling God's guidance early in their relationship. "Corey asked if I wanted to come for Thanksgiving dinner," said Laura. "I thought, 'Our first date isn't going to be spending Thanksgiving with your family. That's too huge!' But I did go to his house later, and we watched "The Passion of the Christ." That isn't a usual first-date movie, but experiencing it together was so special. Later I remember thinking, 'Does this mean Corey's the one?' God has His ways for sure."
Corey had a similar experience. "I remember one night praying that if God wanted us to be together, it would happen. I was just going to let God take control. If it didn't happen, it wasn't His plan. And here we are today."
They married three years later in 2008 and enjoy parenting their children Zachary, 10, Brianna, 7, and Ethan, 4. "We have a busy family life, but Corey and I are a pretty good team," Laura says.
Corey agrees. "In the midst of the busyness, we are trying to bring them up in a Faith-filled atmosphere. Ever since Zach was born, the first thing we did was take him to church on Sundays. And we've continued that with all of our kids. We make that our holy day to go to church and spend time together. We have also picked up Laura's family tradition of praying before our main dinner meal."
Being in God's Presence
Laura says attending Mass as a family is special. "Just like when I was a kid, Sunday Mass is still my rock. I'm not sure I achieve the same kind of calmness I felt prior to having kids, but bringing them to Mass is important to me," she says. "Just being present, I feel that God is able to touch me in some way. Even if I'm with one of the kids in the crying room or whether or not I'm able to fully pay attention to Mass, I feel that security of being in His presence."
They are grateful that their fellow parishioners are so welcoming to families with young children. "The St. Joseph community is special. They go out of their way to encourage parents to bring their young children to Mass," Corey says. "They tell us it's fun to see children in church and share stories of when their kids were little."
Laura agrees. "It helps to know we're in a welcoming parish that has the mind-set that even if the kids are crying or turning around giving 'high fives' to people in the pew behind us, it's alright.
They're happy we're there together. We really are blessed to be part of the St. Joseph congregation."
The couple also volunteers at their parish. Corey is an usher, and Laura is a parish council member and a faith formation teacher. "Jen Engel is our director of religious education and she has this amazing energy. She's very good at recruiting parents to help her out. When she asks, you say yes!" Laura laughs. "Jen wants to make faith formation fun and engaging, and it's exciting to work with someone who has that growth mind-set. Besides, what else would I do for that hour when I drop my kids off for faith formation. Why wouldn't I help out?"
Leading Others in the Faith
Laura says she enjoys putting lesson plans together and has found the experience helps her grow in her own Faith. "When I teach, I have to put aside an hour or two each week to do my lesson plan. I reflect on the Bible and on what God wants me to teach those kindergartners that week. If I wasn't teaching, I'm not sure I'd put aside that same amount of time each week to concentrate on my Faith. So, for me, doing this helps me continue to grow. I reflect more on the Gospel message, thinking about how it pertains to my own life, to the children I teach, and to my own kids."
Corey and Laura have also gone through Facilitating Open Couple Communication, Understanding and Study (FOCCUS) training so they can meet with couples as they are preparing for marriage. "We look forward to spending time with couples, talking about married life and helping them to solve problems," Corey says.
"We're far from perfect, but we're trying our best. We hope to share that with couples, to help them succeed in their commitment to each other," Laura adds. "And it's been a good experience for Corey and I to do this together and focus on our marriage as well."
"Everything comes down to wanting to be good role models for our children, just as our parents were for us," Corey says.
Laura agrees. "We want to help our kids get more out of church and our Faith. Hopefully, our involvement will inspire their involvement in the future. We want them to view church as a place they want to go, not just have to go." Pausing, she adds, "And an added benefit is Corey and I continue to grow in our Faith. We're all on this journey together!"
Story by Mary Ellen Bliss
Published in the March/April 2023 issue of Catholic Life Magazine