A family bonding experience through another homeschooling parent at a conference inspired Jeff and Cheryl Bergmann to move their family from a large metropolitan city to a small community. They wanted to move, mainly, Jeff said, "To give the kids more space to grow and learn. There are a lot of life lessons to learn in the country and a rural community." Jeff and Cheryl, who he lovingly calls the "prayer warrior," are both devoted to their Catholic Faith. Making the decision in 2008 for their family to move was the easy part; the search for where God may be leading their family, not quite so easy.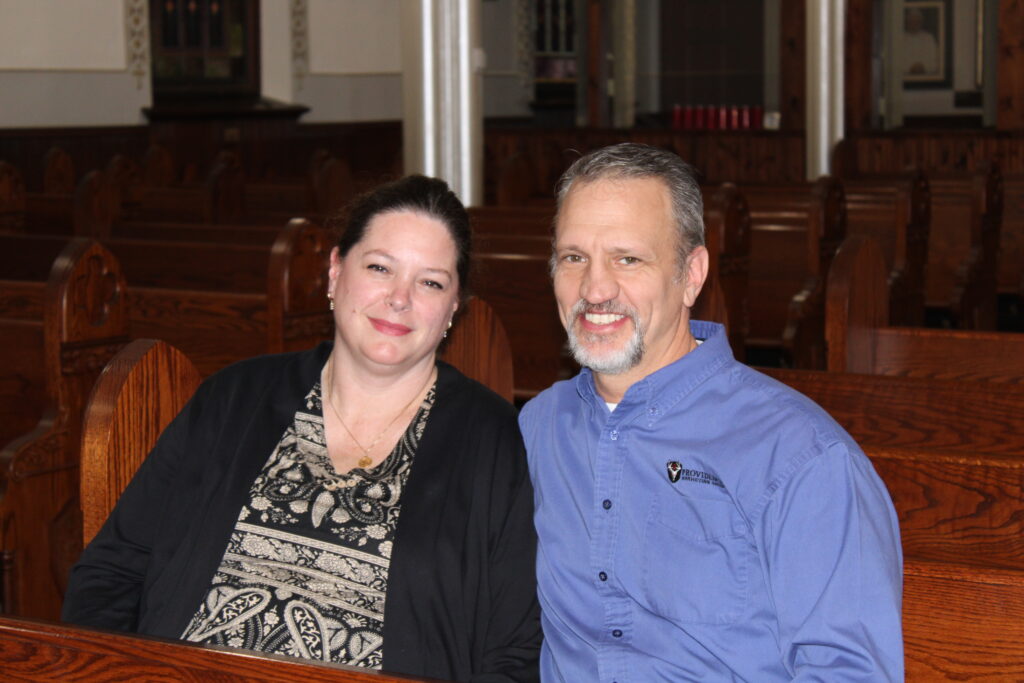 They met in college during a required theology course on the Catholic campus of Notre Dame in Indiana. Jeff was majoring in business and Cheryl, nursing. Their lives were polar opposites. Jeff, who has two siblings, was brought up in a small community, and hunting and fishing were his passions. Cheryl grew up in a large city and is the oldest of six. When Jeff proposed, Cheryl responded very seriously, "I will marry you, but we will live according to the Catholic Faith." This decision for their marriage has kept them grounded, humble and focused on their life's journey together. One of joy of family, with God in the forefront.
"You can get caught up in this materialistic world of success and wealth," said Jeff. "Material items can bring you pleasure, but they can't bring you joy. Joy is what a large family can bring. When I look at our nine children, I smile. I can smile every time I look at them, no matter what is happening in the house."
Material items can bring you pleasure, but they can't bring you joy." —Jeff
Career Change
Jeff was working in the hunting industry and Cheryl, a nurse by trade, was now a stay-at-home
mom homeschooling their children. Jeff, inspired to change his career path, decided to strike out on his own. He had always seen himself working for a large corporation in a small community, but then realized, "It was providential that I left my job when I did. It was God's hand leading me to the point of starting my own business. It was a good marriage of both vocation and avocation." In 2006, Jeff named the company Providence Marketing Group—primarily an outdoor lifestyle marketing agency. The word "providence" speaks to Jeff's spiritual beliefs as a sportsman and a man of Faith. The logo is the symbol you often see representing St. Hubert, the patron saint of hunters: a buck with a crucifix or cross between the antlers.
It was just two years later, in 2008, with seven children ranging from ages 2 to 14, Jeff and Cheryl searched from northern Iowa to Duluth, Minn., for a small community and a new place to call home.
Discerning the Move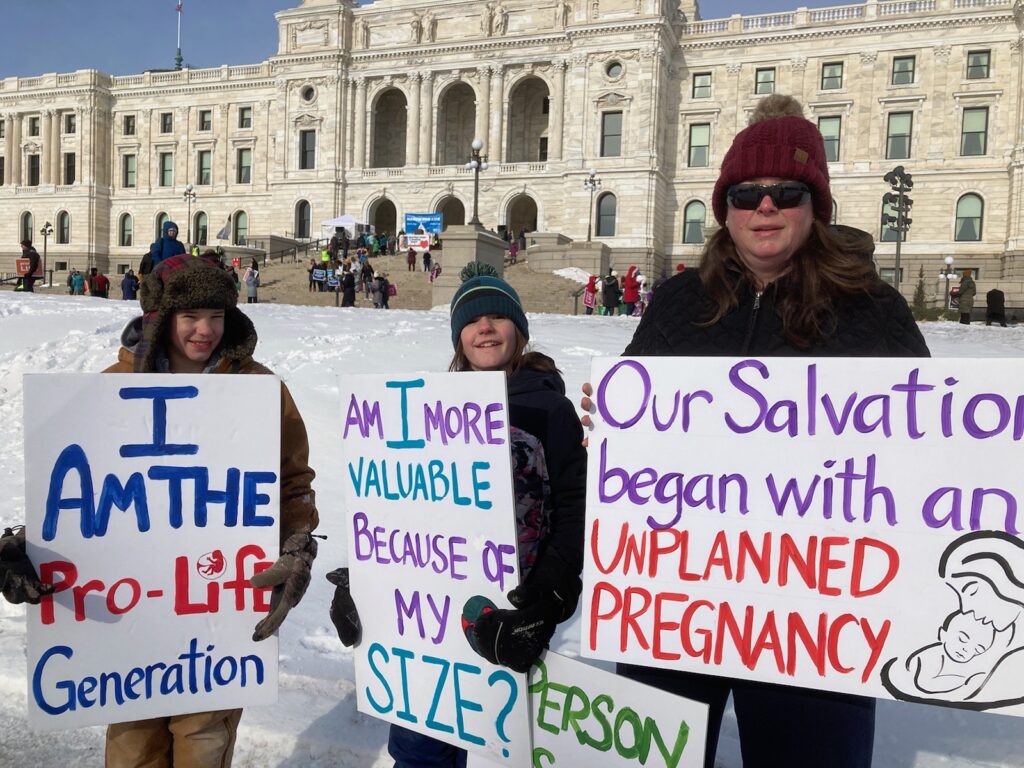 Cheryl said, "We sat the children down and did a 50-day rosary novena in petition to sell our house." It was a very challenging time for the family. With Jeff at work, the realtor would call Cheryl to say they were showing their house in 20 minutes. Cheryl would pack up their seven children, get them out of the house and head somewhere to wait while their house was being shown. Their house eventually sold but before they found a new place.
Jeff's parents opened their house in Walker, Minn.—population of just under 1,000 and where Jeff grew up—for the family to use during their transition. For Cheryl, who had always lived in a large city, the small town experience was a good landing and trial run for her future life. There were a few adjustments Cheryl needed to make. One day when she was concerned, Cheryl called Jeff at work and said, "It's 4 o'clock, and there is no one at the post office. There is no one in town." Jeff just laughed. It was a normal winter day in a small town.
Cheryl, reflecting back on the hard journey of finding a home, shared, "We were becoming desperate. We had no home—just living in Jeff's parents' home. We had no idea where we were going to go, where we were going to land." They took numerous trips to different houses only to find they were not as advertised. Cheryl said, "We must have looked at 100 houses." Every time they went to see a house, they would also check out the churches and the communities. The family did another 50-day rosary novena, this time that they might find a home. Cheryl said, "I drew a picture of what we wanted, what I envisioned, and put it under the statue of Mary. Then we prayed and prayed and prayed." During the novena, Cheryl had a spiritual experience. "God said, `I will find something for you.'"
When a house in Pepin suddenly came up in an auction, Jeff, and his two oldest boys went to see it, while Cheryl, who was expecting their eighth child, and the rest of the family stayed at Jeff's parents' house, praying. They didn't know if they would get the house, but when the auction took a break, they were the highest bidder.
After six months at his parents' home, God ultimately brought them to Pepin. Jeff said, "It was providence that we ended up here. Just a beautiful area, a beautiful community. God chose for us where we wanted to be."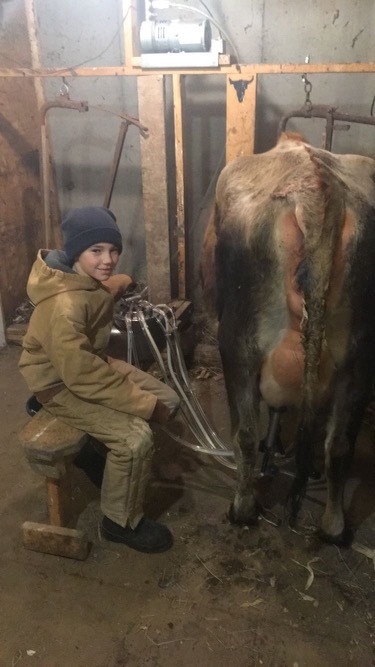 The Hobby Farm
Drawn to the agriculture in the area and appreciating the example of the hard-working dairy farmers, Cheryl and Jeff knew they needed to teach their children a good work ethic. They started a hobby farm. Even though Jeff grew up in a small city, Cheryl said, "We had no experience of living in the country—fencing, raising farm animals or butchering our own animals. We learned, through books and websites, how to fence our goats, pigs and cows, how to grow our own vegetables, butcher chickens, cows and make hamburger." They also have a family cow that the children milk in the morning and at night.
St. John the Baptist Parish
They soon discovered Catholic churches nearby in both Wabasha and Plum City, both equidistant from their home in Pepin. St. John the Baptist in Plum City has a small congregation, who recently went through a renovation and will be celebrating their sesquicentennial this summer. After moving to the area 13 years ago, Jeff and Cheryl felt called to be members with an opportunity to give back to God, who has been and still is so generous to them, while helping their children grow in their Faith. Cheryl said, "We try to foster the kids to take the Faith and make it their own." Being an example to your children by attending Mass every Sunday, volunteering in the parish and standing up for your Catholic beliefs is so crucial. The past six years, Cheryl has been a full time nurse educator at a local nursing home and an EMT responder on weekends. Though life is hectic, as a mom, Cheryl was proud of her family who made posters and participated in the 2022 march for the defense of life at the state capitol in St. Paul, Minn.
"Your children look up to you. If Dad is doing something, it must be important." During hunting season, Jeff makes it a point to leave camp and attend Mass. Regardless of whether they go out early or later to hunt, they don't miss Mass. Jeff is the chair of the Finance Council, a lector and a cantor, and both Cheryl and Jeff have been catechists.
Their nine children now range in age from 10 to 27. The older boys, who are out of college, still live in the area. They are members of the Knights of Columbus and serve as lectors and ushers, while the younger ones attend school in Pepin and serve Mass at St. John the Baptist for Father Junabe Villapaz, affectionately known as Father Jojo.
Today, Jeff and Cheryl are both waiting, ready and willing to be of service, in whatever shape or form God will ask of them.
Story by Cathy Greenseth
Published in the March/April 2023 issue of Catholic Life Magazine