Greg's tragic accident spurs him to bring joy to children in need
Twelve years ago Greg Cemke from St. Mark Parish in Rothschild suffered a near fatal ATV crash. Greg recalls the doctor saying, "I did not expect you to leave the hospital walking, or even in a wheelchair but in a body bag!" That accident was not only the worst thing that has ever happened to him, but also the best.
"Deep within me, I always had a desire to help children in need, and that became my focus," said Greg. "After my recovery, I ran in the Warrior Dash—Wisconsin (5k run with obstacles) and raised money for St. Jude's Children's Research Hospital, helping children fight their battle with cancer. I am not able to run in the Warrior Dash any longer but still wanted to continue to support St Jude's. I wanted to broaden my scope to help more children in our local community."
His accident was a wakeup call; his Faith in God called him to do much more with his life. "I reached out to the Marshfield Children's Hospital to inquire about their needs," said Greg. "I explained my idea for a Christmas in July charity event. They loved it." But no Christmas would be complete without Santa. Knowing Santa's sleigh would not work without snow in the July heat, he found an alternate method of toy delivery. Greg reached out to the local Harley dealership, and he, on his motorcycle and dressed as Santa, along with his helpers, also on motorcycles, deliver toys and other gifts to children in the hospital. That was the start of the Christmas in July Charity Ride. This year, July 22 will be their ninth trip on Saturday morning, starting from Bull Falls Harley-Davidson of Wausau and riding about 40 miles to the Marshfield Children's Hospital.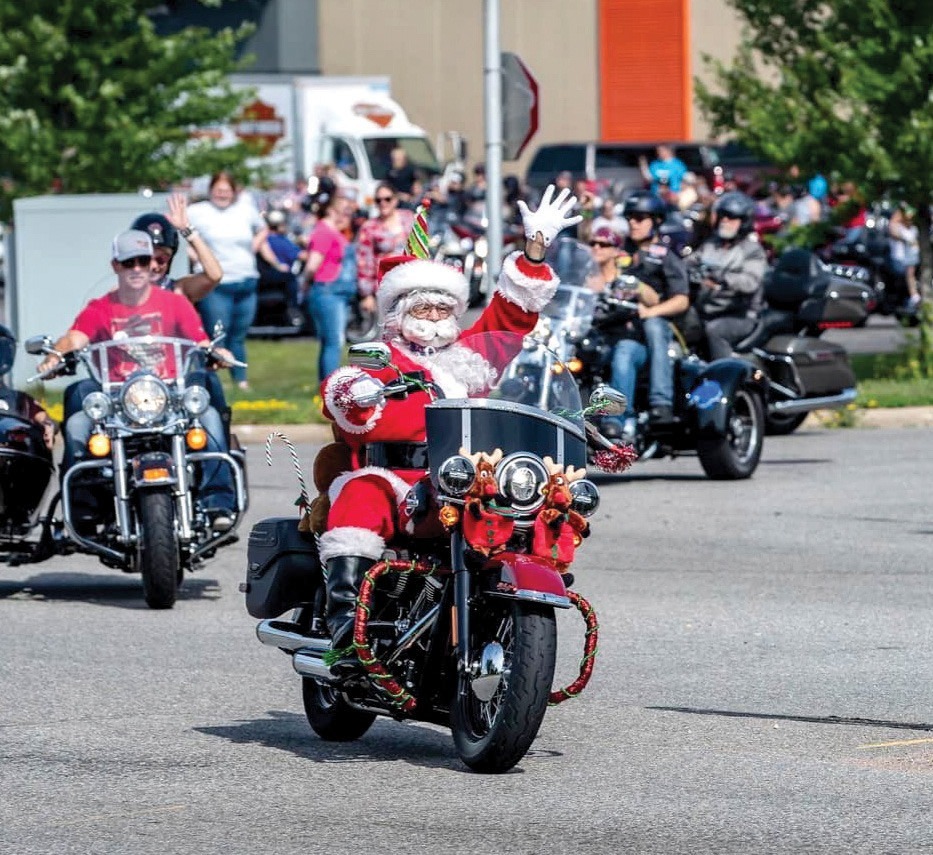 Making a Difference
"[The] Christmas in July Charity Ride is one of the most impactful rides we have ever been a part of," said Pookie Rosa, marketing director at Bull Falls Harley-Davidson. "We believe having a business in our community is a great privilege and with privilege comes responsibility. Engaging in local philanthropy is part of the very fabric of the Harley-Davidson family. We are so proud to give back to our community through local charities like [the] Christmas in July Charity Ride that directly impact the lives of local children."
The children and families can feel the rumble of more than 200 bikes and their horns from blocks away in anticipation of Santa's visit! Children who are too sick to participate will often press their faces against windows to see or "feel" the bikes as they roll up. Those who are able gather outside to watch the bikes roll into the hospital parking lot, where more than 5,000 presents are transferred from the bikers to hospital staff and children. For some, this could be their last and only Christmas.
"I remember two years ago, after the ride was over, I was on my way back, and I felt the need to turn around and go back to the hospital," said Greg. "When I got there, a little boy was still near a window with his mom. I knew the child was born deaf and blind, and he was 'participating' by putting his feet on the window to feel the bike vibrations. The louder I revved my bike, the more he would respond. I could have never guessed or been blessed with how much joy that would bring to a child."
In the past eight years, this charity has grown and raised more than $300,000 for the Marshfield Children's Hospital. Greg has put his Faith in God and has been rewarded with great helpers such as Hope Ukpong, a techy young woman who helps him with the website and Facebook. Other Santa helpers are his board of directors, local Knights of Columbus Council #4628 in Schofield, local fire/police departments plus a variety of other local businesses, all supporting this nonprofit effort. In addition to the 30,000 toys, this charity has also funded innovative items and equipment for the Child Life Department at the hospital. Being in a hospital can be scary for anyone, but it is extremely stressful for children and their parents.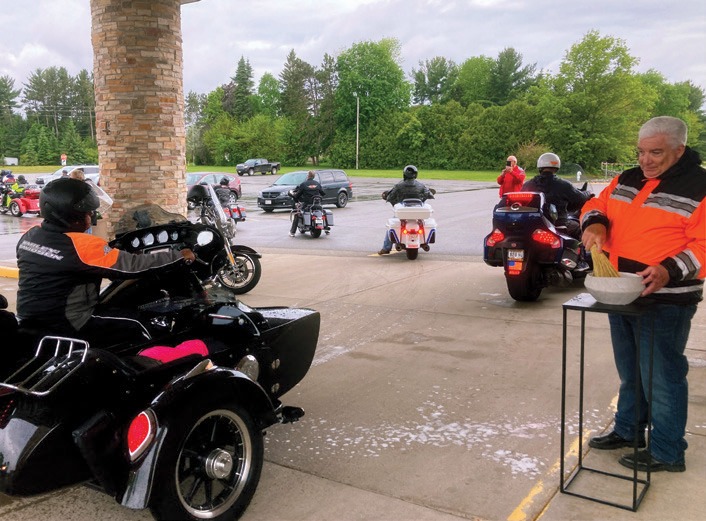 Reducing the Stress
One of the major projects completed in 2020 was a $43,000 movie system for the Children's MRI scanner to distract the patient from the loud machine noise and make the scans less stressful. In 2021, $53,000 was raised to purchase a major gaming system for the children's rooms, play center and family lounges. Last year, $60,000 was raised to help with the remodeling of the Child Life Kids Getaway Lounge. This space allows kids to get out of their rooms, relax and feel like normal kids for a while.
"The support Marshfield Children's Hospital has received and continues to receive from [the] Christmas in July charity has made a significant difference in the lives of the patients served," said Heidi Giese, manager of Child Life and Expressive Therapies. "These resources are invaluable, and the Child Life and Expressive Therapies team would be unable to provide adequate services without the help of this charity. Marshfield Children's Hospital is immensely grateful for the opportunity to collaborate with Santa Greg and the Christmas in July charity."
This year, the goal is to raise $60,000 for a facility dog at the Marshfield Children's Hospital. Facility dogs are utilized to aid in distracting patients and providing comfort positioning during MRI scans, IV starts, exams, catheters and more. Kids can listen to the facility dog's heart and other demonstrated procedures. Finally, staff can use the facility dog to motivate rehab patients to get up and "walk the dog." The Ronald McDonald House across the street even plans to use this charity's funds to fence in its back yard to have a safe place for the facility dog and the kids.
If you would like to donate to Christmas in July to help the kids, visit the organization's Facebook page at facebook.com/christmasinjulycharity, or their website at christmasinjulycharitywi.com or use your smartphone's camera to scan this QR code. For those who ride, complete details can be found on the website under the events tab. Registration is between 9 and 9:45 a.m. on Saturday, July 22, with kickstands up at 10 a.m. A donation of $20 per bike is requested.
Another ride worth noting is the 4th Annual St. Bronislava Motorcycle Blessing and Faith Run on Sunday, June 4 at St. Bronislava Church in Plover. You may recall the "Holy Thunder" article last year in the May/June issue of Catholic Life. This event, started by Father Ed Shuttleworth, was in response to COVID to provide an outdoor event for those who love to ride. It begins at 1 p.m. with a blessing of each bike before the two-hour ride. There will be a rest stop half way. It ends with a meal and refreshments provided by the St. Bronislava Knights of Columbus Council #13880. A free will offering will be collected with proceeds funding this year's Christmas in July charity. To participate in this ride, see the St. Bronislava Parish website at stbrons.com.
Story by Gary Oudenhoven
Photography by Hope Ukpong
Published in the May/June 2023 issue of Catholic Life Magazine