God's Missionary Call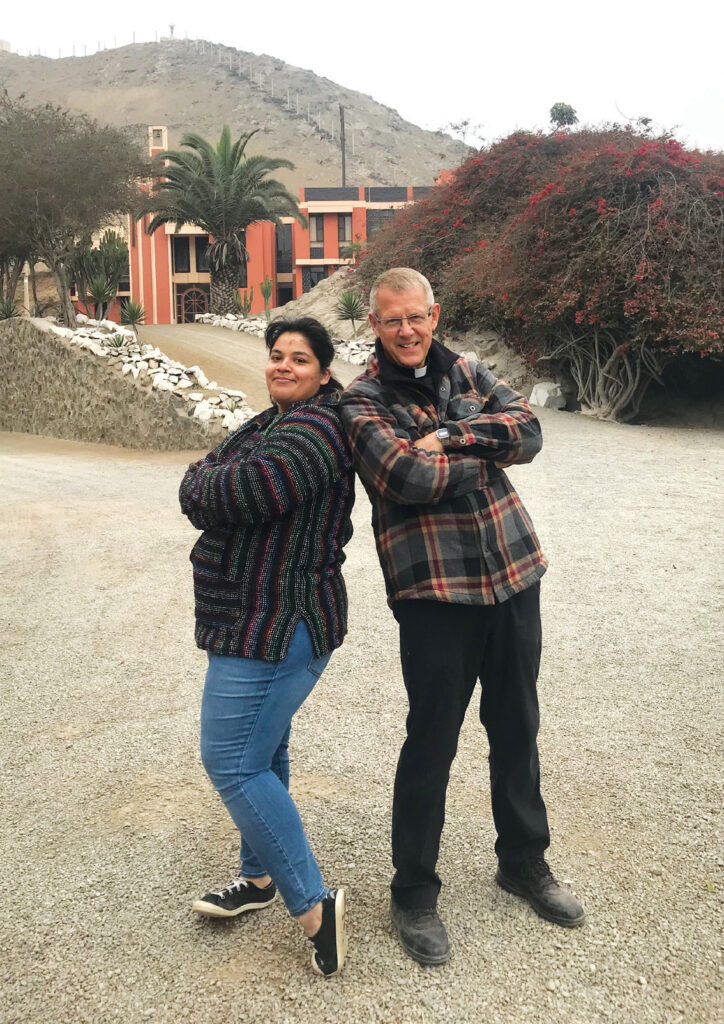 Eight years ago, in 2015, Daniela Orozco was sitting in her house in Abbotsford, patiently waiting, determined to avoid the car parked out front and the person in it. Full of doubt, depressed and even suicidal, Daniela didn't know why this cheerful and optimistic teenager, patiently waiting in the car, cared about her. Daniela barely knew her and wondered why she was so adamant about bringing her to the parish's youth group. Daniela's family attended Mass on major holidays, like Christmas and Easter. She grew up receiving and practicing the sacraments. But at 22 years old, she was walking through a darkness, struggling to find purpose and hope. "She'd been sitting in the car outside for nearly an hour," said Daniela. "So, I thought to myself, 'Fine, I'll go with her to her youth group, but I don't see what the big deal is.'"
Daniela and her family just moved from Hanford, Calif., to Abbotsford in October 2015. The area is a working-class community with a high population of migrants and Hispanics. St. Bernard Church in Abbotsford, led by Father Tim Oudenhoven, offers Masses in English and Spanish, as well as bilingual community services to this population, including a youth group called "Tengo Sed de Ti" (I thirst for you). The group was composed of young adults aged 18 to 25, but those a little older were also welcomed. It was this gathering of community that changed Daniela's life. "This group helped me to know God and to know myself through Him," said Daniela. "And my relationship with God grew."
Others could also see this positive change and saw something special in Daniela. The girl in the car who didn't give up on her became her best friend. Father Oudenhoven suggested that she consider living and working for a year at Casa Hogar Juan Pablo II in Lurin, Peru, a small town close to Lima, the country's capital. Casa Hogar, an orphanage supported by the Diocese of La Crosse, was founded by Servant of God, Father Joseph Walijewski in 1986.
Arriving at Casa Hogar
Daniela was intrigued to go, but some of her family members discouraged her because of their fear. Instead, they encouraged her to finish her schooling. She succumbed to their apprehension and decided to complete her studies. Then she began working as a certified nursing assistant (CNA) at a local nursing home and was just one of two CNAs caring for more than 30 patients. She didn't want to leave the people she was caring for, but the long hours and high stress became overwhelming. Ultimately, she decided to transfer and work in a phlebotomy lab.
"These circumstances inspired Father Joseph Walijewski here years ago and still brings religious and laypeople here today; not to solve all problems and eradicate evils instantly, but to teach with love and allow young people to grow in their Catholic Faith to become productive, self-sufficient and positive leaders in their own country."
Shortly after this, Father Oudenhoven again approached Daniela and encouraged her to think about serving at Casa Hogar. This time, Daniela felt so strongly that God was pulling her in this direction, that she was determined to not let anything or anyone distract her from it. She began organizing the trip and only told her family after the plans had been made. She knew she was being called to the orphanage and trusted in God's will and care to lead her through this time in her life.
"At Casa Hogar, there are family-style living communities consisting of a married host couple, each with either eight girls or eight boys and sometimes their own biological children," Daniela explained. The purpose is to model a healthy family unit and give positive examples of structure and love. Some of these children may actually be orphans, but most likely, for many unfortunate reasons, they come from difficult and dysfunctional homes. Much like a foster family, when the children turn 18, they become independent. However, here, no one is turned away. Some of the "graduates" live in housing called "The Convent," named so because it was formerly an operating convent. This is where Daniela lived during her six months and where others who came to work would stay. She helped the children with their English homework, tutored them in other classes and taught catechism. Daniela shared with a stern expression and a flicker of jest in her eyes, "I told them I will be the funnest aunt, and we will have the best time, but if I have to discipline you, I will be tough on you!"
She also mentored young girls about puberty and personal hygiene, spent time with teenagers talking about teen relationships, and gave witness to making positive life choices. "We went out to experience Mass in other communities, and we gave out a lot of bread!" she said about assisting at local soup kitchens and food pantries. She is extremely humble when she talks about what she did during her time there. "I didn't do much," she said. "All little things." But showing love and compassion to children is one of the biggest "little things" adults can do.
Teaching With Love
One of Daniela's most moving memories was of a 10-year-old girl named Jade. Like many children at Casa Hogar, she was there because her home life was badly affected by an abusive family member. Jade begged Daniela to take her back with her when she returned to Wisconsin. Daniela had to lovingly explain that she couldn't take her. But she also tried to explain that one day though, when Jade graduates from the program, she would be independent and able to make her own life choices, a concept Jade could not fully understand at her current age. This concept is also the source of hope that Casa Hogar teaches to every child. It was the sad reality of these circumstances that inspired Father Joseph Walijewski here years ago and that still brings religious and laypeople here today; not to solve all problems and eradicate evils instantly, but to teach with love and allow young people to grow in their Catholic Faith to become productive, self-sufficient and positive leaders in their own country.
When Daniela arrived back home in Abbotsford in February 2023, her interior life had been changed. The experience deepened her self-awareness and sharpened her ability to see others in their need. She knew that she could no longer live her previous "normal" life. Although she returned to her job at the Aspirus Medford Hospital, she stated firmly, "I will go back to Casa Hogar." She met some wonderful people during her six months of humanitarian work in Peru, which opened even more doors of opportunity for her.
Now at age 30, Daniela has been accepted to Viterbo University in La Crosse and will begin her classes in the fall. She will study either nursing or social work and will one-day return to Casa Hogar. In the meantime, she shares why other young people should spend time in Peru. "Casa Hogar is a great place to go. People will greet you with open arms," she said. "The kids want to get to know you. You'll have a bed to sleep on, food to eat, and clean water; it's a safe place. You'll be family, and Monsignor Joseph Hirsch, the Casa Hogar director, shows great hospitality."
Carrying it ForwardIn the meantime, Daniela volunteers at St. Bernard Church, helping with the youth ministry whenever she can. Like most gatherings during the pandemic, "Tengo Sed de Ti" dissolved and will require much effort to bring it back to its once-flourishing numbers. The parish's outreach program currently has a critical need of clothing for incoming immigrants. Daniela knows the tremendous effect that people joining the youth group and donating clothes will have in the parish and beyond. She has observed that many people living in her community come from Venezuela, El Salvador and Brazil. They work at local companies and are on a waiting list for their visa. They are honest, hard-working people who want to live a free and dignified life, something they were not afforded in their own countries due to the powerful and manipulative exploitation of drug cartels. Children are especially hurt by their cruelty. Daniela believes every immigrant should have the ability to go through the legal process to be in the United States. "There are a few bad people in all countries, of all races," she said. "But the majority are good, and we need to show kindness. When we show kindness, kindness comes back to you." She was able to learn this lesson through her encounter with the continued work started by Father Joe Walijewski in Peru and is now carried out by God's grace.
Story by Marcy Stenstrom
Published in the September/October 2023 issue of Catholic Life Magazine