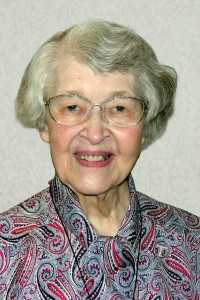 Sister Janet Ebben, O.S.F. of the Hospital Sisters of St. Francis, died on Tuesday, January 12, 2016 at 8:10 a.m. at St. Francis Convent, Springfield, Illinois.
Sister Janet, the former Martha Helen Ebben, was born in Kaukauna, Wisconsin, on August 20, 1918, the daughter of Henry and Mary Huven Ebben.  She entered the Congregation on February 2, 1937 and professed her religious vows on October 4, 1939.
Sister graduated in 1945 from St. John's Hospital School of Nursing.  She served the community as a nurse at HSHS hospitals in Illinois and Wisconsin.  In 1956, she joined the Sisters at Alverna Home Nursing Center in Chicago, Illinois until 1962 when she transferred to HSHS Sacred Heart Hospital in Eau Claire, Wisconsin, where she was head nurse until 1977.  Sister then spent the next 14 years as a Staff Nurse caring for her Sisters in Community in Loretto Home until 1991 when she became Assistant to the Coordinator of Loretto Home attending to the resident Sisters' personal needs. She retired from active duty in 2002 to become herself a resident in Loretto Home.
In addition to her parents, she was preceded in death by three brothers: Vincent, Richard, and Henry Ebben and five sisters: Frances Deprez, Clara Raepcke, Mathilda Vanden Bosch, Margaret Heindl, and Genevieve Ebben.
She is survived by a brother, Willard Ebben of Kaukauna, Wisconsin; a sister, Dorothy Waurunek of Luxemburg, Wisconsin; and several nieces and nephews, as well as her Franciscan Sisters, with whom she shared her life for more than 78 years.
Visitation: A visitation will be held at St. Francis Convent on Friday, January 15, 2016 from 4:00-7:00 p.m. with a Wake Service at 6:00 p.m.
The Eucharistic Celebration and Rite of Christian Burial: 10:00 a.m. on Saturday, January 16, 2016 in St. Clare of Assisi Adoration Chapel at St. Francis Convent with Father John Sullivan, OFM, presiding.  Burial will be in Crucifixion Hill Cemetery.
The Franciscan Sisters and the family of Sr. Janet Ebben, O.S.F. are being served by Kirlin-Egan & Butler Funeral Home, 900 S. 6th St., Springfield.
Please visit butlerfuneralhomes.com to offer your condolences.