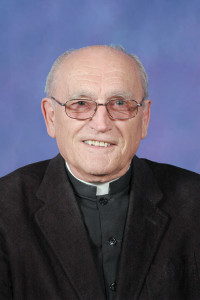 THE REVEREND THOMAS JOHN MC INNIS
            Father Thomas J. McInnis, at the age of 84 and a priest for 58 years, died on Sunday, February 7, 2016 at Mayo Clinic Health Systems-Eau Claire.
Father McInnis was born on July 15, 1931 in Eau Claire, Wisconsin, to Thomas and Catherine (née Fisher) McInnis. He attended St. Patrick Elementary and High School in Eau Claire, Wisconsin, Loras College in Dubuque, Iowa and St. Francis Seminary in Milwaukee, Wisconsin.  Father McInnis was ordained a priest on May 18, 1957 at Christ the King Chapel at Holy Cross Seminary in La Crosse by the Most Reverend John P. Treacy.
Father McInnis' first assignment following ordination was as an Instructor, Counselor and Athletic Director at Columbus High School in Marshfield, with residence at Sacred Heart Parish.  In 1959 he was appointed as Assistant Pastor at Saint Joachim Parish in Pittsville.  On June 28, 1960, Father McInnis was assigned as a full time Instructor at Aquinas High School with residence at St. James Rectory in La Crosse.  Later that year he was appointed as Instructor at Newman High School in Wausau with residence at Saint Therese Parish in Rothschild.  On June 17, 1970, Father McInnis was appointed as Assistant at Saint Mary Parish in Wausau.  He was then appointed as Pastor of Saint Bridget Parish at Ettrick and Saint Kevin Parish at Melrose in 1980, where he served until he was granted the status of senior priest on July 1, 2001.
Father McInnis was preceded in death by his parents; sisters Mary Jane Garnett, Sister Catherine McInnis, OSB, Eileen Bruer and Margaret McInnis.
He is survived by one sister, Betty McInnis, one brother, Patrick McInnis and several nieces and nephews.
The Mass of Christian Burial will be celebrated at 11:30 a.m. on Thursday, February 11, 2016 at Saint Patrick Church in Eau Claire.  The Reverend Monsignor Michael J. Gorman will be the main celebrant and The Reverend Monsignor Richard W. Gilles will be the homilist. Burial will be in St. Patrick Cemetery in Eau Claire.
The visitation will be at St. Patrick Church in Eau Claire on Thursday, February 11, from 9:30 a.m. until the time of the Mass.
The Diocese of La Crosse and the family are being assisted by the Lenmark Gomsrud Linn Funeral Home in Eau Claire.