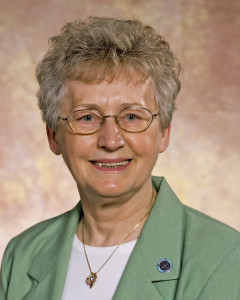 Sister Catherine Manning, age 78, died at Sacred Heart Hospital in Eau Claire, Wis., on Monday, June 27, 2016.
A funeral Eucharist will be held at 11:30 a.m., Wednesday, July 6, 2016, at Sacred Heart of Jesus Church, 418 N. Dewey St., Eau Claire, Wis., celebrated by Fr. George Thayilkuzhithottu. Visitation will be from 4-7 p.m. on Tuesday, July 5, 2016, at Lenmark-Gomsrud-Linn Funeral Home, 814 First Ave., Eau Claire, Wis., with the rosary at 7 p.m. Visitation continues Wednesday, July 6, at Sacred Heart of Jesus Church, Eau Claire, Wis., 10 a.m. until the time of the service.
The Eucharist of Christian Burial will be celebrated at 4 p.m. on Thursday, July 7, 2016, at the Sacred Heart Chapel, Saint Benedict's Monastery, St. Joseph, Minn. Burial of cremated remains will be in the monastery cemetery. Friends may call at Saint Scholastica Convent, St. Cloud, Minn., on Thursday, July 7, 2016, at 1 p.m. for a prayer service.
Catherine was born to Sylvester and Elenora (Stubinski) Claas on March 25, 1938, in the Township of Menomonee, Wis.  She was the second child of ten: five brothers and four sisters. Catherine went to St. Anthony's Grade School and began ninth grade at St. Mary's in Fussville, now called Menomonee Falls, Wis.  In 1952, during her ninth grade, her family moved to a farm near Watertown, Wis. She completed her secondary education at the Watertown Public High School. Catherine married Harry Manning at St. Henry Catholic Church in Watertown, Wis., October 12, 1957. After marriage she farmed in Hustisford, Wis., for 14 years where her four children were born, three daughters and one son. In 1984 she and Harry were divorced. The marriage was annulled in 1985. She moved to Beaver Dam and worked at Sentry Foods grocery store as cashier for 21 years. She was foster mother for three foster sons for six years. She became a member of the Secular Franciscan Order, Province of St. Joseph, for 21 years in St. Peter's Parish, until 1993 when she was dispensed. She felt a call to religious life and entered Saint Bede Monastery on August 14, 1993, entered the novitiate June 26, 1994, as Sister Catherine, made her first monastic profession on July 11, 1995, and perpetual monastic profession on July 11, 1998.
Catherine completed a CPE (clinical pastoral education) program at Luther Hospital in Eau Claire, Wis., 1995-1996. She then became a pastoral minister at Sacred Heart of Jesus/St. Patrick Parish in Eau Claire, Wis., visiting the sick and dying until the time of her death. She made many retreats and took workshops as on-going education in spirituality.
Catherine is survived by members of her Benedictine community, her three daughters: Karen Shananaquet (Sam), Kristine Vaughn (Steve), Diane Exline (Jay) and her son, Patrick Manning (Alicia);
Harry Manning, the father of her children; three brothers: Victor Claas (Watkinsville, Ga.), Sylvester Claas (Cupertino, Calif.) and James Claas (Watertown, Wis.); three sisters: Elaine Justmann (Lake Mills, Wis.), Helen Schrott (Port Washington, Wis.) and Mary Starck (Iron Mountain, Mich.); four  grandchildren: Lindsay, Veronica, Declan and Louis; and two great grandchildren: Samuel and Ephraim.
She was preceded in death by her parents, her sister Joan Jakubenas, her brothers, Charles and Richard, and great grandson Sullivan Sherron.
Please direct memorial gifts to the Sisters of the Order of Saint Benedict Retirement Fund.