Looking for events and information about what's going on around the Diocese?
Go to diolc.org/calendar so you can stay up to date on what's happening in the Diocese of La Crosse.


If you would like to add a parish event to the diocesan calendar, please send a message to [email protected] and share what's happening at your parish.
Mercy Begins at Home Door Hanger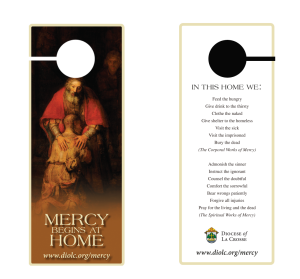 In this Year of Mercy, we have an opportunity to be present and active in our faith, and the perfect place to practice Mercy is at home! The Year of Mercy door hanger is meant to be hung on doors within your home, in essence, creating a Holy Door within your own home. It serves as a constant visual reminder that the door to your family's home should open wide to receive and to give the gift of Mercy!
In the words of Pope Francis:
"All families need God — all of us! We need his help, his strength, his blessing, his mercy, his forgiveness. And we need simplicity to pray as a family. The basis of deep joy is the presence of God in the family and his love, which is welcoming, merciful, and respectful towards all."
Reach out to your parish for a door hanger or order your own, but hangers must be ordered in packs of 50 at $5 per pack.
Visit www.diolc.org/doorhanger to order hangers for your parish.
Guadalupe Festival of Sacred Music
Sat, April 23, 10 a.m.–4 p.m.
Shrine of Our Lady of Guadalupe Church, 5250 Justin Rd., La Crosse
The Guadalupe Festival of Sacred Music promotes sacred music in a beautiful sacred space. This will be a choral festival of high-school chamber choirs who will perform sacred vocal music in the Shrine Church. Seven participating chamber choirs, from both Catholic and public high schools, are coming from Minneapolis to Chicago and in between! This Festival of Sacred Music is free and open to the public. The first choir will perform at 10 a.m. The Festival will conclude by 4 p.m.
For information about the schedule of choir performances and a listing of the participating choirs, visit: www.guadalupeshrine.org/guadalupe-festival-of-sacred-music
OFFICIALs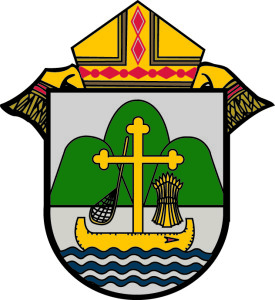 The Most Reverend William Patrick Callahan, D.D., Bishop of La Crosse, makes the following announcements: 
Deacon Russell Cabak is appointed deacon at St. Bartholomew Parish at Trempealeau, St. Mary Parish at Galesville and St. Bridget Parish at Ettrick, effective March 15, 2016.
Rev. Matthew N. Marshall, associate pastor at St. Anne Parish in Wausau and chaplain at Newman Catholic High School and Middle School in Wausau, is released from his responsibilities as chaplain at Newman Middle School in Wausau, effective March 1, 2016.  He retains his other appointments.
Rev. Daniel L. Thelen, associate pastor at St. Matthew Parish and Holy Name Parish, both at Wausau, is also appointed chaplain at Newman Middle School in Wausau, effective March 1, 2016.
Bike to Mary Annual Event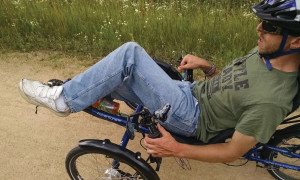 Bike to Mary is a five-day pilgrimage — not a race. It offers participants the opportunity  to deepen their faith and grow closer to Jesus. It may even be a life-changing experience for some.
The pilgrimage begins at Holy Hill on June 12, 2016, and ends at the Shrine of Our Lady of Guadalupe on June 19.
If you would like to participate in this pilgrimage, which is meant to make more people aware of the Shrine of Our Lady of Guadalupe and also to promote a pro-life message, registrations must be received no later than April 30.
More information and who to contact can be found on www.biketomary.com.