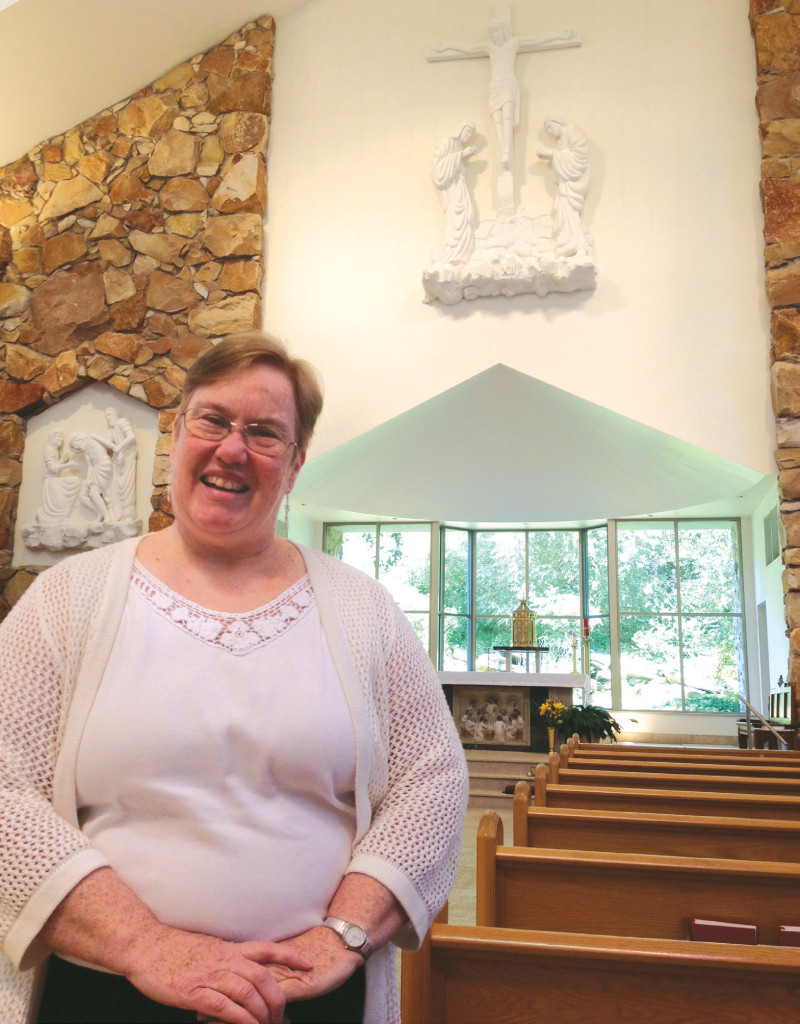 Altoona and Fall Creek parishioners reach out to the homebound in special push for Mercy
Story and photography by McLean Bennett
Jane Mueller still remembers the lesson a visiting priest gave her eighth-grade students in the 1980s.
"He said that every person was born as an answer to someone else's prayer," said Jane, who used to teach in Eau Claire's Catholic schools.
It's a piece of advice she's reminded of occasionally in her current line of ministry work, which is making regular visits to an elderly homebound parishioner and newfound acquaintance. Jane often helps with chores and takes her older friend to dinner. They mix talk of politics, family matters and faith. And they discuss goings-on at the pair's rural Eau Claire County parish, since Jane's new friend can no longer attend Mass in person.
The visits between the pair began as part of a new ministry at two Eau Claire-area parishes. The Befriender Ministry pairs individuals or families from Altoona's St. Mary and Fall Creek's St. Raymond of Peñafort churches with aging or disabled parishioners who are homebound or who live in nearby assisted living centers. The program aims for the participants to visit at least one hour a week, and helps the elderly parishioners' still feel like they are a part of their parish, both spiritually and emotionally.
"It's just making me see God in everybody," Jane said. "Mother Teresa said that she could see Christ in all of those, in the poor and the marginalized, but this has really taught me that."
Spreading Mercy
The Befriender program gained almost instant popularity, with more than 65 individuals or families volunteering to take on the friend-building work. There was a need for a program that fostered visits to the homebound after it became clear their numbers were simply too high for Father Derek Sakowski to minister to adequately by himself.
"I can't possibly do all of the personal visiting that the people really need," said Father Sakowski, the pastor at both parishes who helped spearhead the program's launch around Easter.
"With it being the Year of Mercy, I really thought the time was right to move forward," he added. "Everyone was thinking a lot about the corporal and spiritual works of mercy."
Those works of mercy, of which 14 can be drawn from the Gospels and from later theologians' writings, offer models for how to treat people and how we can be God-like for others. If Father Sakowski wanted to get his parishioners more involved with the works of mercy, the new Befriender Ministry achieves that goal. The more obvious works include visiting the sick, but Father Sakowski also noted the program can help volunteers comfort the afflicted and even counsel the doubtful.
"It's helping people that have a lot of doubts about themselves because they feel like their life is no longer worth living," Father Sakowski said of the struggles some homebound parishioners face. "A regular visitor helps them see that they have a meaning and they still have a rich contribution to make in a different way."
"It's just giving time to the Church," Jane said, noting the program emphasizes some of the works of mercy, but also gets at an even more basic dimension of being Catholic. "Carving out something other than your 'Sunday duty,' you see that there is much more to our Kingdom of God, much more to our worship that we could be doing, and we all could take part in that."
'She's a role model'
The program aims to encourage the younger visitors to spread some mercy by forming friendships with older confidants whose own social circles may have grown smaller over the years. But the program works the other way, too: The older Catholics sometimes rub off their spiritual know-how on their new young friends.
That's how Elaine Welin describes her relationship with 90-year-old Gerry Kramer, who's a couple decades her senior and still lives in the rural Fall Creek farm house she and her husband moved into in the 1950s. While Kramer still gets plenty of visits from family members, Welin said she helps fill in whatever gaps are needed, showing up occasionally to help with chores, grocery shopping or dining out.
Kramer, a convert to Catholicism, says she was among the first families to attend the then-new (and now closed) St. John the Apostle Church in Fall Creek in the '50s. Unable now to attend Mass at the newer parish a few miles down the highway, she instead faithfully watches the diocese's TV Mass and has Communion brought to her home.
That faith, Welin said, is an "inspiration."
"She's a role model," she said. "Like a mother to me, and that's what I get and feel and respect.
I don't take any of that lightly."
"Gerry is a wonderful lady, and it means a lot to me to have a good friend in her."
A fast takeoff
Jane said she's tickled by the two parishes' strong response to the program. Nearly 60 people showed up earlier this year to the Befriender Ministry's first volunteer meeting — far more than she'd expected — and the ministry has run smoothly.
"It just warms your heart," she said, noting the churches have tried launching other social ministry programs before, but rarely so successfully. "It's a combination of pride and it just really touches your heart that the parish would hear of that need and just step up."
And the program is turning up some unexpected benefits, too, Jane said. Some former homebound parishioners are now able to return to Mass because they've become friends with people who can drive. And the ministry may also be pushing some parishioners to consider spending time with their own families.
"Maybe it raises awareness to our own families that we need to be touching base with and keeping touch with," she said.