Priests and parishioners throughout the diocese reflect on interactions
they have had with Mother Teresa
David Marcou
parishioner at St. Joseph the Workman Cathedral in La Crosse.
In at least one of the 18 letters I received from Mother Teresa, who will be canonized by the Catholic Church this Sept. 4, she wrote: "I am a little pencil in the hand of God." After photographing the saint-to-be for four hours in Anyang, South Korea, in January 1985, I read in 1989 that Mother Teresa was suffering from heart congestion. I wrote her a note, wishing her good health. A form-type letter came back, which she apparently signed herself, thanking me for my note and indicating she was always grateful to those who prayed for her, and that she would pray for me and mine.
From 1989 to 1996, 17 more letters from Mother Teresa were addressed/delivered to me. The last 17 were personal, yet always spiritual, and always signed by her. It's not always easy to think of one's self as a good Catholic, but I do still pray often each day. That's one lesson that's stuck with me from Mother Teresa's letters. If I am a little pencil and little lens myself, it helps to think my work, me and those dearest to me, are in God's hands, depending on inspiration from that divine source. And along the way, I am very glad I met, photographed and received letters from Blessed Mother Teresa of Calcutta, who has been a great inspiration not only to me and my family, but to many other people as well.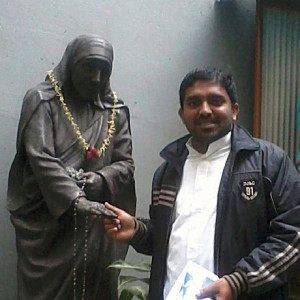 Father Prince Raja
Pastor of Sacred Heart Parish, Elmwood; Sacred Heart Parish, Spring Valley; and St. Luke Parish, Boyceville
I have the memory of Blessed Mother Teresa of Calcutta when I was doing a Development Dynamics Course in January 2013. I had the opportunity to say Mass at the Motherhouse of the Missionaries of Charity, where Mother Teresa's tomb is.
Father John A. Schultz
Senior priest and chaplain at Sacred Heart Hospital in Eau Claire
I was part of an international charismatic retreat with 7,000 priests in Rome during the summer of 1984. Although not part of the schedule, one day Mother Teresa talked to us. She talked in English. The response was amazing. Crowd control was very strong. The Vatican certainly didn't want to have her trampled. On a different day, the 7,000 of us concelebrated. That's a record.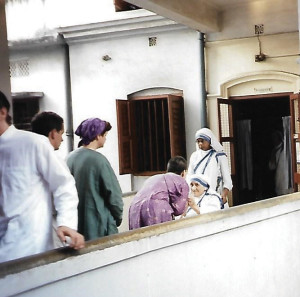 Karen Juntikka
Parishioner at St. Lawrence Parish in Wisconsin Rapids
In September of 1996, I went on a three-week spiritual journey to New Delhi and spent time in the northern part of India. On our itinerary was actually a time to meet with Mother Teresa, but she had been in and out of the hospital at that time so we weren't sure if we were actually going to get a chance to meet her. We went to visit her convent and she was actually there after just being in the hospital. Even with that, she still was open to meeting with our group. We lined up to meet her and we each got to talk to her and shake her hand. When it was my turn, I walked up and just stood in front of her, not saying anything for what felt like a long time. She just looked into my eyes and nothing was said. I finally broke the silence and said, 'God bless you, Mother Teresa.' And I thought that was an odd thing for me to say. But she welcomed it and she shook my hand and that was it. My impression of her was much like everyone else's, which was that she was a humble and down-to-earth person who took the time to meet with us even though she didn't have to. We were overjoyed and it was such a blessing. We stayed for Mass at the convent and she sat in the back. She actually sat on the floor, out of her wheelchair. Even with being sick, she knelt before the Blessed Sacrament on the hard floor. Her humbleness and dedication were just inspiring.