St. Anne Parish of Wausau is no stranger to sending youths into the mission field. But after nearly a decade-long hiatus of youth mission opportunities, John Schmitt took the role of director of faith formation for the parish and revived the tradition in 2011. In conjunction with the organization "Group Mission Trips," St. Anne Parish sent a group to South Dakota on a home-repair trip. The opportunity was well-received and Schmitt continues to coordinate annual summer youth missions through the same organization. This past summer, a group of 27 high school students and adults served in Hamilton, Ohio, July 10-16.
The nonprofit, interdenominational organization Group Mission Trips coordinates group missions to various sites nationally and abroad. For 40 years, their mission has been to "help youth leaders by creating mission trip experiences where youth encounter Jesus."
Group Mission Trips partners with local organizations at each site. In Hamilton, they partner with "SELF (Support to Encourage Low-Income Families) Helps," which works to enhance quality of life and empowers individuals to gain and maintain self-sufficiency.
SELF Helps looks forward to Group Mission Trips' "blitz week" each year and the assistance of hundreds of high school students and leaders from across the country on home repairs for residents who cannot do the work themselves.
St. Anne Parish's group became a part of "blitz week" this past summer, taking over the local high school as base camp, joining hundreds of others in a part-mission-trip, part-youth-camp experience.
"You're just kind of figuring out who you are in a lot of ways … and I think that was the first time it really hit me that God loved me. And that was so huge, because I didn't completely love myself. That brings me back each year. It lights that little fire."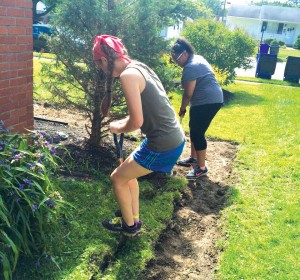 Discipleship and service
Alongside the service element, Group Mission Trips presents daily themes and programming for participants to grown in relationship with Christ and one another. Schmitt describes the training as, "True, solid, theologically based formation in discipleship," adding that, "one of the key ways of discipleship formation is finding other disciples on the journey."
Fifteen-year-old Kelly Giebl was on her second youth mission with St. Anne Parish this summer, alongside her mom and two sisters. She describes the atmosphere of the community by saying, "There is so much love everywhere and you can feel it. It is indescribable."
The programs and community-building serve to prepare participants for the mission field. Work crews are made up of approximately six individuals from various states and denominations. Schmitt promotes the effectiveness of the arrangement: "When you take a teenager out of his or her element, and when you're mixed up with a crew of total strangers and here's our list of what we need to do to this stranger's home … You have to come out of your shell and put your best foot forward right away because you don't know each other and you have to pull it through."
Chaperone Stacie Stanke was surprised at how quickly friendships were created with fellow crew members. With the bonds of discipleship and a united goal of service, crews saw just how much could be accomplished in one short week both to physical structures and within hearts and minds.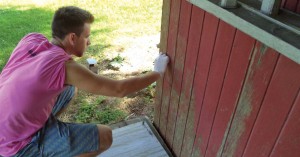 Encounter
People ask Schmitt, "Why do you have to go other places [on mission] when there's clearly a need here in Marathon County?" He explains, "This is a pilgrimage. Service is a means to that pilgrimage of encounter with Christ."
Ava Giebel, who was on her fifth consecutive youth mission this past summer, describes her personal encounter during her first mission experience in 2012 when she was 14: "You're just kind of figuring out who you are in a lot of ways … and I think that was the first time it really hit me that God loved me. And that was so huge, because I didn't completely love myself. That brings me back each year. It lights that little fire. It's led a lot of things into my life because I didn't want that feeling, that closeness, to stop." Ava began reading her Bible each day at the recommendation of fellow crew members. It seemed a foreign concept to her at first, but she knew she wanted to get to know this God who loved her. She shared that her daily readings and mission experiences have "definitely changed who I am. They continue to each year that I go, just developing that relationship and maturing in my faith."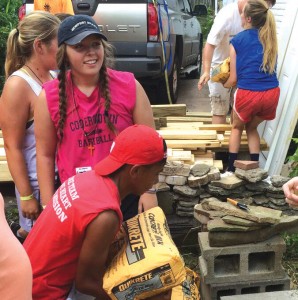 Bringing hope
The end of blitz week brought many completed projects and a camaraderie of having answered the Lord's command to "shelter the homeless." Though residents were not destitute and do own homes, some were in danger of losing them if they were not repaired or improved.
Stanke's crew's efforts motivated her homeowner to continue to make improvements after they left. She recognized just how much the work "provided motivation and gave people a kick-start to transforming their home and selves."
"For a lot of residents," Ava Giebl adds, "we were helping them to have more pride in their homes. They get this gift, but we're also blessed to give this service to them, to give them hope."
By Amy Eichstadt