Nativity of the Blessed Virgin Mary, Big River JoAnne Parks provides no-judgement resources for women in crisis
Unexpected pregnancy came into JoAnne Parks' life over 16 years ago, long before it became the focus of her ministry. She remembers the night her future husband called and asked if she would be willing to help him assist his young daughter in raising her baby.
"I said, 'absolutely,'" JoAnne remembers. "There wasn't any hesitation."
That baby, Elena, turned 16 this past December, and JoAnne and her husband are thrilled they helped her mom, Katie, choose life. "We've enjoyed every minute with Lena, and love watching her grow into a beautiful young woman," says JoAnne.
JoAnne serves as the executive director of Options for Women, a pregnancy resource clinic in River Falls, formerly Pregnancy Helpline. Although she does not discuss her personal family experience of unplanned pregnancy with her clients, it helps her understand what support women need.
"I saw firsthand the struggles of an unexpected pregnancy and the effect it can have on the entire family," JoAnne says. "Life and children are near and dear to my heart. I have four children, my husband has five, and we have eight grandchildren and one on the way! These precious gifts from God are the light of my life and are living proof that life is always special."
In 2010, JoAnne became aware of the Pregnancy Helpline services during a baby bottle campaign in her parish, Nativity of the Blessed Virgin Mary, Big River. She started volunteering while her husband was deployed in Afghanistan and was soon asked to be on the board of directors as treasurer.
Pregnancy Helpline was started by two River Falls women in the early 80's. "They provided pregnancy tests, counseling, education and material assistance, helping hundreds of women and families over the years," JoAnne says.
When asked to be the executive director, "I initially struggled with the idea," says JoAnne. "I couldn't see myself as a counselor, despite my family experience, and prayed for guidance." JoAnne accepted the position in September 2014, determining that this was God's answer to her prayers for meaningful work having "something to do with children."
In May 2016, Options for Women opened a new clinic in downtown River Falls, only blocks from the University of Wisconsin-River Falls campus. The name change to 'Options for Women' reflects expanded services and an effort to reach more clients. Under JoAnne's leadership, women receive pregnancy testing, testing for sexually transmitted infections (STIs), ultrasounds, family/parenting classes, and other resources. Clients have access to medical personnel, including a registered nurse, ultrasound technician, and physician who serves as medical director.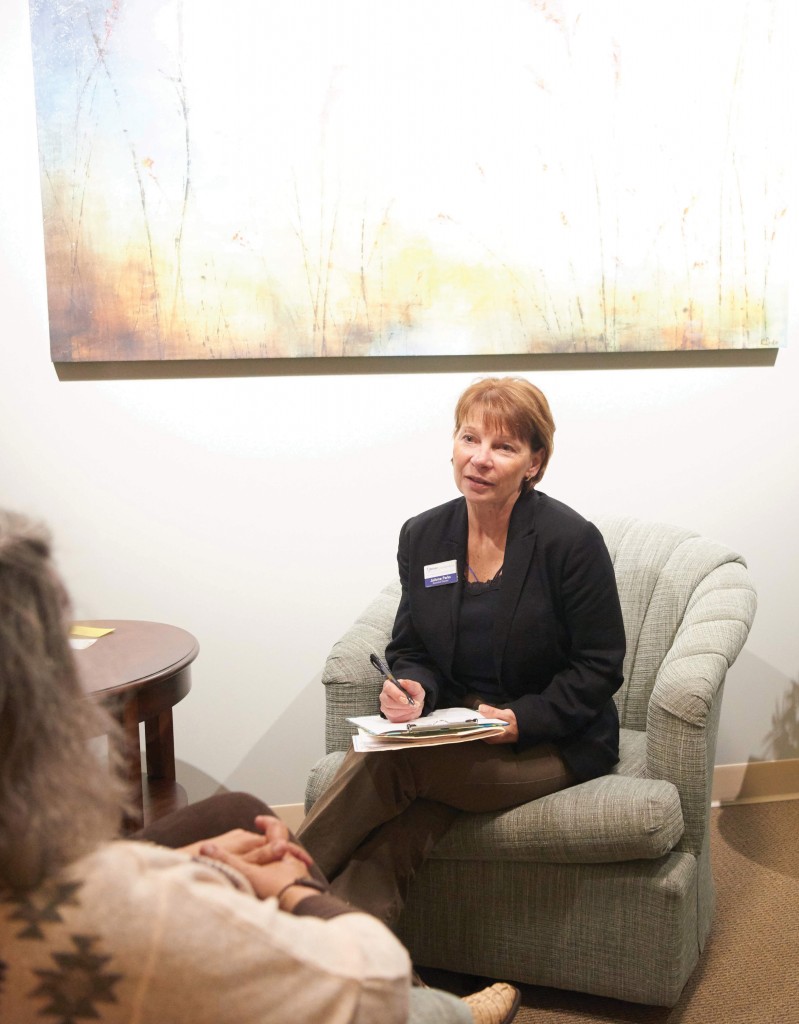 Options for Women is the only pregnancy clinic in western Wisconsin, with centers located farther from the local community in Eau Claire, Osceola and Rice Lake. There is a great need for another center and discussions have begun in Menomonie about the possibility of expanding there.
"Most of our clients are truly in a crisis mode. They're scared, and think no one will listen or understand their situation," says JoAnne. "Many have tunnel vision, seeing only obstacles. We help them take a breath. We have to meet them where they are and listen without judgement. We want to establish a good relationship with each client, because it's more than stopping abortions. It's about the woman herself, it's about the family. It's about that experience with my 14-year-old stepdaughter." JoAnne believes that this client connection is crucial in a decision to choose life.
"STIs are at an all-time high – there are so many risks and complications. We are really trying to get the word about STI testing out to both men and women," she says. "Our testing and treatment is free, and it's confidential. The idea of not being judged, of getting help, support, and education is critical. Testing clients for STIs provides an opening to talk about pure relationships and about making healthy choices."
Reaching out to youth and middle school students with relationship education is an important part of the future work of Options for Women. "Preventing abortion is our priority, but we need to do more," JoAnne says. "I want to help our youth understand God's plan and plant the seeds of purity, abstinence, healthy relationships, respect, and what true love is all about."
She believes transforming the perception of relationships is a key to eliminating unplanned pregnancies and abortions. "It's tough growing up, trying to feel accepted in a culture that promotes the opposite of real love. Adolescents don't automatically know how to act or understand the risks. They think it's all fun, just like on TV and in the movies," says JoAnne. "Our youth need to know they can be abstinent until marriage and have that true commitment."
An experienced youth coordinator is already on board, JoAnne says. "We're planning our first big event for the end of January." This will be an engaging presentation given by a team of young adults to students from youth groups in the area. Other events will follow, each tailored to a certain age group. The hope is that smaller groups will meet on a regular basis for continued inspiration and support.
As the director of a pro-life clinic, JoAnne says she needs to be guided everyday by her Catholic faith. Prayer is a constant and is like breathing for her; she is even physically surrounded by it. Before the drywall went up in the new facility, clinic supporters wrote prayers and Scripture on the walls. This, JoAnne believes, strengthens all who come to the clinic. She often thinks of what is written behind the wall by her desk — I am with you always, until the end of the age. Mt. 28:20
"This work is very challenging, yet rewarding, too, and I see God working through the generous support of our donors and in the dedication of our volunteers. I see him inspire our clients to walk through the door or make the phone call," she says. "He's here. This is his house. This is his ministry, and I am but one servant called to be here to help."
For pregnancy help or more information, contact Options for Women at 715-425-8539, go to [email protected] or visit their location at 214 North Main Street, River Falls, WI
By Mary Kay McPartlin
Photography by Michael Lieurance
The numbers
Good News
The number of abortions performed in Wisconsin has dropped for the sixth straight year – according to the latest annual report on induced abortions released by the Wisconsin Department of Health Services
162 of 553 abortion clinics have closed since 2011, while 22 new clinics have opened – according to a new Bloomberg analysis
Abortion rates are dropping to new lows since Roe v. Wade, down to 1.1 million from approximately 1.6 million abortions per year. Teen pregnancy and abortion rates specifically are dropping to all-time lows – according to a report by the pro-abortion Guttmacher Institute
March for Life typically sees anywhere from 250,000 to 500,000 people lining the streets towards the Supreme Court building. Since the first coordinated 40 Days for Life campaign began nine years ago, 12,206 lives have been spared
Bad News
Since Roe v. Wade legalized abortion in January 1973, more than 55 million babies have been aborted in America.
Women who have abortions are 81 percent more likely to experience subsequent mental health problems – according to a new study published by Britain's Royal College of Psychiatrists
According to the Alan Guttmacher Institute:
Nearly 1 in 4 pregnancies end in abortion
Approximately 1/3 of American women have had an abortion by age 45.
The U.S. abortion rate is among the highest of developed countries.