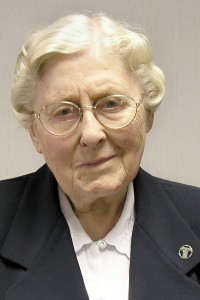 Sister Frances Elizabeth Schmitz, O.S.F. (94) of the Hospital Sisters of St. Francis died on Thursday, January 19, 2017 at 11:00 a.m. at St. Francis Convent, Springfield, Illinois.
Sister Frances Elizabeth was born in Waterloo, Iowa on March 1, 1922, the daughter of Henry and Agnes Beck Schmitz.  She entered the Congregation on February 2, 1945 and professed her religious vows on October 4, 1947.
Sister graduated from LeClerc College in Belleville, Illinois, in 1949 with a BA in History.  In 1953 Sister earned a BA in Church Music from St. John's University, Collegeville, Minnesota.  In 1961 she obtained a Certificate as Medical Records Librarian from the College of St. Mary's in Omaha, Nebraska.  She received a post-graduate degree in Theology from Aquinas Institute in St. Louis, Missouri in 1979.  Sister taught at St. Francis High School located in the Motherhouse in Springfield, Illinois; served as a missionary to the Navajos in Lukachukai, Arizona; a Medical Records Librarian in HSHS hospitals; Hospital Administrator at HSHS St. Joseph's Hospital in Chippewa Falls, Wisconsin, and various leadership positions within the Community becoming Provincial Superior of the American Province in 1979.  In 1982, she returned to HSHS St. Joseph's Hospital in Chippewa Falls, Wisconsin until 2005 when health concerns brought her back to the Motherhouse.
In addition to her parents, she was preceded in death by two brothers: Robert and Loren Schmitz, and two sisters: Mary Elaine Schmitz and Margaret M. Greiner.
She is survived by a sister, Clare Staebell, of Cedar Falls, Iowa, several nieces and nephews, several great nieces and great nephews, as well as her Franciscan Sisters with whom she shared her life.  This year she would have celebrated her 70th Jubilee year in religious life.
Visitation will be held at the St. Francis Convent from 4:00-7:00 PM with a Wake Service at 6:00 PM on Monday, January 23, 2017.  The Eucharistic Celebration and Rite of Christian Burial will be celebrated by Father Dennis Koopman, OFM on Tuesday, January 24, 2017 at 10:00 a.m. in St. Clare of Assisi Adoration Chapel at St. Francis Convent.  Burial will be in Crucifixion Hill Cemetery.
Staab Funeral Home is in charge of arrangements.