Father Berns returns to his family farm whenever he gets the opportunity. He enjoys spending time with his parishioners at parish events, working on his cabin, riding his motorcycle and tending to his homing pigeons.
Our Lady of Peace Parish in Marshfield
Father Berns from Our Lady of Peace Parish finds solitude on his family farm
We see parish priests every Sunday elevating the Eucharist at Mass, behind the screen in the confessional listening to sins, in the kitchen cooking the meal at a parish fundraiser or arriving at a hospital bedside at 2 a.m. to give the last rites.
Father Eric Berns eats, breathes and lives parish life, and does so with great joy and love in his heart in order to serve the people of God. Even for the strongest of priests, the state of their parishioners' faith lives can start to weigh heavily and they have to find a way to stay focused and present. Father Berns, pastor at Our Lady of Peace Parish in Marshfield, has found that what's good for his soul is being able to return to his parents' farm to recharge.
Father Berns has been a priest for the last 21 years and he said one thing he has learned to do over that time is to find a way to quiet his mind and seek a little solitude.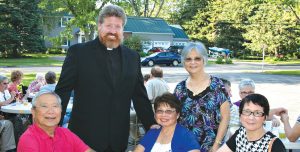 "I know it's difficult for priests to get time away, but I try to get down here to my parents' house one day a week on my day off," he said. "After 21 years, I've realized that coming here and getting that time is so refreshing. We're all wired differently, but I just like to remind myself for one day a week that all the demands of the parish are not the whole of life and, after taking that time, I'm ready to go back. I like to hope that it makes me a better priest for my parishioners."Father Berns grew up in Richland Center. After he and his nine siblings left home, their parents bought a farm in Keyesville. The peaceful, rolling farmland that surrounds his parents' home sprawls as far as the eye can see, and the only sound to be heard is the soft cooing of Father Berns' homing pigeons.
"It's my little sanctuary and when I get here on Sunday night, I take care of my birds and it's like all the worries of the week just melt away," he said. "I have been training homing pigeons since I was in middle school, so that's always fun. I'm building this cabin now and there is no schedule. It's quiet, and seeing this view and there are no phones; the solitude gives me perspective. When I come down here, I'm outside all day and it's good for my soul."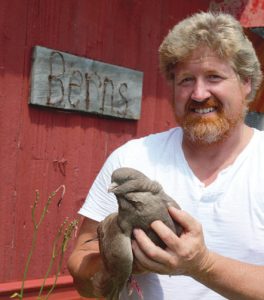 Father Berns says he also uses his time of solitude to reflect on the needs of his parishioners and gives more attention to his prayers.
"I have a big parish now and each week the prayer requests from people and their trials are considerable. It is my duty to pray for them and, on the spot of course, I say a prayer for them," he says. "But, when I get here, especially on a gorgeous, clear, quiet morning, and look up at the sky and thank God for the day, throughout the day in solitude and quiet, all these people go through my mind and I'm offering prayers for them and it's sort of a quiet time to remember what's most important. The people come to my mind all day and I cherish that time I have to reflect."
Father Berns takes his role as a parish priest very seriously and, although he has served in other roles in the classroom and as vocations director for the diocese, he said he feels most at home in a parish.
"My seminary rector was (then-Msgr.) Cardinal Dolan, now archbishop in New York, and he was insistent that any young man in the seminary should be decided to do parish ministry. He said, "If you have your sights set on anything other than that or anything higher than that, tell me and I will help you pack your bags tonight." He actually told us that, and it has always stuck with me," he said. "If the church calls you to something else that is wonderful and needed, we need a priest's priest, but when I wasn't in a parish, I missed the parish life. Being able to celebrate the sacraments is a joy and it feeds me."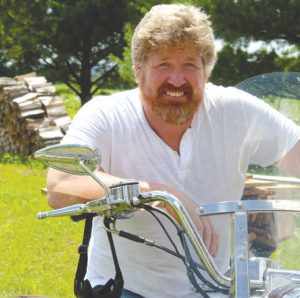 Father Berns is affectionately known in his parish to be a bit of a Renaissance country priest and he isn't afraid to share his hobbies and interests with his parish. When he was still in his early days of priesthood, he thought he might have to give up a lot of his interests but has found ways to incorporate them into his parish life. He loves the woods and still hunts and rides his motorcycle, but also has an affinity for classical music, playing the piano and is learning to play the cello. "I also love to cook Italian food, which I learned to make while studying in Rome, so I love to bring that out for parish fundraisers. I think it's nice to show them I can be a regular person, too."
When Father Berns was going through high school seminary in Madison, he remembers reading an article in the Times Review about Father Eugene Wolf, a pastor in Seneca at the time and now a senior priest for the diocese. Father Wolf, his dad and his two nephews were out hunting during deer season and they would pray the Rosary while waiting in the deer stand. To this day, he still remembers the impact that had on his formation."I was in seminary (high school) when I read that article about Father Wolf and it made me realize that I could still have interests and be a priest," he said. "Father Wolf was another priest who was meant to be in a parish, and it really helped me realize I didn't have to give those things up, that it could all work together."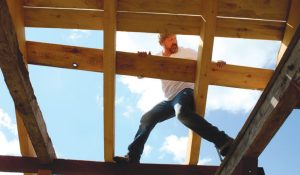 When Father Berns enjoys the solitude of working on his cabin project or tending to his homing pigeons, he said he often thinks of the needs of the church and it energizes him to return and open the church doors for those who so desperately need it.
"I think that what the church needs now, by the church I mean the people of God, is a lot of hope and plenty of joy. We see people buying into this idea that you can prosper without God and they wear themselves out," he says. "They can get by for a while, until life gets hard and then they don't know where to go because they lost their way from the church. They feel guilty because they're coming back during times of trial or tragedy, but when they come, I'm ready with doors wide open."
By Monica Organ