How the youth of St. Bronislava Parish in Plover continue serving long after returning from Peru
When I went to Peru for the first time, I had the idea that I would be helping and changing the lives of the Peruvians. In reality, the people of Peru were the ones who changed me."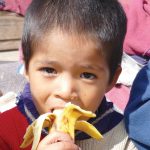 Mariah Studinski's words echo the sentiments of many who have taken part in the Peruvian mission through St. Bronsislava Parish in Plover.
Since 2008, Julie Studinski, director of the Youth Ministry at St. Bronislava, has organized youth missions to Lima, Peru. She takes a group of 15-20 young adults every other summer, including the company of her daughter, Mariah.
During the two-week trip, the group stays and does most of their work at the La Crosse diocesan mission in Lima, Casa Hogar Juan Pablo II, performing various tasks ranging from spending quality time with the children and families to clearing land for a garden and building a fence for keeping out wild dogs.
On their second mission trip to Peru in 2010, the group took a chance suggestion from Julie's friend in Peru, Sister Catherine Kieliszewsiki of the Third Order of St. Francis. She recommended they visit another orphanage, sorely understaffed and in one of the poorest areas of Lima, called Comunidad de Niños Sagrada Familia. Sister Catherine shared the story of Miguel Rodriguez founding the orphanage in 1989 to give a loving home to abandoned and neglected children, many exposed to drugs, violence and prostitution. Miguel opens his doors to children of all ages, providing for them the very basic necessities. In 2010, the orphanage housed 900 children; now it is up to 1,100, ages newborn to 19.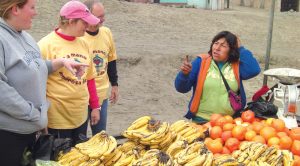 "Our first trip landed us at the orphanage during lunch, and we were asked to stay and join them," explains Julie. "The meal was being cooked over burning tires … and the smell was horrible. We had just been told that often times this was the only meal the children would get. There was no way we could refuse. [The meal] was a combination of barley and other grains, with very spicy seasonings. There were chunks of dirt mixed in and it was the consistency of mush … and tasted of the burning rubber. As I looked around at our young people, many had tears in their eyes. Not one teen complained, but their eyes were WIDE open to the reality of what these children lived with every day."
Upon the suggestion of Sister Catherine, the group decided to purchase a piece of fruit for each orphan. They carried backpacks and bags into the local market, but struggled to find a vendor who believed they wanted 900 pieces of fruit. "Even speaking in Spanish didn't convince them we wanted that many," jokes Amy Rasmussen a two-year mission participant. Finally, the group found a vendor to believe them, but only after writing down the number, holding up the empty bags and showing the vendor their money. "To say she was overjoyed is an understatement!" Rasmussen continued, "The expression on her face was priceless. I remember seeing a few tears coming from her eyes."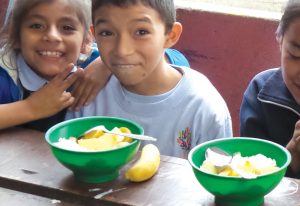 In Peru, the American dollar is strong, so the 900 bananas and oranges only cost the group $110. But the act of supporting the local vendors was huge! They later learned that the amount of fruit they had purchased was what the vendor would typically sell in an entire week.
The excitement didn't end in the market. The youth brought the heaping bags of fruit back to the children, who stood "in lines so deep you couldn't even see the end," reflects Rasmussen. "Seeing the gratitude these children expressed after receiving a single piece of fruit was so moving … It was so eye-opening how something so simple made such an impact on their day." Fruit was a rarity for the children, made clear by the fact that many of them had no idea how to peel the oranges or bananas; the group helped with that, too.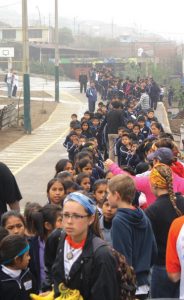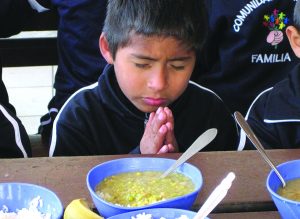 Upon their return home, many of the teens couldn't stop thinking about their time at Sagrada Familia. They didn't want the experience to be a fleeting memory; rather, they took their mission seriously and instituted a plan to build a relationship with the orphanage and to keep giving back.
"Our missionaries came up with the idea to use money earned from something as simple as tin cans to buy fruit. They were able to get a local business to donate a can cage and then they campaigned to the parish members to drop off all cans for the children of Peru," Julie explains. It worked. Since 2010, the youth have sent more than $5,000 to Peru from the can drive alone.
The continuous fundraising effort buys a piece of fruit for each child at the orphanage at least once a week. On return trips, the group has also been able to see other improvements thanks to their fundraising efforts, including a kitchen and additional school and dorm rooms.
"It is so easy to get caught up in our daily lives, but so often I think of what I have experienced in Peru and think of the joy the people of Peru have brought me. It is beyond words. I think of them all the time." – Becky Franz
Julie explains that the process has shown the youth of St. Brons "what one orange or banana can mean to someone. How we can take something so simple for granted, yet how much meaning it has for the vendor who sells it, the child who eats it, and for us — when we ask for a recycled can to buy it."
In 2011, a year after beginning their tin can drive, St. Brons youth decided to dig through the garbage at their parish festival to retrieve tossed cans. Mariah, then a middle-schooler who had already taken two trips to Peru, really struggled with the task, noticing all of the half-eaten food just tossed away. Her mind turned to Peru.
She shared her thoughts in the parish bulletin. "A reader was touched by her story and doubled what we collected," her mom shares. "Another parish member also read about the children and not only is she one of our strongest prayer warriors, she also sends money for the cause."
Now a freshman in college, Mariah reflects on her five return trips to Peru, saying, "The work of a missionary doesn't stop when they get back, it just changes. As a missionary it is important to take the lessons you learn and apply them to your life and to be a witness for the people you have met and the experiences you've had."
Those who travel to Peru on mission are continually struck by the joy of the orphaned children who own next to nothing in the world, whose stories of heartbreak and pain are almost unbearable. Yet, somehow, they emanate a true sense of joy. "I strive to learn from them," Mariah shares, "to find that kind of joy in my own life."
Becky Franz, a four-time parent-chaperone, continues, "It is so easy to get caught up in our daily lives, but so often I think of what I have experienced in Peru and think of the joy the people of Peru have brought me. It is beyond words. I think of them all the time."
 "The children and people of Peru have won their hearts," Julie says of all of the missionaries she's led to South America. "Jesus has appeared to them in the faces of Peru."
By Amy Eichsteadt