500TH COMMEMORATION OF THE REFORMATION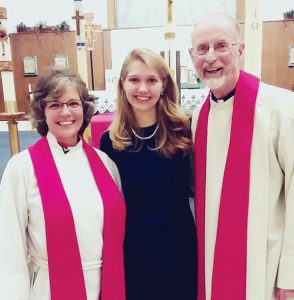 Father John Schultz and Rev. Lori Ruge-Jones of University Lutheran in Eau Claire were Co-Presiders at the event and are pictured with Annie Haloin, a college student, who inspired the whole event. Close to nine hundred attended the service at Immaculate Conception Church and over four hundred attended the reception afterwards at St. John's Lutheran Church across the street.
TO DO
"All You Can Eat Fish Fries" — Eau Claire
Jan. 12, Jan. 26 and Feb. 9
4 p.m. to 7 p.m. | St. Olaf Parish
The St. Olaf Men's Club will be holding their famous "All You Can Eat Fish Fries."
Catholic Scout Retreat 2017: Spiritual High Adventure — Sparta
Jan. 13 | 8:30 a.m.-5 p.m.
St. Patrick School
For more information, contact Cindy Sjolander at 608.783.4911.
Sunday Mass and Healing Service — Wausau
Jan. 14 | 3:30 p.m.
St. Matthew Parish
All are welcome to celebrate a Sunday Mass and Healing Service. The sacrament of reconciliation will also be available from 2 p.m. to 3:15 p.m. Individual prayer will be available after Mass.
St. Henry Watermark Mission Fundraiser — Eau Galle
Feb. 10 | 7:30 a.m.-11:30 a.m.
St. Henry Church
St. Henry Watermark Mission is a group that helps to rebuild homes that have been damaged by natural disasters. For more information, or to reserve breakfast tickets, please contact Rosey or Gary at 715.283.4451.
Huberters Club's Sportsmen Night and Wild Game Feed —
Holmen
Feb. 17 | 4 p.m.
St. Elizabeth Ann Seton Parish
Adventurous connoisseurs who enjoy eating on the wild side will want to take in St. Elizabeth Ann Seton Huberters Club's Sportsmen Night and Wild Game Feed. Dinner will be served from 6 p.m. to 10 p.m. at the Holmen American Legion. For more information, call Pat Brueggen, 608.526.4424.
March for Life

EVENTS
Chicago | Jan. 14
2 p.m.-4 p.m.The March for Life Chicago is one day only, located at Federal Plaza, 50 W. Adams St., Chicago.
marchforlife-chicago.org
Washington, D.C. Jan. 17-21
Pilgrimage for Life will again be held in Washington, D.C. The diocesan pilgrims will leave the diocese by bus on Jan. 17. The March for Life will be held on Friday, Jan. 19.
diolc.org/pilgrimage
St. Paul | Jan. 22
Noon
The 2018 MCCL March for Life will take place on the Capitol Mall south of the Capitol.
mccl.org/march
WANT MORE EVENTS? 
Go to diolc.org/calendar to see what's happening in the Diocese
of La Crosse or send a message to [email protected] and share what's happening at your parish.
Sesquicentennial

 EVENTS
March 2 — Richland Center
Sesquicentennial School Mass for Prairie du Chien and Richland Center deaneries
10 a.m. to noon
Assumption of the Blessed Virgin Mary Catholic Church
March 3 — Prairie du Chien
Sesquicentennial Celebration Mass
10 a.m. to noon at St. Gabriel Catholic Church
Reception to follow at St. John Church
April 6-8
Tomah and Wisconsin Rapids deaneries
May 18-20 Stevens Point and Wausau deaneries
July 13-15 Thorp and Marshfield deaneries
Aug. 24-25 Eau Claire and Chippewa Falls deaneries
Sept. 7-9
Arcadia and Durand deaneries
Oct. 5 — La Crosse
Catholic Schools' Mass
11 a.m.–1 p.m.
Diocesan Catholic school students, grades 3-12
La Crosse Center
Oct. 7 — La Crosse
Sesquicentennial Celebration Mass
10:30 a.m.–12:30 p.m. at St. Joseph the Workman Cathedral.
A reception will follow at the La Crosse Center.
Prayer cards available at your parish.