"A people without the knowledge of their past history, origin and culture is like a tree without roots."

— Marcus Garvey
At 88 and 85 respectfully, Robert and Mary (Wopat) Kretche of St. Aloysius Parish, Hillsboro have experienced their fair share of history and have collected and documented a great deal more.
The couple's interest in history, particularly of the parishes, families and small villages near their home in Union Township, Verona County, Wisc., came with the luxury of more spare time in retirement. Robert especially had a desire to share these stories with the younger generation, who he says "want to know where they're from." Through his research, he connects them to their roots. He has compiled more than 15 short and not-so-short history books, many of which families, organizations, parishes and towns have asked him to write. And Robert doesn't miss a detail.
The Kretches were born in Union Township. Both attended White City rural school, Hillsboro High School and St. John Nepomucene Parish outside of Hillsboro, one mile from a flourishing early village called "Dilly."
With the Hillsboro area being considered the "Czech Capital of Wisconsin," it was only fitting that the parish adopted the namesake of the patron of Czech and Bohemian people, St. John Nepomucene, meaning "St. John the helper."
Much of Robert and Mary's history revolves around St. John's — reception of childhood sacraments, involvement in the church choir and other parish ministries, their marriage there in 1951 and the rearing and sacraments of their three children: Robert Jr., Donald and Kathleen.
But before diving into the history of their home parish, Robert and Mary began married life farming in the area for about a decade before moving to Madison, where Robert worked in accounting and construction estimation and Mary worked as an insurance claims adjuster.
Then, in 1984, the couple bought one acre of land in Union Township and built a house. After 24 years in Madison, they moved back "home" in 1988. St. John's again became their parish home, though it is now considered a mission church of Hillsboro. They quickly got involved in the life of the parish, and Robert even became operating manager of maintenance for eight years.
Upon their move, they also got reacquainted with the community as members of the Hillsboro Library Friends, Hillsboro Museum and the Settlers Organization and began compiling area history. Both Robert's and Mary's mothers collected decades worth of the local newspaper, now called the Hillsboro Sentry Enterprise, dating back to its founding in 1885. The papers allowed Robert to compile a book of people and dates, with listings of 32 local cemeteries, using the obituaries.
He also compiled genealogies and histories for his, Mary's and 200 other rural families from the area. In the many other local history books he has written, he's been able to discover and share highlights of the early histories of the small towns and lost villages: the Pony Express that came through, the milk truck that lost control on a hill and went through a church and when John F. Kennedy planted a tree at the Hillsboro Library.
Four years after they moved back to Union Township, St. John's held a Centennial Celebration. Robert was asked to compile a book about the church's 100-year history. The 48-page book thoroughly detailed the beginnings of our diocese, the spread of Catholicism in southwest Wisconsin, the founding of area parishes and a detailed account of the construction of St. John's, complete with many photos and even signatures of the first parishioners, which included Robert's parents and Mary's grandparents, parents and uncles. What made the project especially interesting was that all of the historical accounts of the parish were written in Bohemian, so Robert and Mary had their work cut out for them. Not only did they need to compile the stories, but they had to translate them!
May the never-ending labor and sacrifices of those early pioneer Catholics be never forgotten. We pray for their faithful courage, zeal, and spiritual faith in God. Let their spirituality be a shining example for all future generations, communities and nations to follow."
According to Robert's book, St. Aloysius in Sauk City, nearly 60 miles southeast, was the first parish built in the vicinity in 1844. It was very much mission territory, with resident priests visiting nearby villages and celebrating Masses at settlers' homes. Slowly, neighboring villages began erecting churches.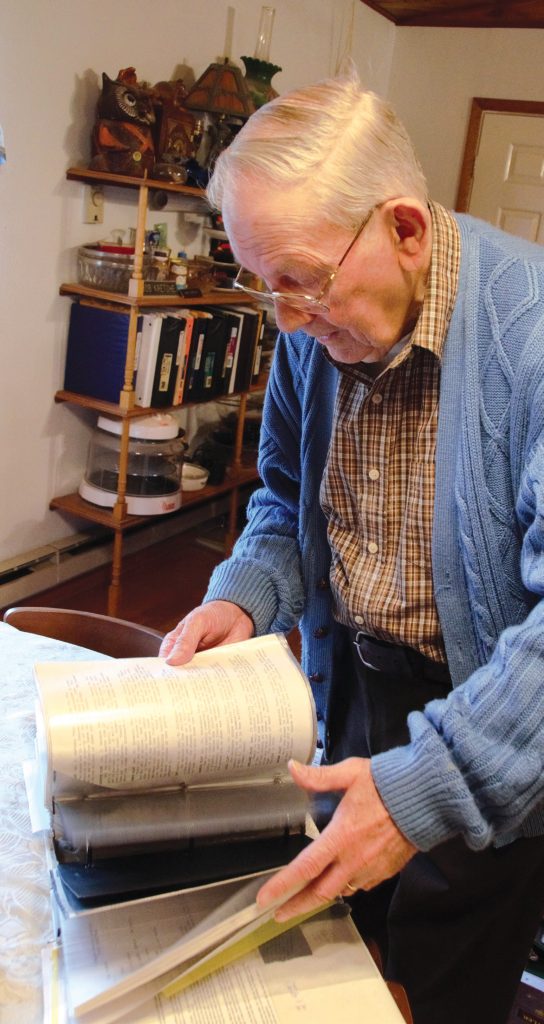 In 1862, St. Theresa Church was assembled in Union Center, receiving its first resident priest in 1877. This marked the beginning of the faith being spread to the immediate Hillsboro area.For the centennial book, Robert wrote: "The need for a parish church was a great necessity in the Dilly area. The construction of St. John Church was first decided at a meeting held in the home of … John Sinkule on Dec. 15, 1891. Many of the parish members were present at that meeting. John Sinkule agreed to donate half an acre of his farm land, which was located at the present church site … Prior to construction, Father Joseph Miller had Mass in a red brick school house called the Wopat School." But before construction started on Sept. 1, 1892, Father Miller was transferred and Father John Prucha was appointed pastor and helped oversee the project. Father Prucha, Robert Kretche's great uncle, was appointed pastor at St. Theresa Catholic Church in Union Center. "By horse and buggy, he traveled to his mission churches, alternating at Kendall, Wonewoc, Greenwood, Champion Valley, Hillsboro, Union Center and St. John's in Dilly," explains Robert. St. John's had a Mass about once a month.The parishioners and new pastor endured many hardships and adventures constructing the new church, including gathering by hand the large foundation stones, sawing lumber for the church framing and hauling the 24,000 bricks 80 miles roundtrip on heavy horse-drawn wagons from a brick factory some 40 miles away over bad, muddy roads.
"Local labor helped hold the cost of the church down. Church members as well as non-members worked in a cooperative effort to have a church present here," Robert wrote. St. John's was completed on Nov. 28, 1892.
The St. John's community celebrated their efforts with Czech flair. The 1,000-pound church bell, purchased from the Cincinnati Bell Foundry, came by rail to Union Center. From there, a wagon drawn by two teams of "brightly decorated" white horses brought the bell to the church, where it took 13 men on scaffolds to get the bell on top of the bell tower.
Father Prucha said the first Mass at the new church on Nov. 29, 1892. Bishop James Schwebach dedicated the church to St. John Nepomucene on Oct. 10, 1893. As the bishop arrived, "parish men rode on horses decorated with the bishop's colors. The Yuba Band and a procession of children accompanied the riders," Robert recounted. "After the dedication of the church, the first confirmation was administered to many young and also adults."
Throughout the history of St. John Parish, dedicated parishioners and pastors continued to improve and expand the building and campus, adding such things as an organ, a Model T for commuting between churches, electricity and a rectory.
St. John's closed its doors and the building now sits quietly as a historical site and an ode to its 125-year history.
In his centennial book's foreword, Robert wrote a fitting tribute to those early founders of the Church in his area: "May the never-ending labor and sacrifices of those early pioneer Catholics be never forgotten. We pray for their faithful courage, zeal, and spiritual faith in God. Let their spirituality be a shining example for all future generations, communities and nations to follow."
Parishioners of St. John's joined nearby St. Alysious Parish, served by Father Don Bauer, who also ministers to St. Jerome's at Wonewoc and the perpetual adoration chapel at St. Theresa's in Union Center.
Robert continues his efforts to share history by giving presentations about Czech history and culture, as well as genealogy, at the Hillsboro Library and High School. For his dedication to preserving local history, Robert was awarded the "Senior of Distinction" honor from Vernon County in 2012, but his perseverance to give roots to the younger generation is his real reward.
By Amy Eischsteadt
Photography by Monica Organ