Jim Pulvermacher (Left) and Gordon Moore (right) are two dedicated alumni of St. Mary School and continue to support the school for future generations.
JIM PULVERMACHER AND GORDON MOORE FROM RICHLAND CENTER LOOK BACK ON THEIR SCHOOL DAYS AND WHY CATHOLIC EDUCATION IS IMPORTANT TO THEM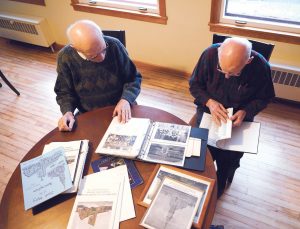 Catholic schools are a foundational aspect of Catholic faith in our diocese today. In Richland Center at Assumption of the Blessed Virgin Mary Parish, Catholic education has been a part of its history for almost 100 years, and, according to Jim Pulvermacher and Gordon Moore, two dedicated alumni, it will continue to be a cherished part of the community.
Jim's family came to Richland Center from Sauk City in 1935 because Richland Center was a good farming community for a farmer in the poultry business. He and his siblings went to St. Mary School through 8th grade.
"When we went to high school, we had religious classes once a week here (at the parish) because we didn't have a Catholic high school," Jim remembers. Jim and Gordon have known one another a long time and met in school, but Gordon is a year older. Gordon was born and raised in Richland Center and lived about two miles outside of town. He went through his schooling at St. Mary School and the local high school, just like Jim.
Gordon's father was a carpenter and they lived on a farm, Their family attended St. Mary School and he said his schooling resembled Jim's in many ways.
"It was a one-story school when Jim and I started there and I think they had first through third in one room. When I was about in the sixth grade, they added a second story. Later, they added more classrooms and seventh and eighth grades upstairs," Gordon recalls.
"At that time it was all (Benedictine) nuns who taught us in those days," Jim says. "The building they originally lived in was down the street, and the current convent was built in the '60s."
Jim and Gordon remember back to their school days and Jim recalls how they would go to Mass every morning before school.
"I got to serve Mass and I enjoyed that, but it was in Latin, so I didn't know what they were saying, but I got pretty good at it," Jim jokingly says. "We also had weekly confession on Saturday afternoon and other things we just don't have a lot of any more. Glad we did have it at the time though, it certainly helped."
"When we were growing up in the lower grades, we had good, old Irish priests who were very strong in their faith," Gordon says. "They were very strict and we towed the line, but they were good priests and role models and we learned a lot from them."As Jim and Gordon got older and started having families of their own, they knew how important it was to continue supporting their Catholic school. Both Jim and Gordon sent their children to St. Mary School. In the 1960s, Gordon, as a member of the parish council, went to La Crosse to meet with Bishop Freking about getting a loan for a new school. "It was basically a promissory loan and me and three others from the council met with the bishop and signed some papers to get the money to build a new school," he says. "We had outgrown the school we had gone to, so, with the money from the diocese, we built a new school to replace the old one." Three generations of Jim's family have gone through St. Mary School and Gordon's daughter also attended.
"I sent my daughter to St. Mary's and she went on to become a doctor in Minnesota," Gordon says. "As a general rule, we find that St. Mary's School students are in the upper echelon of their class."Jim's kids, who became teachers and local business leaders, appreciated St. Mary School for their dedication to the students.
"They get more one-on-one care here and we often hear that the schools can tell which students came from St Mary's because they're well-disciplined and just good kids."
Jim remarks that the school is extremely important to the life and growth of the parish, even to this day.
"It makes me proud to be able to do what we can for the school. We're very fortunate to have the school here, and we're very thankful."
By Monica Organ
Photography by Michael Lieurance