"The youth shouldn't just believe in God but believe that God believes in them, too," says Monica.
Monica Tzitzun ministers to the Hispanic community in Abbotsford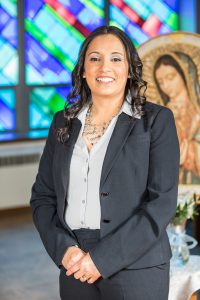 As a child in Mexico, Monica Tzitzun attended daily Mass with her family. Religious holidays were huge celebrations, and life revolved around the church. When Monica and her husband Juan arrived in Abbotsford 17 years ago, they followed family members wanting a better life. Monica, however, didn't expect challenges to her Catholic faith and the loss of community worship.
"Many Mexicans come from places where they have much material need. Then they come to the United States. They think they can have everything they want and it will make them happy," Monica says. "They forget the greatest truth, which is the love of God. Mexicans have known this love in Mexico and now they are giving it up for so little. There is no life without the love of God."
Monica and Juan worked hard in America. Mass was in a foreign language for them, with few Hispanics. Understanding the church here was incredibly difficult.
Her older brother said life is different here, that God isn't necessary to live a good life in America. Monica felt alone and wanted to worship.
"We needed to find a place where we could dedicate ourselves to God," says Monica. "My family needed God, they needed the faith as well. I asked God for help. God always answers me very quickly."
While receiving prenatal care at a local clinic, Monica developed a friendship with nurse Pauline Schiferl, although Pauline spoke little Spanish and Monica no English. Somehow, they understood each other.
"Pauline was one of the angels God sent me. Thanks be to God she was always the one helping me with my pregnancy," says Monica.Pauline asked Monica if she wanted a Spanish Mass at the parish. Monica said, "Of course I do."
In June 2001, Bishop Raymond Burke visited Abbotsford. Pauline said Monica could request a Spanish Mass at St. Bernard. Monica asked her brother to speak for her because he was more fluent in English. At the end of the meeting, Pauline said there was a request.
"My brother said, 'My sister would like Mass in Spanish,'" Monica says. The short statement was powerful.
Bishop Burke said there were no bilingual priests available, but a retired priest might help. Introduced to Father Edgar, Monica asked for a monthly Spanish Mass at St. Bernard. Father Edgar agreed only if he could come every Sunday.
The first Spanish Mass was the following Sunday, and attended by only three souls — Monica, Juan and their unborn daughter Lupita.
"Father Edgar was a great and amazing priest," says Monica. "I am so thankful God sent a great priest to begin this ministry. It didn't matter if there was eight inches of the snow on the ground, he was always here."
Monica regularly encouraged families to attend the Spanish Mass. After a month, her brothers came, encouraged by a call from their mother in Mexico. "My mother had a lot of power, because she was very close to God," says Monica.
Monica returned to Mexico and there promised that if God gave her a safe journey back, she would teach the Faith in Abbotsford. She did return, by God's grace, and, together with three of her friends, began her ministry. The program's beginning was small, but it grew quickly.
The inaugural First Communion class had seven students. Monica remembers the first celebration for the feast day of Our Lady of Guadalupe had only about 10 people at the Mass. Now, at least 500 people fill the church every Dec. 12; Mass is followed by a community meal and traditional Mexican music and dancing.
The Hispanics started to return to God. Father Edgar's health declined, leaving him unable to minister, but his parishioners were not left alone. Father Enrique Castro Cuba of Peru began to shepherd the faithful flock at St. Bernard.
Monica served at his side, continuing her volunteer catechetical work in addition to caring for her family and working full-time at a local plant.
"When I feel the most weight, I feel the closest to God. If I didn't know the suffering, I would have forgotten God. If I wouldn't have known God, my life would not have had meaning."
"Father Enrique is one of the other teachers I have had — a teacher in humility," Monica says.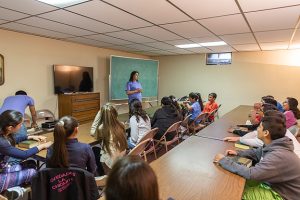 After four years, Father Enrique left. Monica was again alone in ministry. With no priest to shepherd the flock, Monica bore all the weight, working to keep families engaged and connected. It was a difficult time.
"I had to grow closer to God and be attentive to God's answers," says Monica. "When I feel rejected or in the desert of faith, God gets my attention again."
Father Tim Oudenhoven, newly ordained and far from fluent in Spanish, was sent as the new priest. Monica helped to guide him.
"Monica took me under her wing and formed me," says Father Tim. "I owe her a personal debt of gratitude."
"God always gives us whatever we need. With the community growing as fast as it has, we needed a priest who could help us, and that's why he sent Father Tim," Monica says. "I remember the first Good Friday he had here. We had the Stations of the Cross. I said he needed to give everyone a blessing. He said, 'Me?'"
"I didn't understand my role as a Hispanic ministry priest," says Father Tim with a laugh. "She said, 'Just say God bless you.' And I did."
Through everything, Monica focuses on youth education. As she teaches them, so they grow to teach others. Today's Hispanic catechists are young adults and enthusiastic teachers.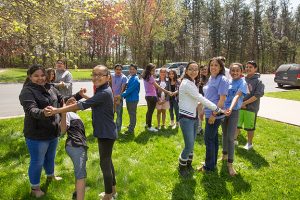 "The youth shouldn't just believe in God, but believe that God believes in them, too," says Monica. "They can overcome all the bad things in our age. I want them to be good, I want them to be OK, I want them to have faith. I try to treat them like a mother treats her child. I see them as people important to my life. I know that we are not working in vain when I see the lessons take fruit."
Monica cherishes the support she receives from some outside the Hispanic community. "Helen and Ann Teska provide so much love and support to me that it covered all of the negativity and misunderstandings that were present in the parish." says Monica.
Family makes Monica's dreams of a vibrant Hispanic community possible. Her daughter Lupita teaches kindergartners, following in her mother's footsteps.
"My husband has made a lot of sacrifices so I could do what I do," Monica says.
People sometimes wonder why Monica works so hard for no pay and little time for herself. For Monica, there is no better pay than serving God.
"I feel that I have gotten much more being in the church than advancing myself," says Monica. "When I feel the most weight, I feel the closest to God. If I didn't know the suffering, I would have forgotten God. If I wouldn't have known God, my life would not have had meaning."
Monica prays the Hispanic community in Abbotsford continues to find God at St. Bernard. "Our community is dying because of the lack of love. Love for God is being stolen," she says. "People can't see it. The Hispanic community will end without that love."
There are other people working to keep their Hispanic communities active and alive all over the United States. Monica knows the struggle is real and offers this advice: "I believe in the words of Pope Francis. 'We need to work very hard for things that we can bring with us to heaven.' There is so much to do for our youth, families and communities, so we cannot wait any longer. It is time to work! ¡Andale Pues! (Get going then)"
By Mary Kay McPartlin | Photography by Father Tim Oudenhoven