Dr. Greg and Linda Foster hold a portrait of Our Lady of Good Counsel in the welcoming space of the church, which was completed in 2009.
Dr. Greg Foster and his wife, Linda, share time, talent and treasure with St. Mary Parish in Neillsville
In 1878, a Catholic church named after the Blessed Mother was built on a hill overlooking the village of Neillsville. St. Mary Parish has stood as a beacon to all, from the early immigrants to the generations that followed.
Enter John and Barbara (Schuld) Foster, paternal great-grandparents of Dr. Greg Foster (known simply as Dr. Greg). They were children of German immigrants who originally settled in Jefferson, Wis., at the confluence of the Rock and Crawfish rivers. Jefferson was the furthest point a steamboat could navigate the Rock in 1839. Dr. Greg tells the story of these early residents of Neillsville: "John was a brewery servant for the Neillsville Brewery, having learned the fine art of German beer-making from his father. John and Barbara married in 1881. Barbara was musically talented and played the organ for services at St. Mary. A short time later, John and Barbara operated the Farmer's Hotel in Neillsville until they moved to La Crosse in 1891 to manage the Vader Rhine Hotel. They had three daughters and two sons, of which the youngest, Leo, eventually returned to Neillsville and reconnected with St. Mary Parish."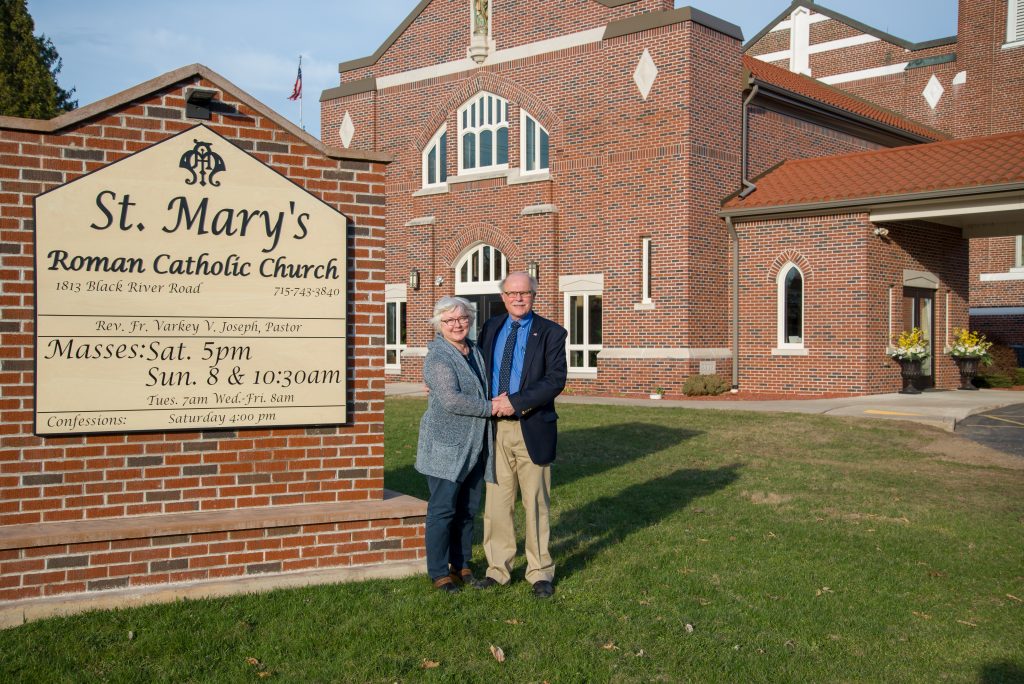 The U.S. declared war on Germany on April 6, 1917. Dr. Greg continues, "Leo [Dr. Greg's grandfather] enlists in the Wisconsin National Guard, Red Arrow Division. He is seriously injured on the battlefields of France and is declared killed in action — devasting news for the Foster family. But miraculously, Barbara [Leo's mother] and his sisters eventually receive news that Leo is indeed alive, but seriously wounded and recovering in an Army hospital in France."Following his return to Wisconsin, Leo married Martha Dietsche from Bloomer in 1923. Martha was studying to become an optometrist, an unusual occupation for a woman at that time. She finished her studies and in 1922 became the second woman to be licensed as an optometrist in Wisconsin. Dr. Greg relates, "The couple moved to Black River Falls, where Martha established her optometry practice and Leo served as a U.S. Treasury agent. While examining a patient, Martha went into labor with her only child, John [Dr. Greg's father], who claimed that he was 'born into the business'. Leo, Martha and John moved to Neillsville in 1937 and re-established their membership in the Parish of St. Mary."
Indeed, John Foster did become an optometrist, establishing a practice in Thorp in 1953. John married Dolores Schlager in 1949 and had five sons, among them Dr. Greg. John moved his family to Neillsville in 1964 to honor a promise he made to his dying mother that he would care for her patients. His sons attended St. Mary Catholic School, taught by the School Sisters of Notre Dame.
"[It is about] giving service to the Lord and not counting the cost."
Dr. Greg recounts his service at the altar during his youth in the 1960s. Being an altar server at that time was particularly rigorous because it required learning all the Latin responses and gestures that were required as part of the sacred ritual. As an altar server who studied really hard for five months to master the Latin requirement, Dr. Greg was aghast when he learned that Latin was being discontinued and Mass would be said in English. "I must have objected too loudly about having to learn the old methods in the first place. [Subsequently] I found myself after school copying longhand a document Sister found on giving service to the Lord and not counting the cost."
Apparently giving service to the Lord and to His people resonated, perhaps unconsciously, with a young Dr. Greg because he followed family tradition and became an optometrist, serving people in Black River Falls and Neillsville. Dr. Greg married Linda Anding and they returned with their two young children to Neillsville and St. Mary following Greg's graduation from optometry school.
As they both travel the road of life, as we all do, they seem always to be looking ahead for ways they can use their talents to serve God and neighbor. In the 1990s, they developed a youth ministry program for St. Mary Parish. Linda is a member of the St. Mary Justice and Peace Committee and, together with Dr. Greg, greets people at the church entrance and leads the Rosary. Dr. Greg has taught freshman CCD for 30 years and continues to teach students on morality and the Old and New Testaments. He has chaired the Justice and Peace Committee for 14 years and chairs the Stewardship and Development Committee. Dr. Greg chaired the We Belong to Christ Campaign Committee that raised $1.9 million to renovate and restore St. Mary Church from 2009 to 2016. As a symbol of a parish commitment to the project, he instituted the practice of having families take turns bringing a framed portrait of "Our Lady of Good Counsel" into their homes. The portrait now sits in the new greeting space of the church. Dr. Greg happily serves as lector and extraordinary minister of holy Communion at Mass. At the diocesan level, he has served on the We Belong to Christ Board.
With the baptism of Dr. Greg and Linda's grandson, River Leo, a direct connection with the Parish of St. Mary in Neillsville has sacramentally touched six generations of Fosters. God calls each of us to serve our neighbor. When we do this out of love, as the Foster family has done over these many years, our life becomes joyful.
Story and Photography by Robert Rogers