In the Catholic Americas — North, South and Central — there is perhaps no greater force for unity than the patroness we all have in common: Our Lady of Guadalupe.
I was in the fourth grade when Sister Mary Michael told our class the story of the beautiful lady from heaven and Juan Diego, the native farmer to whom the Blessed Virgin appeared on Tepeyac Hill on Dec. 9, 1531, in what is now Mexico City.
"My dearest son, you must understand that there are many more noble men to whom I could have entrusted my message and yet, it is because of you that my plan will succeed."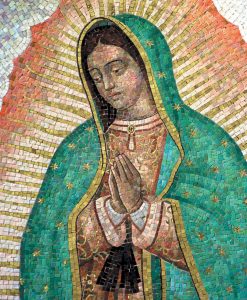 Juan was passing through the countryside on his way to morning Mass when he heard a sudden burst of the most exquisite birdsong and a woman's voice gently calling his name. He quickly climbed the hill and stood before a beautiful young woman whose garments shone like the sun. Speaking to him in his native language, she asked, "Juanito, my son, where are you going?"
After he replied that he was on his way to Mass, she spoke these powerful words:
"I am the perfect and always Virgin Mary, Mother of the true God from whom all life comes, the Lord of all things, Creator of heaven and earth. … I am your Mother full of mercy and love for you and all those who love me, trust in me, and have recourse to me. I will hear their weeping and I will comfort their affliction and their sufferings. So that I might show all my love, go now to the bishop in Mexico City and tell him that I am sending you to make known to him the great desire I have to see a church dedicated to me built here."
Juan set out at once. Bishop Zumárraga gave him an audience and listened kindly to his story. Not surprisingly, though, the bishop was skeptical. As Juan left for home, the beautiful lady appeared to him again and he told her what had happened. "I beg you to entrust your message to someone more known and respected so that he will believe it," he said. "I am only a simple Indian whom you have sent as a messenger to an important person."
She replied, "My dearest son, you must understand that there are many more noble men to whom I could have entrusted my message and yet, it is because of you that my plan will succeed."
I was spellbound as Sister Mary Michael told us the rest of the story. The thrilling culmination when Juan Diego opened before the bishop the folds of his tilma, his cloak, which concealed a bouquet of the finest Castilian roses revealed to all that he was truly sent by the Mother of God. In the December cold, roses wouldn't be found in Mexico. Our Lady carefully arranged this wonderful sign to show that Juan Diego was truly her messenger.
At once, Bishop Zumárraga fell to his knees — but not at the sight of the roses tumbling out of the tilma. He was transfixed by the tilma itself, which now bore the miraculous image of the Mother of God. The bishop had the tilma carried in public procession and built the requested chapel to cherish and display it. By 1541, a mere 10 years after Mary's appearance to Juan Diego, 9 million native people in Mexico had converted from the bloodthirsty "gods" of the Aztecs to the merciful love of Christ and His Church.
The rough cloth bearing Mary's image — which defies all human explanation — is still venerated by millions of pilgrims at the Basilica of Our Lady of Guadalupe in Mexico City today. In the Diocese of La Crosse, the Shrine of Our Lady of Guadalupe bears eloquent witness to this beloved patroness of the Americas. Thousands of pilgrims visit this beautiful Shrine each year, but Our Lady holds a special place in the hearts of Hispanic pilgrims. Often, her images are presented with beautiful tributes of roses, echoing her roses for Juan Diego. Our Lady continues to speak the words of maternal love and protection she addressed to St. Juan Diego:
"Listen and let it penetrate your heart. … Do not be troubled or weighed down. … Do not fear any illness or vexation, anxiety or pain. Am I not here who am your Mother? Are you not under my shadow and protection? Am I not your fountain of life? Are you not in the folds of my mantle? In the crossing of my arms? Is there anything else you need?"
Our Lady of Guadalupe, pray for us!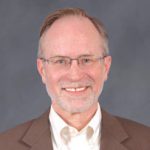 Chris Ruff
Director of the Office of Social Concerns