There is a shoe store in downtown Marshfield,where I grew up, that is run by a devout Scottish Presbyterian. He once explained to me that faith is described in Scottish as lippen. His grandma told him that it's something you can lean into, like the thick planks that were laid out to cross through the bogs. I loved that definition of faith. It's the New Testament's sense of faith, too. A word very similar is used by Jesus and the apostolic writers. That has been my sense of faith for a long time, too. Maybe it was the Mass, with all its moving parts, sounds, smells and colors. Maybe it was the stories in my Beginner's Bible. But I have always felt that our faith is something one can feel. Like St. John said: "What was from the beginning, what we have heard, what we have seen with our eyes, what we looked upon and touched with our hands concerns the Word of Life." (1 Jn 1:1) The spiritual realm has always felt to me like a place my feet were resting on, something that was, like the Lord Jesus said, truly "at hand."
This began way back for me.
For instance, for my cinnamon toast one morning when I was in kindergarten, Mom cut the toast with a cookie cutter so they were shaped like bears. We still had to eat the crusts, but I remember eagerly awaiting that sweet treat as we settled down for the Angel of God Prayer, one I learned even before the Meal Prayer. I remember clear as day a voice speaking that said, "I love cinnamon toast, too … and bears!" "Who are you?" I wondered. I know now. It was the Maker, and the angels. Why else would cinnamon and bears exist, except that God wanted to let us have them. In all of a few moments I had a felt experience of what Genesis 1:31 talks about. God looked at toast, and bears, and what joy! I realized he must look on the X-Men cartoon show, too, and found it very good. A faith I could see. A faith that somehow maybe didn't require so big a leap of faith at all.
I also remember going on a walk in the woods when I was in first grade. The trees rising up all around me looked like our church, Our Lady of Peace (OLP). They seemed to close in overhead like big walls and a ceiling. I don't know where it came from, but again, the thought that God was there. The woods even looked better than OLP! Excited that I had found another "church" in the UW Wood County arboretum, I ran the rest of the way down a path until I was winded and had to stop, just short of the entrance near Weber's farm. As I walked into that clearing, I saw a field full of cows in tall, tall grass … then the wind. It wrapped around us (the cows, the grass and me), and my thought was confirmed, my thought from earlier on the path: Someone is moving through the woods, through the earth. It was God.
I have so many moments like this peppering my life. I think we all do. I say "pepper" too, because aren't moments like these what flavor life? Christianity always seemed right to me, and oh so beautiful, because our faith said we believe God is a part of this human stuff. Think about it: "maker of heaven and earth"; "born of the Virgin Mary"; "crucified under Pontius Pilate"; "judge of the living"; "resurrection of the body." All creedal statements that shout: God is in your life! Our faith believes in the Creation, Incarnation and New Creation For me, in so, so many ways, I have come to hear, see, touch and smell that Life, that God, reaches out to interact with us. I find this in nature, food, play, prayers and books.
Dandelion Wine by Ray Bradbury comes to mind. I read it for the first time at 15. I was mesmerized, and I still read it at least once a year. The second chapter summarized what I had always believed about God's presence in our lives. Doug Spaulding is the autobiographical protagonist of the book and he remembers picking fox grapes with his dad and little brother in Waukegan, Ill. Something is bugging him the whole morning. It has his heart beating furiously in his chest … and then it strikes! As his brother punches him in the mouth, Doug realizes he is alive. He tastes the blood from his lip, he smells the "bee-fried" air and sees the sun shining on all. He realizes he is alive and that life surrounds him, life is all. Faith has been my own experience that life is all. That, as St. Paul said, in God "we live and move and have our being." (Acts 17)
This truth was made fresh for me a few years back when I fell very ill. My heart stopped for almost 35 minutes, and I went through almost two years of hurt on many levels. A moment when I was in the nursing home has been a help that I now continue to unpack. A beautiful, mystical moment, when I felt nothing can separate us from the love of God. (Rom 8) That God is present in goodness had been clear all my life, but now it was true even in what was bad. Jesus' life began to make more sense. Living, dying, rising: it is all life. That's what Doug Spaulding understood in Dandelion Wine at the book's conclusion as he suffered for the first time in his life, I mean really suffered. That living and dying are both real life … and to those who can accept, it is a wonderful gift. My awareness, my faith, my walking all over the presence of God has only expanded as I have continued to live life. I fully expect, I believe, this is the truth, and will be forever, world without end. Amen.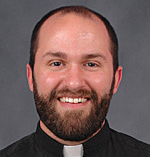 By Father Matthew Marshall, parochial administrator of St. Mary Parish in Coon Valley, chaplain at Aquinas High School and Middle School and chaplain to the Hmong Community in the La Crosse area