Brothers Daniel (left) and Thomas Reither follow in their father's footsteps as active members of their parish music ministry.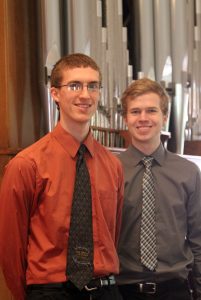 Sacred music adds a unique spirituality to the celebration of Mass. Whether a member of the choir, cantor, pianist or organist, each musician finds joy in sharing their talents with fellow Catholics, helping us unite with our Creator.
Sacred music can enhance the celebration of the Mass and is a blessing to the congregation. Many expect it to be part of the Mass, and only take notice when it's not there. But what drives musicians to be a larger part of the Catholic Church? Many have personal reasons for proclaiming the Word through this ministry—much more than merely their love of music.
Brothers Daniel and Thomas Reither have made it their mission to not only share the musical gifts God has given them, but also profess their Catholic Faith in their everyday lives. Though sacred music is an important part of their mission, there is much more to their story.
Daniel, 20, and Thomas, 19, were raised in a strong Catholic family. They are the youngest of six children born to Gary and Kathy Reither. The successful path the siblings set in life are due to the support, direction and examples provided by their parents.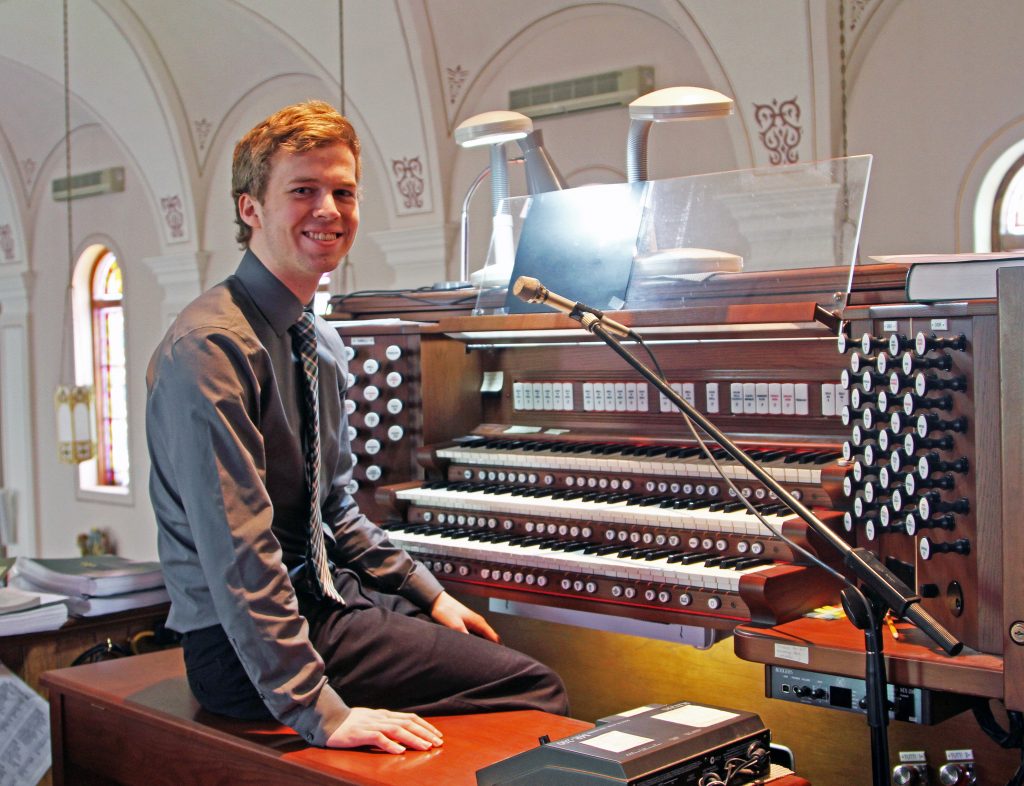 Daniel can be found singing in the church choir most weekends for St. Charles Borromeo Parish in Chippewa Falls. His inspiration to be a member of the choir began at an early age. "I grew up listening to my father sing in the church choir and cantor. I thought, 'How cool is that!'"
"I found expression of my Faith through service," says Daniel. "I loved to sing, especially in the children's choir. Even when there were not enough kids to keep the children's choir going, I continued to sing, but as a soprano in the adult choir. When my voice dropped a couple octaves, I joined my dad in the baritone section. I tried my best to beautify the Mass with my voice. With patient guidance from the choir director, Jerry Boorsma, I had the opportunity to become more involved in the music ministry of my parish. I helped lead the music with my guitar for the Mass on Wednesdays for St. Charles' elementary students, while my younger brother Thomas played the piano. I also followed my older brothers' footsteps in becoming an altar server."
Part of Daniel's inspiration to serve comes from the examples of the saints. "While I was in high school, I attended the Dead Theologians Society every Sunday during the school year. ﷯A common theme I noticed in their lives was they took the initiative to serve. I decided if I wanted to be a saint, then service would be a good place to start. College has consumed much of my time, but I am still able to make it to daily Mass and sing for the weekend Masses. If I didn't have the Mass, I would have nothing."
As a junior in college, studying biochemistry and molecular biology, Daniel's goal is to someday teach at a university or possibly attend medical school.
While in college, Daniel continues his mission to help others. "Dynamic Catholic encourages us to find our sweet spot. Instead of looking for all the things in the world that need fixing, look for the one small thing that you can actually do. For me, I can sing at Mass. I can volunteer locally."
Thomas prays before every Mass: "Lord, let this music not distract the people in the pews. Let it uplift them closer to You."
While growing up, Daniel was a member of his local 4H group and helped provide meals for people in need and visited elderly in nursing homes. As time allows, he occasionally helps out at the homeless shelter, a quality he learned from his parents, who currently volunteer at Sojourner House in Eau Claire.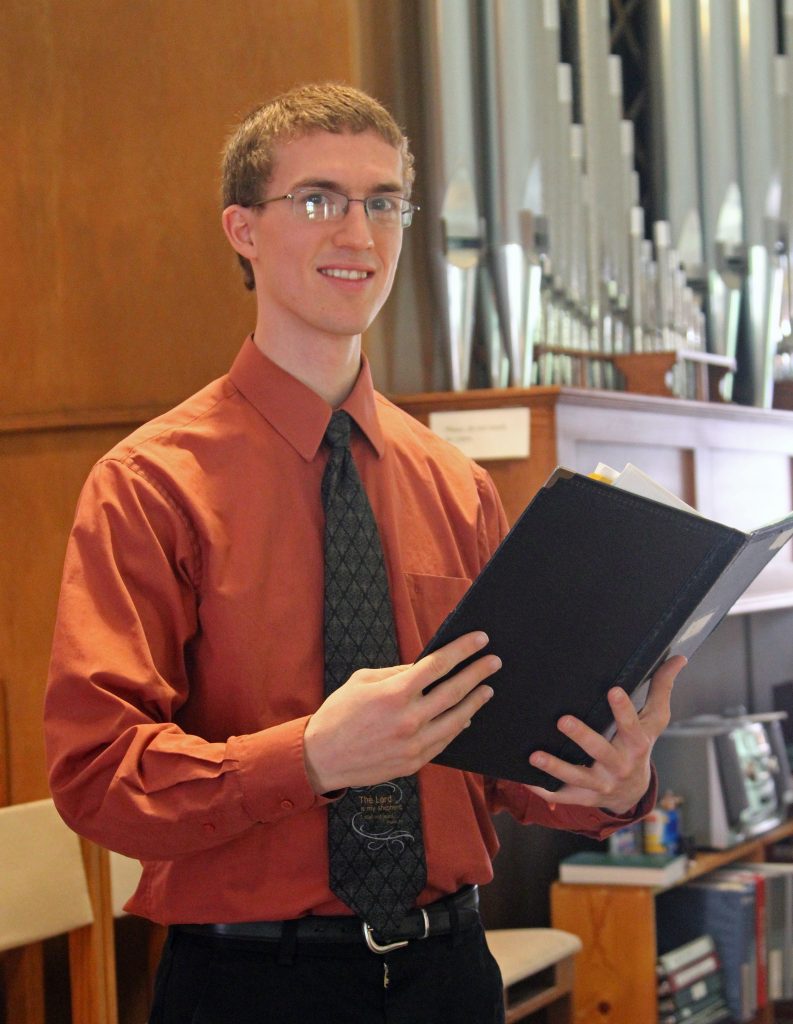 Younger brother Thomas plays piano and pipe organ for Mass, weddings and funerals. Though he enjoys singing, his passion is the pipe organ:"I've always been inspired by the pipe organ and how grand and majestic it is." Thomas is quick to give credit to Jerry Boorsma, the parish director of liturgical music, for being the driving force who taught him to play the piano and pipe organ.
A college sophomore majoring in piano performance, Thomas aspires to attend graduate studies for choral direction and then take up a position working with choirs in a Catholic setting.
One of the most important ways Thomas lives out service is through music ministry. "For me, music is the language of the heart. To use music as a technical achievement, to show off with it or to impress audiences misses the mark completely. I study piano performance at a nearby public university, and I've learned some pretty advanced, virtuosic repertoire. But all of those impressive performances in darkened recital halls are meaningless compared to some of the experiences I had before college. Things like composing a piece to commemorate my cousin's passing, organizing the music for my grandpa's funeral and singing and dancing for older folks in nursing homes are infinitely more important than any recital I could give."
Thomas prays before every Mass: "Lord, let this music not distract the people in the pews. Let it uplift them closer to You." His mission is to express his Faith musically and in a respectful manner, to lead people to a sense of sacredness.
Music is not a goal for Thomas, but a passion:"It's not about achieving greatness. It's a means of communication. It's meant to convey beauty and love and truth. It's about sharing your heart and bringing healing to yourself and to others."
His excitement comes from being able to share his love for music. "It's hard to find someone who doesn't like music:No matter where you go, that's a way to connect with others."
In 2016, Daniel and Thomas, along with other family members, traveled to Uganda on a mission trip. One of the many eye-opening experiences included, teaching school girls a song they had written for the trip and performing it as a group.
Daniel and Thomas have great role models to follow. With four older siblings pursuing careers in nursing, law enforcement and seminary, the brothers agree growing up in a Faith-filled family helped them take their Faith seriously—and challenged them to make their Catholic Faith their own.
Daniel and Thomas help inspire parishioners. Seeing young faces in the choir loft, participating as a service to others, is a future most parishes pray for. Their passion for life, helping others and their love for God reflects to the future of the Catholic Church.
The brothers' bright future is largely due to the inspiration and guidance of many. This includes their parish leadership and their siblings, Amy, Stephanie, Timothy and David. In no small regard, it's also due to their parents, Gary and Kathy. They are a superb example of one family's legacy of service to the Catholic Church; one that, when nurtured correctly, will carry forward for generations to come.
Story and photography by Sharon Sliwka