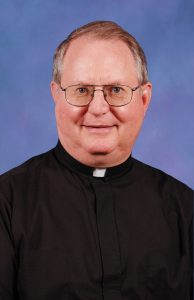 Father John William Steiner, at the age of 71 and a priest for 45 years, died on Sunday, October 20, 2019 in Madison, Wisconsin.
John Steiner was born April 13, 1948 in Marshfield, Wisconsin to LeRoy and Sofie (Kohlbeck) Steiner.  He attended St. John the Baptist School and Sacred Heart School in Marshfield and then Holy Cross Seminary in La Crosse for high school and two years of college.  He then completed his college studies at St. John's Seminary in Collegeville, Minnesota earning a BA in classical languages.  He earned a Master of Arts degree in theological studies in Rome.  After being ordained a deacon, he served at the Cathedral of Christ the King in Liverpool, England.  On June 27, 1974, he was ordained a priest at the St. Peter's Basilica in Rome by the Most Reverend James A. Hickey.
Father Steiner's first assignment began about two months after ordination as an Associate Pastor at St. James the Less Parish in La Crosse.  In June of 1977, he was assigned as the Associate Pastor at St. Thomas More Parish in La Crosse and as Instructor at Aquinas High School in La Crosse.  At this time he also became the Chaplain for the 32rd Infantry Brigade Army National Guard in Onalaska, then a few months later he became Chaplain for the Wisconsin Army Guard 426th Engineer Battalion in Onalaska and remained their Chaplain until 1985.  In August 1981, Father Steiner became the Associate Pastor at Holy Trinity Parish in La Crosse and continued as Instructor of Aquinas High School.  Four years later, he became the Associate Pastor at St. Patrick in Sparta with the responsibility of serving the spiritual needs of St. Mary's Hospital in Sparta and continued as part-time Instructor at Aquinas High School and Chaplain of the 264th Engineer Group in Chippewa Falls, Wisconsin.  On February 1989, he was appointed Pastor of Holy Rosary Parish in Owen until the end of 1990 when he was granted a leave of absence to assume active military duty.  In March 1995, Father Steiner was assigned Pastor of Immaculate Conception Parish in Wausau.  In July 1996, he was assigned Pastor of St. Patrick Parish and Sacred Heart Parish, both in Eau Claire.  In 1999, these two parishes were merged to form Sacred Heart of Jesus-St. Patrick Parish.  Later that year, Father Steiner was assigned as the Pastor of St. Lawrence in Alma and St. Boniface in Waumandee.  In 2005, he was granted leave from parish responsibilities for a 12-month deployment in Kuwait during Operation Iraqi Freedom.  In November 2006, he was assigned as the Pastor of Sacred Heart Parish in Cashton, St. Augustine Parish in Norwalk, Nativity of the Blessed Virgin Mary Parish in St. Mary's Ridge, and St. John the Baptist Parish in Summit Ridge.  In June 2008, Father Steiner was assigned Pastor at St. Joseph in Black River Falls and St. Kevin in Melrose.  In July 2011, he was assigned to serve St. Vincent de Paul Parish in Wisconsin Rapids, and then three months later, he was appointed Dean of the Wisconsin Rapids Deanery.

Father Steiner loved organ and choral music. As a seminarian, he learned to play the organ on his own and later took lessons. As a priest, he conducted parish choirs and enjoyed organ and choral music concerts. He also enjoyed history and travel to Europe and the Holy Land.
Father Steiner was proud to have served in the United States Army National Guard for 29 years as a chaplain. He served in Europe, Central America, and in the Middle East. He retired from the Army in 2006 with the rank of Lieutenant Colonel.
Father Steiner was granted senior priest status on August 18, 2015. As a senior priest, he resided in the St. Vincent de Paul Rectory in Wisconsin Rapids for a few months and then resided at Capital Lake Heights and Capital Lake Terraces in Madison for assisted care and memory care.
Father John Steiner was preceded in death by his parents. He is survived by his brother Ronald (Lisa) Steiner, an uncle, Howard Steiner, and numerous cousins.
The Mass of Christian Burial will be celebrated at Sacred Heart Church in Marshfield on Thursday, October 24, 2019 at 11:00 a.m. The Reverend Monsignor Joseph G. Diermeier will be the main celebrant and Reverend Donald L. Przybylski will be the homilist. Burial will follow in St. Michael Cemetery in Hewitt, Wisconsin.
Visitation will be held at Sacred Heart Church in Marshfield on Thursday from 9:00 a.m. until the time of the Mass.
The family and the Diocese of La Crosse are being assisted by Rembs Funeral Home in Marshfield.
Members of the Purgatorial Society are reminded to offer three Masses for the repose of his soul. Requiescat in pace!