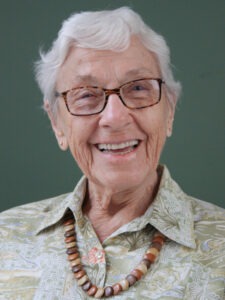 SINSINAWA, Wis.—Sister Mary Pat Marcos, OP, died June 11, 2023, at St. Dominic Villa, Hazel Green, Wis. Her religious name was Sister Mary Marcos, and her birth name was Patricia Zambriski. Natural burial took place June 13 in the Motherhouse Cemetery, Sinsinawa, Wis. The funeral Mass was held at the Dominican motherhouse, Sinsinawa June 23.
As Patricia Zambriski, she served in the United State Air Force from 1943 to 1946, stationed in Florida and the Pentagon, where she held a top-secret position. She worked for United Artists Corporation, Milwaukee, for 12 years before entering religious life. Sister Mary Pat made her first religious profession as a Dominican Sister of Sinsinawa Aug. 5, 1962, and her perpetual profession Aug. 5, 1968. She taught for 18 years and served as support staff for 20 years, and in social services for three years. Sister Mary Pat was direct, detailed, and benevolent and found great joy in assisting others. She served in Illinois, Wyoming, Wisconsin, Texas and California.
In the Diocese of La Crosse, Sister Mary Pat taught at St. Anne, Wausau, 1967-1968.
Sister Mary Pat was born Aug. 20, 1918, in Wisconsin Rapids, Wis., the daughter of Felix and Helen (Gbur) Zambriski. Her parents; five sisters, Marie Lipski, Bernice Tokarz, Lydia Wagner, Elizabeth Zambriski, and Magdalyn Rode; and six brothers, Sylvester Zambriski, Edward Zambriski, Ted Zamber, Tony Zambriski, Lawrence Zamber, and Ervin Zambriski, preceded her in death. She is survived by nieces, nephews, and her Dominican Sisters with whom she shared life for 60 years.
Memorials may be made to the Sinsinawa Dominicans, 585 County Road Z, Sinsinawa, WI, 53824-9701 or online at www.sinsinawa.org/donate.
Repeat broadcasts of the wake and funeral for Sister Mary Pat are available online at www.sinsinawa.org/live. Click on the "on demand" tab.