With hope in the Resurrection, we commend to the Lord
Rev. Msgr. Bernard O'Connell McGarty, at the age of 98 and a priest for nearly 74 years, died on Monday, May 8, 2023.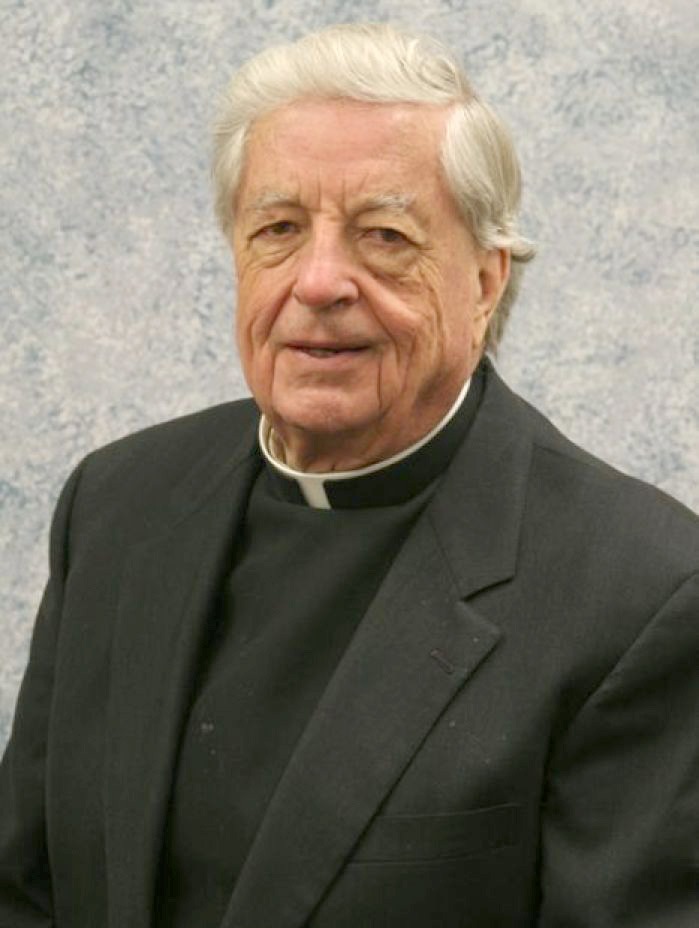 Bernard McGarty was born on January 13, 1925, in La Crosse, Wisconsin, the son of Matthew A. and Mary G. (née O'Connell) McGarty. In La Crosse, he attended St. Mary's Elementary School and then Aquinas High School. Bernard was accepted as a seminarian for the Diocese of La Crosse and attended Divinity School at Loras College in Dubuque where he earned a Bachelor of Arts degree in Philosophy. He then took up studies and priestly formation at Kenrick Seminary in St. Louis, Missouri where he earned a Bachelors of Arts degree in Theology. On May 14, 1949, he was ordained a priest at St. Joseph Cathedral in La Crosse by Bishop John Patrick Treacy.
Father McGarty's first two years of priesthood was as an Assistant at Holy Name Parish in Wausau. He was then assigned as an Assistant at St. Patrick Parish and Instructor at Regis High School in Eau Claire for a year. In 1952, he was assigned as the Diocesan Director of Vocations and Professor at Holy Cross Seminary in La Crosse. In 1955, Father McGarty returned to Eau Claire to assist at Regis High School and two years later was assigned as the Administrator of St. Joseph Parish in Elk Mound for a few months. From 1958-1970, he served as the founding Pastor of St. Matthew Parish in Wausau. Returning to Eau Claire, he served as the Pastor of St. Patrick Parish from 1970-1977. Early in 1978, Father McGarty studied theology at the Pontifical University of Saint Thomas Aquinas (Angelicum) in Rome with residence at North American College. After completing a license in sacred theology in 1979, he returned to La Crosse and was assigned the Diocesan Director for Communications and the Diocesan Director of Ecumenical Affairs. Within two months, Father McGarty became the Consulting Editor of the diocesan newspaper Times Review and an Associate Pastor at St. James Parish in La Crosse. In 1984, he was relieved of his responsibilities at St. James Parish in order to complete doctoral work in Rome continuing as the Director of the Office for Communications and the Managing Editor of the Times Review newspaper. His coursework in Rome was interrupted with the murder of Ferdinand Roth, William Hammes, and Father John Rossiter at St. Patrick Church in Onalaska on February 7, 1985. Within days of their deaths, Father McGarty became the administrator of the parish and he served there until April 16 when Father William Matzek was appointed Pastor. When he returned to Rome he completed his coursework for a doctorate in sacred theology. He then returned to La Crosse and from 1986-1990, he served as the Chaplain of St. Rose Convent in La Crosse while retaining his other assignments as Director for Communications, the Managing Editor of the Times Review, and the Director of Ecumenical Affairs. In 1989, he completed a doctoral dissertation he named, John Donne as a Persuasive Preacher.
In 1994, upon being assigned the Pastor of Blessed Sacrament in La Crosse, he resigned from his communication roles and remained the Director of Ecumenical Affairs.  He served Blessed Sacrament Parish until 1999, when after 50 years of priesthood, he became a Senior Priest.  In 2001, once again he generously responded to a need for a priest and off he went to St. Paul Parish in Mosinee to serve as the Administrator of the parish for about four months.  On September 14, 2005, he was conferred the Pontifical Honor of being named a Chaplain to His Holiness.  Msgr. McGarty continued to give conferences and help out in parishes.
Msgr. McGarty had a keen interest in reading, teaching, writing, presenting on ecumenism, and traveling.  He loved to paddle a canoe and ride a bicycle from points within the Diocese of La Crosse and to write about his adventures.  He wrote 82 stories that first appeared in the Times Review and were later compiled in a three-volume set called Biking and Canoeing in Western Wisconsin.          
 Msgr. McGarty was preceded in death by his parents and his sisters Mary Rita McGarty and Ellen McGarty Flynn. Ellen was his housekeeper for many years.  He is survived by his nieces and cousins.
On Saturday, May 20, the Mass of Christian Burial will be celebrated at 10:00 a.m. at Blessed Sacrament Church in La Crosse, Wisconsin. Bishop William Patrick Callahan will be the main celebrant and Father John Parr will be the homilist. Burial will follow at Catholic Cemetery in La Crosse.
Visitation will be held at Blessed Sacrament Church in La Crosse on Friday, May 19, from 4-6 p.m., with Evening Prayer from the Office for the Dead at 6:00 p.m., led by Msgr. Steven Kachel.
Blaschke Schneider Funeral Home is assisting with arrangements.
Requiescat in pace!