How Harvey's faith and St. John Parish in Marshfield, helped him grieve his wife's death
WITH FAITH, IT IS POSSIBLE TO NAVIGATE A WORLD TURNED UPSIDE DOWN. Harvey Smazel of St. John the Baptist Parish in Marshfield is a man of great faith. His life has always been simple, with his focus on God and his family. His world changed forever, though, on the feast of the Immaculate Conception in 2014 with the death of his beloved wife, Donna.
For the past year Harvey has had to navigate a world without the woman with whom he shared his life every day. His faith in God keeps him steady, and the company of his daughter, Shari, is a blessing. As hard as it is to live without Donna, Harvey is thankful for the years they spent together where faith was such an important part of their marriage.
"It was a blessing I met my wife," says Harvey. "We practically lived together 24 hours a day all our lives. We worked together. We ate together. We slept together. And all of a sudden she's gone."
Harvey still feels Donna's presence with him every day. He and Shari know Donna is still watching over them and guiding them through their days.
"She's right here helping me," Harvey says. "People say, 'Donna's gone, but she's still with you.'"
The Church was the center of Harvey and Donna's life together. Their Catholic faith was very important to both of them. "My mother always believed in giving to the Church and my wife and I were always the same," Harvey says.
In 1973 St. John the Baptist was not only where Harvey and Donna went to celebrate Mass on the weekend, it became Harvey's employer. He retired from there in 2001. He worked as a custodian and Donna worked by his side in the school.
Harvey got the job after working as an usher, a position he still holds today at St. John the Baptist. "Everything came through the church," says Harvey.
The parish priests, staff and teachers became a second family for Harvey and Donna. He took care of the school like it was his own home, and Donna helped him every day. The summer after he started working in the parish, he and Donna painted 18 classrooms, just the two of them.
Harvey was happy to help wherever there was a need. Snow removal and putting up and taking down storm windows were part of Harvey's service to the parish. Beyond physical maintenance of the school, Harvey also looked out for the students.
"I used to carry kids if they had a broken leg," he says. "I would carry them to all their different classes and lunch. I carried them all day long."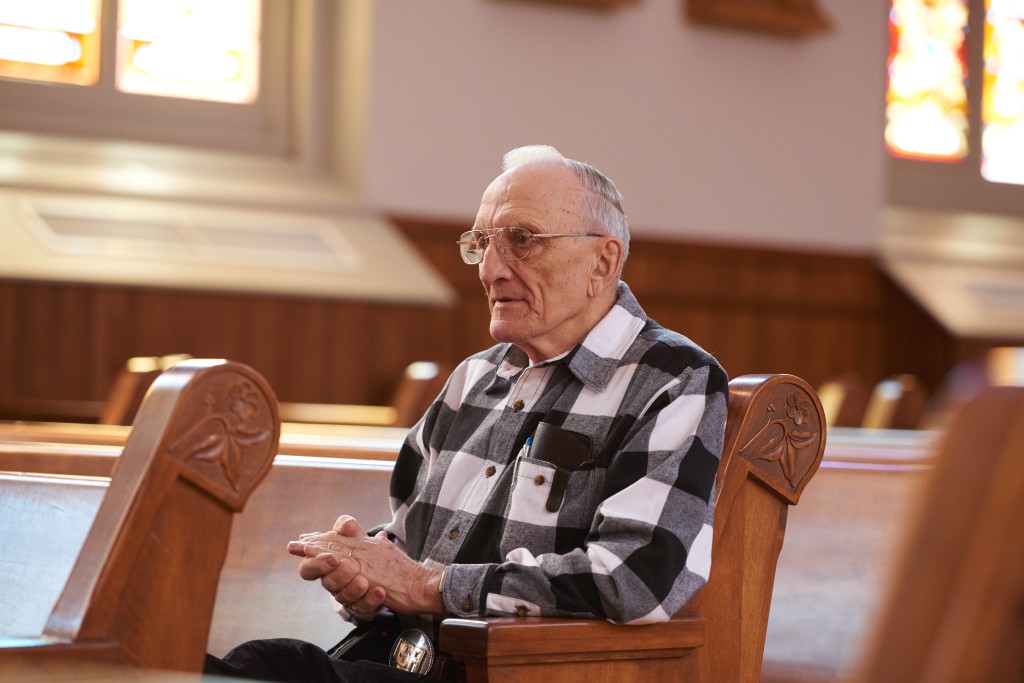 Working for St. John the Baptist also helped grow Harvey's faith. His attendance at daily Mass began while he worked for the school, with the blessing of Father Joseph Martinson. "That's what kept me going," says Harvey. "The priests were always a big influence on our lives."
Harvey and Donna always trusted in God to guide them through their lives. "We always talked about God. There were times we didn't know how we would get the bills paid, but we always did," Harvey says. "What you give to God you will get back more than a hundredfold. You think everything is so bad and something else comes. I always thought to myself, God is protecting me. I always thought that God was helping me or I wouldn't have been able to do it. God made me and I can't do anything without him helping me."
Saturday night Mass was always the heart of the week for Harvey and Donna. "The most important thing was going to church and on the holy days," says Harvey. "Donna would not ever miss church."
Harvey serves an active role at St. John the Baptist as an usher and extraordinary minister of holy Communion. Donna preferred worship from the pew, but was always proud and admiring of her husband's participation in the Mass. Shari and Harvey continue the family Mass tradition, even with Donna's absence.
"On Saturday nights I usher, and Shari and I are eucharistic ministers," Harvey says.
Dancing was another important part of Harvey and Donna's life together. They met at a dance, and spent the last decade polka dancing together. For their 50th wedding anniversary, they even had a polka band for the celebration.
Donna's cancer diagnosis stopped the dancing. The focus instead was on trying to get Donna better. During her hospital stay Harvey brought her Communion every day. The illness claimed her just three months after the diagnosis, but Donna was not afraid. Her faith was strong and helped Harvey get through the unexpected diagnosis.
"Her belief was what God wants, I'll do," says Harvey. "There's a woman who went right straight to heaven."
They were not able to go dancing, but Donna still loved polkas and her husband very much. "The day before she passed away, Donna told me and my daughter to go to a dance," Harvey says. "When we got back, she asked 'How are the boys in the band?'"
For the funeral, Harvey asked the boys in the band to do one last thing for Donna. "I had the whole band for pallbearers," he says. "They were all Catholic people. That's what she wanted."
The days sometimes feel too long now for Harvey, but he takes comfort in the close relationship with Shari, and enjoys funny antics of the family cat and dog. He feels the love God has for him, and that keeps Harvey going.
"God has been helping me through this the last year," says Harvey. "When I go to bed at night, I always thank Almighty God for the day. What's going to happen is going to happen. I will do what God wants me to do. A lot of stuff in my life wasn't easy, but God helped me through it all. Everything that happens, Almighty God is taking care."
BY MARY KAY MCPARTLIN
MINISTRY FOCUS: In times of grief, we need our faith, and we need consolation. If you are grieving, please go to http://tinyurl.com/consolation1 to find out more about how the Diocese of La Crosse and the Church can help you.