Mary Butrum from Sacred Heart/St. Patrick Parish in Eau Claire reflects on her life, with thanksgiving
In the heart of a west-central Wisconsin town resides a transplant from New Orleans, La. Mary Butrum, from Sacred Heart/St. Patrick Parish in Eau Claire, came to live near her sister and brother in-law after her home was destroyed by Hurricane Katrina in 2005. Mary has survived many trials in her life, and is very thankful to have been sustained by her faith and her devotions.
Born into a devout Catholic family in Minneapolis, Mary was raised in the Catholic faith. She attended public schools, then went to the University of Minnesota for her bachelor's degree. Winters can be harsh in Minnesota. One day, Mary was walking across the U of M campus and suffered frostbite. She told her parents she was going to move some place warmer. After finishing her degree, she moved to Portland, Ore., where she met her husband. When his job transferred him to New Orleans, they moved and built a life together. He converted to Catholicism, and they spent more than 50 years in a beautiful brick home on the water that he designed himself. Mary went on to receive her master's degree in counseling and guidance at Loyola of the South, a Jesuit university.
Mary recalls that in her youth her grandmother gave her a book that contained the Litany of the Sacred Heart of Jesus. When Mary was in her early 20s, she contracted polio. She remembers praying this litany over and over during her time in the hospital. She was paralyzed and spent many days unable to do anything but open or close her eyes. She ran a very high fever and says that during that time, she opened her eyes and saw a vision of Jesus in her room. Gasping, she closed her eyes. When she reopened them, she saw Him at the foot of her bed. Mary thought, "Oh, I've got a high fever, I'm delirious," and closed her eyes again. When she opened them a third time, He was no longer there. Soon after this experience, she began to recover from polio. Before six weeks had passed, she had been discharged from the hospital.
After a full recovery, Mary took a job leading religious pilgrimages all over the world. This was not a job she chose for herself, but one she feels she was chosen for. One of the first pilgrimages she took was to China. The tour group was led by Sister Mary Grace Danos, a Carmelite nun. When Sister Mary Grace became ill, she asked Mary to assist her at the travel agency. Mary took over planning and leading the tours, as Sister's health continued to decline. During Mary's 20 years of leading tour groups to holy sites, she visited Rome, Medjugorje, the Middle East, Europe, China, Japan, Mexico, Canada and South America. While traveling, she often called upon Jesus, Mary and the angels for help. During one trip, when she became exhausted and felt as though she couldn't go on, she sent up a prayer.: "Jesus, I am so tired. You've got to take this fatigue away if you expect me to take care of all these people." Within moments, she felt boundless energy — energy "coming from all sides."
"Jesus, I am so tired. You've got to take this fatigue away if you expect me to take care of all these people."
While in New Orleans, Mary was a frequent visitor to a local adoration chapel. Many evenings, she was the only person praying. One quiet evening, a man came in and asked her if she would open the back door for him if he became locked out. "We were not really supposed to do that," she says, "it wasn't safe." Still, she opened the door for him. He went out and returned holding a cardboard box, which he handed to Mary, explaining it was for her. She didn't want to open it, so took it home. There, carefully, she opened the box, unsure of what she would find. Inside was a beautiful crucifix. Mary held it in her hands and exclaimed, "OK Lord, what are you trying to tell me?" She placed it on the wall of her home in New Orleans.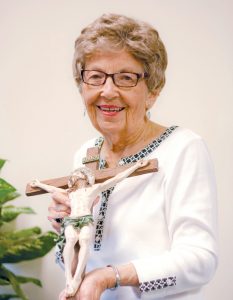 In 2005, Mary fell in her kitchen while retrieving some jars from a cabinet. She didn't know at the time, but she had broken her tailbone. She went to bed and tried to rest, but was in much pain. When news reports began about Hurricane Katrina heading toward New Orleans, she made the decision not to evacuate. She had evacuated many times before, and her home had stayed strong, so she decided this time she would "stick it out." Returning to her bed, she attempted to rest, but several friends began calling to ask if they could assist her. When she decided to leave, she didn't have much time, was still in pain, and could only carry a few things to her car. With just two pairs of pants and two shirts, she went to stay with friends.
Nearly a month later, friends helped her to return to her home, Mary found very few things undamaged. The crucifix given to her by the man in the adoration chapel was tangled around a lamp cord, but "in excellent condition, not faded or missing paint." She took it with her to Wisconsin, where it now hangs in her home in Eau Claire. Mary says, "God has really helped me. I am so thankful for His miraculous healing, for all His spiritual and physical help, for all the earthly help I received after Katrina and for the help I received in foreign countries. I have so many things to be thankful for."
Story and photography by Sharon Scheel