I look on, with Valentyna and Father Pablo, as Dr. Valderrabano ("Santi") makes a post-operative visit to his patients.We are in the main hospital in Kiev, the capital of Ukraine.
Chris reflects on his experience during the Chalice of Mercy Medical Mission in Kiev, Ukraine.
It is late September and I am taking part in a medical mission sponsored by Chalice of Mercy, founded by Valentyna Pavsyukova in Chippewa Falls in 2007. Chalice of Mercy is a mission to Ukraine wth a special focus on medical care and the sacred dignity of every human life. I am in Kiev at the invitation of Chalice of Mercy, to witness the work and further strengthen the connection with the Diocese of La Crosse.
On this medical mission, Dr. Santiago Aco Valderrabano ("Santi") sees scores of patients and performs 27 surgeries for people who would otherwise have nowhere to turn. While medical care is antiquated in Kiev, it is almost nonexistent in the war zone in eastern Ukraine.
Santi has come here from one of the finest hospitals in Madrid, Spain, bringing with him a young colleague, an anesthesiologist and a nurse. Santi is an accomplished surgeon, a fellow of the American College of Surgeons and the pioneer of a specialized procedure for hernia repair. But here he must adapt. Among other deficiencies, several operating lights are burned out and a breathing apparatus is patched with tape. But God guides his generous hands. All 27 surgeries are successful and, remarkably under the conditions, there are no infections.
Santi was invited to head up this medical mission by Father Pablo Escrivá de Romaní, a priest from the Archdiocese of Madrid who is now a full-time missionary with Chalice of Mercy. Santi and his wife Fatima had been part of a prayer group led by Father Pablo at his former parish in Madrid.
Another doctor instrumental in the mission is Dr. Ivan Ivanovich, a Catholic Ukrainian surgeon He is in charge of the hospital floor where Santi is seeing patients. A sturdy, energetic man around 40 years of age, Ivan's cheerful disposition is paired with a deep faith that has led him to place his medical practice under the patronage of St. Padre Pio. Father Pablo celebrates Mass daily for the mission team in Ivan's office, and a spirit of prayer infuses their work at every step.
I had heard much about the stone-faced disposition of people from the former Soviet province. But here I am surrounded by smiling faces. As Santi makes his post-operative rounds, he and the rest of the team are smothered with grateful hugs and kisses. One woman who had a massive tumor removed recites a poem to honor him.
As the Ukraine Medical Mission comes to a close, it is clear that the Divine Physician has had us all — patients and mission team alike — in His care, drawing us deeper into the love of Christ. And so we leave the hospital in Kiev, returning to our homes and workplaces a little tired, but with inexpressible joy and gratitude. We are happy to share what we have witnessed and look forward to seeing what God has next in store for Chalice of Mercy.
For other images and a slideshow of the mission, visit www.diolc.org/chalice-of-mercy.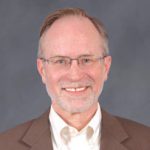 By Chris Ruff, Director of the Office for Ministries and Social Concerns