The McGowan family's roots run deep at St. Mary Parish in Lyndon Station
As one of the original farm families in Lyndon Station dating back to 1855, the McGowans have made it a family tradition to pass down their love of farming and their Catholic faith through eight generations.
The McGowans are a tight-knit group and the patriarch of the family, James (Jim) W. McGowan, said they take pride in a hard day's work on the farm and they make sure to never miss Mass."We have a very strong family tradition and each generation has taken a lot of pride in their faith and sharing that faith with others," Jim said. "Rarely did this family ever miss church, you could always count on us." Jim's daughter-in-law Vicki, married to James P. McGowan, has become a family historian. She is working on assembling a family history book after doing years of research that has taken her as far back as the 1700s in Ireland.
"I was able to, pretty easily, trace our family back to Ireland, where the first James McGowan came from in 1855," she said. "He arrived here in Kildare Township and married his wife, Faye, at St. Mary's in Lyndon Station, so it all happened here. He got the deed for this land from the government and the deed has never left the McGowan name. In fact, it has always been a James or John McGowan on the deed, passed down from father to son."
She laughed as she mentioned the seventh generation, her son Matthew James McGowan, but they had to find a way to keep the tradition going.
"At one point, we had nine J. McGowans living here, so I'm not sure how the mail carrier dealt with it," she joked. "It just got too confusing, so we named our son Matthew. When he takes over the farm, he will sign it M. James McGowan."
The original 40 acres from 1855 has expanded to 800 acres, and the blessing of being able to hold on to this original family inheritance and keep it thriving is a testament to their faith in God and dedication to their hard work.
"We've always had a little bit of everything here on the farm. It started mostly to self-sustain, but grew to add milk cows, feed steer and cash grain," Jim said. "But when you think back, my parents went through the Depression in the '30s and that was really tough to keep it running. I was born in the Depression and I'm still sleeping in the house I was born in. All the boys can say that."
Vicki remarked, "Farming requires more faith than any other profession that I've ever encountered. You have to have faith to keep at it and make a living at it."
Being a faithful people, they also wanted to give back to their church and did so, for many years, by digging graves and caring for the community during funerals.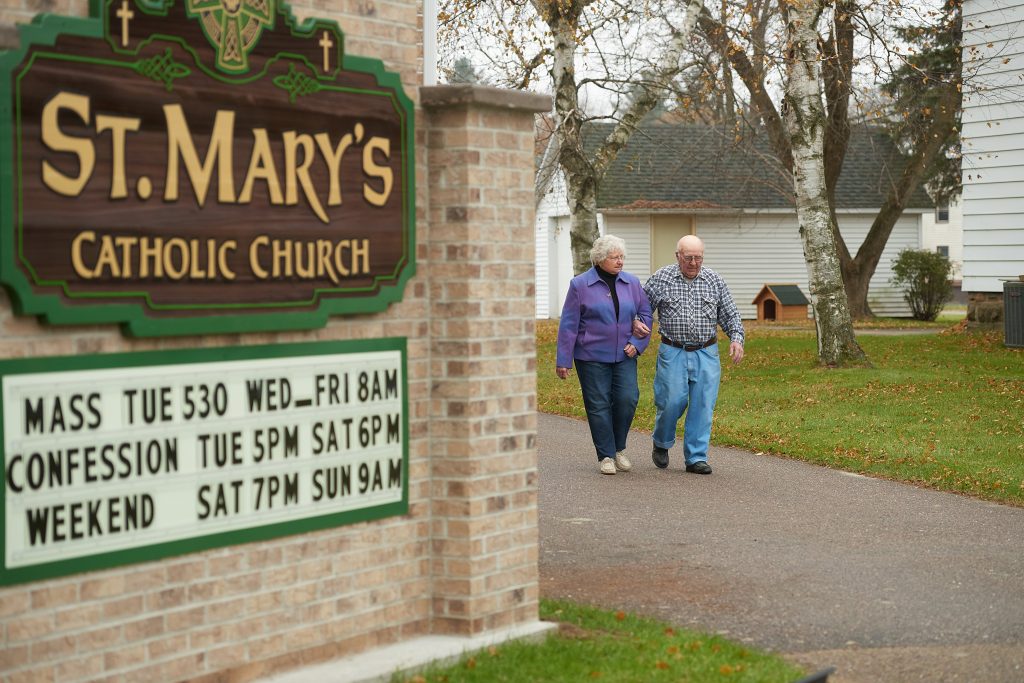 "I started digging, and then the boys took it over. It meant a lot, and as we were working out there, people are out walking around and if they didn't know where someone was buried, we could help them. Anna and Vicki are also very involved in the meals after the funeral," Jim said. "But it's not just us, everyone around here gives what they can. When they needed more land for the cemetery, a family donated the land and said, 'take what you need'. We all just do what we can."
Jim remembers that, even as a kid, he was involved at the parish and with the sisters at the school.
"I served Mass and we had to learn that Latin, we didn't know what we were saying, but we knew we needed to do it," he said. "The sisters (FSPA) were our teachers at St. Mary's School and I remember we would bring them a little two-quart pail of milk. I carried milk every day for the sisters on the bus and would bring it into school. They had four sisters living in the school and I'd just open the door and drop it off. She used to call me Johnny, but my brother was John and I don't think they knew which one was which."
As Jim grew up, he married Anna and took over the farm from his father. He remembers what it was like when Saturday night Masses began and said it was the best thing to happen to the farmers.
"As farmers, the best thing the Catholic Church ever did for us was the Saturday night Mass," he said. "When you have to get up, take care of the morning chores and then get eight kids ready for church and then work three-quarters of the day, it was hard. Especially because you would get up in the morning and you don't know what you might find in the barn before church that you had to take care of. The best thing that ever happened for us was Saturday Mass because, by the end of the day, everything was under control or some of us could go in the morning and some at night. No one wanted to miss church, but with a farm, it's a tough balance."
Jim said that even during his grandfather's time, everyone would do what they could for the parish, even if it was just hauling stones.
"My grandfather said that when they built the church, if you didn't have any money, you hauled stones in for the basement," he said. "That priest never missed unloading the stones. He was out there for every load, so everyone chipped in and built our church together."
Vicki said through their hard times, their work at the parish and the everyday community support, she is always thankful their family has an even stronger parish family to fall back on.
"We lost a family member a year ago and I never had it hit that close for me. To lose someone so close and, it really was the church that prayed every week. We've done it for all the other families and it comes back ten-fold and that's when it hits you, that need for the community," she said. "This community will drop what they're doing and go help. If there's a barn fire or if a neighbor hurts themselves, they're there and it's an automatic. You don't think twice. You were there for them and they are there for you and it's family. Well, literally a lot of them are, but the entire church is family."
By Monica Organ
Photography by Michael Lieurance and Monica Organ