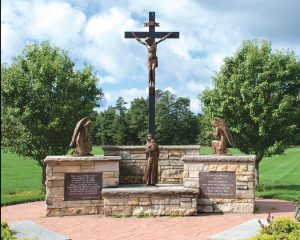 Parishioners from St. Francis of Assisi Parish in Necedah know what it takes to build a church from the ground up
The people of St. Francis of Assisi Parish in Necedah have a long and rich history as a pioneering group. Since its beginnings in the latter part of the 19th century, the parish's men and women have always strived to realize the beauty of their faith. Gib Sayler, Jim O' Loughlin, and George Schumer are three men who, through the decades, have helped build the parish into what it is today, quite literally. Gib is the resident parish historian. Jim and George both played instrumental roles in helping the parish build their current church. All three are strong contributors of time and talent to both the parish and their community.
Gib remarked that he is only the parish historian by default. According to Gib, only his keen interest in the history of the community at large and the families that built it qualify him. "I've always had a real appreciation for history in the community and for genealogy. I think we were having a discussion by the cemetery one day. I saw all these names out there and it's interesting, with some of the readings I do with the history of the village, to see all those names. It peaked my interest. I want to know who are these people?"
According to a parish history created by Gib, Necedah "was first settled in 1848 as an ideal location to build a lumber mill along the Yellow River." St. Francis of Assisi Catholic Church was first established as a Catholic Mission Church served by a priest from Mauston. This church originally served the large number of Irish Immigrants who came to the community to work in the lumber mills. These immigrants would soon become the driving force behind the original establishment of a permanent parish with a resident priest. As Gib explained, "In the 1880s or so, we had quite an influx of Irish immigrants with the three saw mills going at the time. They had been meeting for services, and they were served by a circuit priest. But at that point, this group, predominantly Irish, just wanted to have their own church, so they began the process to do that."
That initial desire to create a permanent parish in the Necedah township sparked the growth of a parish community that now, in a small community of just 900 people, serves the spiritual needs of more than 190 families. These families are active within the greater community, particularly in their hosting of the annual Hunter's Dinner. This year they celebrated the 66th annual dinner, which regularly serves more than 500 people in one evening. "It's got to be the go-to-thing" Gib explained, "even after all these years, there are a lot of generations that have passed through." Many generations have been brought up helping prepare for the meal and will continue to provide this "can't miss" event for the community every deer hunting season.
The parish also has an active youth ministry with an annual trip to the March for Life being a parish staple. George's late wife, Sharon, initiated the trip and the parish has been sending a group for more than 20 years. The youth of the parish have also attended several World Youth Days, including the one in Poland. George's wife played a major role in the pro-life movement across Wisconsin. As George remembered, "When Pro-Life Wisconsin got started, their first meeting was at the town hall here in Necedah. Sharon called a few people and got it started."
"The community changes, the parish changes, the people change, but we are still here — it's the cycle of life and yet here we are." –Gib Saylor
Although St. Francis of Assisi has always enjoyed an active parish, the construction of their new church in the early 2000s created an even more vibrant community. Construction on the current site began in June 2002. Jim and George played an integral role in the project. As Jim describes, "A devotion to helping the parish has always been ingrained in the culture of the parish community. But it really jelled with the building project and that just brought people out of the woodwork to get it done and paid for."
George recalls a story when they were moving the kitchen from the old church to the new church: "I made four phone calls one Saturday morning" George relates, "and by 10:30 a.m. that same morning more than 35 people showed up to lend a hand." Jim explains further, "Bishop Burke [now Cardinal Burke] at one point said 'work with your pastor.' We took that to heart. We've worked with our pastors ever since. That is the secret to a lot of the success we have had."
The new church just "sparks a renewed interest in the community," Gib explains, "it just sends a message that this is an active, interested group. There's just such a great bunch of people here who are more than willing to give their time and talent." Other than the pastor, all positions of the parish are filled by volunteers who receive no compensation.
The active ministries of St. Francis include the financial and pastoral councils, PCCW, Knights of Columbus, Teens for Life, St. Francis Youth Group, Lectors, Extraordinary Ministers of Holy Communion, custodial crews, ground keeping crew, maintenance crew, office crew, and Sacristan. Susan Teumer leads the Marian Catechists and religious education programs for the youth and adults. Tracy Arbanans has been the librarian for more than 18 years, and Therese McNally heads the liturgical music program and just celebrated 30 years as organist and choir director. Deacon Glen Heinzl has served at the parish for more than 11 years and Father Wesley Janowski came in February 2018.
The same parish community that was built more than 100 years ago, may now be in a different location and in a brand new building, but the spirit is unchanged. "That is the amazing part of history", Gib said, "It's amazing that people still come together just like that small group of people came together in the 1880s and said 'Let's have a church.' Some people here decide we can get this done and we're here now. It is just evolution. It is normal and it is special."
Perhaps this parish, whose new location is located next to the parish cemetery, is now closer to home and its original roots than it has ever been. That coincidental ode to the founders of the parish is not lost on Gib, "The community changes, the parish changes, the people change, but we are still here – it's the cycle of life and yet, here we are. I look back at some of these old names and see new names and see the years of continuity, as well as new growth in our community."
By Ben Williams