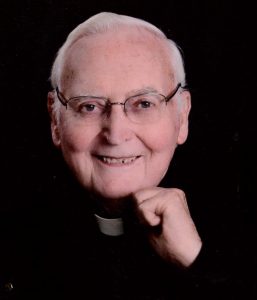 Father Joseph R. Keating, at the age of 90 and a priest for 61 years, died Saturday, September 29, 2018, at the Richland Hospital in Richland Center, Wisconsin.
Joseph Keating was born November 27, 1927, in Boston, Massachusetts to Thomas F. and Anna M. (Ryan) Keating.  He attended Ditson Grade School in Pinehurst, Massachusetts and Howe High School in Billerica, Massachusetts.  He joined the U.S. Navy on July 18, 1945, and served until June 16, 1948.  When he returned to civilian life, he studied at St. Philip Neri School (For Delayed Vocations).  Joseph completed his Bachelors of Arts degree in philosophy at Saint John Seminary in Little Rock, Arkansas in May 1952 and went to Saint John's Seminary in Collegeville, Minnesota for theology.  On May 18, 1957, he was ordained a priest at Christ the King Chapel in Holy Cross Seminary in La Crosse by the Most Reverend John P. Treacy.
Father Keating's first assignment began two weeks after ordination as a Temporary Assistant at Saint Joseph Parish in Adams.  Four months later, he was assigned as the Assistant at St. Joseph Parish in Stratford.  Father Keating was assigned as an Assistant at Holy Trinity Parish in La Crosse in June 1961.  In October 1963, he was appointed as Chaplain to the non-Catholic hospitals in La Crosse with residence at St. Thomas More Parish in La Crosse.  In September 1964, he was also assigned as the Chaplain to Saint Dominic Monastery in La Crosse.  In June 1965, Father Keating was assigned as the Assistant of St. Vincent de Paul Parish in Wisconsin Rapids and two months later he became the Assistant at St. Mary (Immaculate Conception) Parish in Tomah and was soon assigned as the Assistant Chaplain to the Tomah Veterans Administration (V.A.) Hospital.  Just fourteen months later he was assigned the Administrator of St. Kevin Parish in Melrose while also being the Chaplain at the Tomah V.A. Hospital and St. Mary's Hospital in Sparta.  In the summers of 1963 and 1964, he took courses at Marquette University and Catholic University on scripture, sociology, and moral theology and, in 1968, he took a semester course on pastoral marriage counseling in La Crosse.  He was assigned as Chaplain to the following V.A. Hospitals: August 1969- Central Iowa Healthcare System in Knoxville, Iowa; December 1972- Bay Pines Healthcare System in Bay Pines, Florida; May 1974- Canandaigua Medical Center in Canandaigua, New York.  In June 1979, Father Keating was assigned as the Pastor of St. Philip Parish in Rolling Ground for eight months and then was assigned Pastor of St. Peter Parish in Middle Ridge.  In July 1980, he began work on the Renewal Program in the Diocese of Trenton in New Jersey.  In early 1981, he was assigned temporarily to St. Kilian Parish in Blenker until he was assigned as a Chaplain at the Perry Point V.A. Medical Center in Perry Point, Maryland.  In 1987, Father Keating became a Chaplain at the Hudson Valley V.A. Health Care System in Castle Point, New York.
For reasons of health, Father Keating was granted senior priest status on September 1, 1992.  As a senior priest, he lived in Maryland and Pennsylvania, La Crosse, and Richland Center, Wisconsin.
Father Joseph Keating was preceded in death by his parents and his siblings.
The Mass of Christian Burial will be celebrated at Assumption of the Blessed Virgin Mary (St. Mary's) Parish in Richland Center on Wednesday, October 3, 2018, at 11:00 a.m.  The Most Reverend William Patrick Callahan will be the main celebrant and Reverend Monsignor Roger J. Scheckel will be the homilist.  Burial with military honors will follow in St. Mary's Catholic Cemetery in Keyesville, Wisconsin.
Visitation will be held at Assumption of the Blessed Virgin Mary Parish in Richland Center on Tuesday, October 2 from 4-7 p.m., with Evening Prayer from the Office of the Dead at 6:00 p.m.  There will also be a visitation at the church from 10 a.m. until the time of the Mass on Wednesday.
The Diocese of La Crosse is being assisted by Clary Memorial Funeral Home in Richland Center.